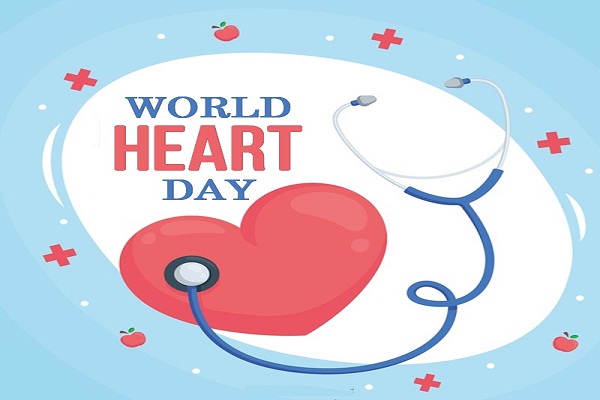 Nowadays, we are living in an unprecedented time, facing a medical as well as a social crisis caused by the novel coronavirus disease (COVID-19). This is caused by severe acute respiratory syndrome coronavirus-2 (SARS-CoV-2), which has affected millions around the globe. It has caused strain on healthcare delivery system worldwide, especially in country like ours, where we are already struggling due to economic and logistic restrains. Covid 19 is now proving to be a double whammy on our health. Patients with cardiac illness are prone to Covid 19 infection, while at the same time, Covid infection precipitates cardiac and other complications.
It is now established that cardiovascular disease (CVD) predisposes Covid patients to ICU need, longer hospital stay and increased complications, including death. In fact, cardiac complications are the most common cause of death in Covid patients. Cardiac injury occurs in 20-30% of Covid patients and cardiac complication contributes to 40% of death in Covid patients.

Moreover, in view of the pandemic, associated fear of Covid infection and its social consequences, non Covid diseases are taking an unfortunate backseat. Patient are unwilling to visit hospitals for non- Covid treatment and hospitals are unable to cater non Covid patients due to already stretched healthcare delivery system. On top it, there is valid concerns among everyone concerned regarding the risk of coronavirus exposure to the self, to other patients or healthcare workers.
Also read: Almonds may cut cardiovascular disease risk in diabetics: Study
WHAT TO DO?
As we are now begins to understand, this virus is here to stay, thus we can't ignore non Covid diseases for long. We just can't let patient suffer or even die due to non Covid diseases just to avoid Covid infection, which by itself fortunately have very low mortality. Cardiac patients should be in touch with their doctor and should seek treatment as soon as possible in case of any cardiac complain. Many of these patients may require a cardiac procedure with or without concomitant Covid infection.While it iswise to defer elective cardiac procedure, this decision is to be made on case to case basis, in full and transparent consultation with patient and attendants.
Two of the most common and serious heart ailment deserves special mention are heart attack and heart failure.
ACUTE MI (HEART ATTACK) CARE DURING COVID
Covid -19 patients with pre-existing CVD have increased risk of coronary artery disease and acute heart attack. Patient may present with classic symptoms of MI associated with ECG changes and raised cardiac enzymes. Cardiac manifestations includes chest pain, shortness of breath, palpitation, uneasiness, giddiness or simply weakness. One should note that in 20% cases, heart attack can be silent, i.e. without any complain. Thus any range of above mentioned complains should be properly investigated and treated. Patients should not delay any visit to hospital in fear of Covid infection because risk of dying from heart attack is far greater than risk and consequences of having a Covid infection.
In confirmed or suspected Covid patient with acute MI, primary angioplasty remains the preferred strategy. In case of stable MI patients with Covid -19, thrombolysis should be considered, with stand by angioplasty for failed cases.
For no emergent conditions, interventions should be deferred until Covid -19 negative test has been obtained, or patients should be preferably managed medically.
COVID -19 AND HEART FAILURE
Heart failure per se is a poor marker in Covid patients. It is more common in covid patients and covid patient can also masquerade as acute heart failure. Since Covid patients are more prone to thrombotic events, they should be on blood thinners or anticoagulants medicines. Careful optimisation of fluid intake is recommended. Influenza and pneumococcal vaccinations should be considered and when required.
CARDIAC MEDICATIONS IN COVID TIMES
Largely, all cardiac medications are safe in Covid infection and patients taking them should continue those medications irrespective of Covid infection. However close monitoring with a cardiologist is mandatory in Covid patients taking cardiac medicines.
LONG TERM EFFECTS OF COVID -19
Emerging data shows that there are various long lasting effects of Covid infection on heart, even after full clinical recovery. Thus it is advisable for patients with definitive features of heart damage to abstain from competitive sport or strenuous exercise for at least 3-6 months.
CONCLUSION
By following above mentioned measures and precautionary steps, we can take care of our heart in these unfortunate times of Covid pandemic. In a nutshell, all known cardiac patients should take extra care of their health. However, they should not hesitate to get medical attention, in case they show signs of Covid infections with appearance or exacerbation of cardiac complains.
(Disclaimer: The writer is Dr Ravi Prakash, MD, DNB (cardio), FNB, MNAMS. Views expressed are a personal opinion.)

Follow and connect with us on Facebook, Twitter, LinkedIn, Elets video