There is a famous adage which says 'Necessity is the mother of invention'. This is apt for the current covid-19 pandemic which has affected socio-economic status of many countries across the globe. Many of the healthcare organisations facing the worst time are going out of way to keep themselves afloat.Corona virus has brought individuals, companies, governments and the human race together to find new tools or methods to survive. Innovations, technology, critical thinking, strategic management are some of the important components which need to be adopted in order to tide over the crisis. Eminent healthcare experts have opined the similar viewpoints at eHealth Webinar as well. Mukul Kumar Mishra of Elets News Network (ENN) explores these aspects vis a vis ongoing corona mayhem in India.
Many of us have not seen such unprecedented time ever in their lifetime–more appalling than even world wars. Since the December end when it first came to light in Chinese city Wuhan, the virus has taken the lives of millions of people and pushed a similar number of people on the verge of poverty. There is a sense of fear and panic everywhere with people now praying that scientists may develop a vaccine to contain the virus very soon.

Many past Pandemics has led to new way of life and innovations
Innovations or out of box ideas hit the mind when all the tried and tested formulas don't make substantial difference. History is replete with such examples. The Great Plague in Europe brought every job at par and paid as per skill, changing everything from society to modern medicine.
The more recent SARS led to the acceleration of internet penetration in China, Hong Kong and gave birth to e-commerce as we know it today in Asia-pacific region.
When there is no way to come out of the disaster, one puts all his weight to do something to come out of it. And many of the organisations have innovated to sustain in the pandemic situation. Healthcare aggregators, hospitals, and startups, are working on various AI-based tools, robotics, low cost ventilators, mobile applications, providing us the very hope that the crisis will not be able to defeat us. Even the Government agencies are coming up with innovative plans and strategies to offset the challenge.
Mounting challenges being faced by Hospitals
With the economy hitting the nadir, every sector including healthcare are nosediving. As part of counter measures, the government has announced a series of lockdowns in recent days which led to lesser numbers of occupancy in hospitals. Healthcare providers face a double whammy–they have to put up a brave face to make patients & staff safe and to manage the revenue part at the same time. In addition, cost in form of masks, PPE, and other operational costs have exacerbated their cup of woes.
"OPD, radiology, elective surgeries are stopped. At the same time, staff have to be around taking care of emergencies. While doing so, they have to be given all the paraphernalia to protect themselves, which is adding to the cost," opines Yateesh Wahal, Director, Nayati Healthcare & Research Pvt Ltd.
Hospitals are facing an estimated loss of Rs 7,300 cr/month due to 20- 30 percent occupancy loss currently, says Gautam Khanna, CEO, PD Hinduja Hospital & Research Centre.
Dr Rakesh Gupta, Chairman, Sarvodaya Hospital, says, "Primary and secondary healthcare will suffer the most. Tertiary care may sustain to some extent. Small nursing homes and primary centres will suffer a lot and some of them may be closed because of a lesser number of patients. Tertiary care with larger capacity & team can handle the situation. Revenue of tertiary care will be hit as a major chunk of cash flow comes from elective surgeries like Neurosurgery and all."
Technology and Innovations
Underscoring the need for innovations, Gupta says, "Telemedicine can be leveraged to connect patients with doctors or among staff members. For covid patients having mild symptoms, technology can be used to check vitals, keeping them quarantined at home. Training and awareness programmes can be conducted through technology. Robotics can be useful to perform various tasks like to monitor patients in isolation wards and all.Operational cost has to be reduced to survive in this tough time."
"With technology now available in India, a very detailed clinical examination can be done remotely. Today we have thermal sensors, oxygen sensors, and digital stethoscopes where doctors can simply put a stethoscope on the heart of their own and measure things of patients," Dr Ganapathy Krishnan, Director, Apollo Telemedicine Networking Foundation says.
Highlighting how innovations have become the talk of the town during covid-19, Ekta Modi, COO, Parul Sevashram Hospital, Gujarat, says "There is an old adage that necessity is the mother of invention. But taking the current situation in consideration, it is called as necessity is the mother of initiative."
Remote monitoring seems to be the biggest gamechanger
Amid lockdown and decrease in the occupancy rate in the hospitals, telemedicine seems to be the biggest gamechanger.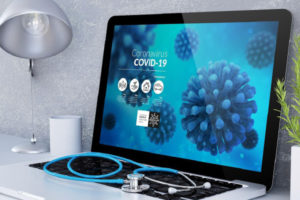 "Many of hospitals which were not using telemedicine, have initiated this to reach their patients. It minimizes the exposure to the viral transmission, and optimizing care at the same time. Infection control in the hospital, a very important part is taken care of by the technology," Modi says.
Telemedicine has suddenly become fashionable. Earlier we tried to push it on the doctor and they were unwilling to use the technology. But due to the recent Corona crisis, tele medicine has come forward as a potent tool, believes Dr Aloke Mullick, Group CEO, Omni Hospitals.
Dr Pankaj Gupta, Head Digital Health, Access Health International says, "There are two things which have basically cropped up amidst COVID-19—One is in terms of exposure of infection to physicians and staff that needs to be avoided and other is shortage of medical staff in this kind of pandemic situation. Both the things can be addressed easily using tele medicine platform. New guidelines help you deliver the care with physicians at one side and patient at other.
Government encouraged innovations, came up with mobile applications Aarogya Setu
In early April, the National Innovation Foundation (NIF), an autonomous institute under the Department of Science and Technology, Government of India, had invited citizens to participate in its Challenge Covid-19 Competition and share ideas that can supplement the efforts of the Narendra Modi government in slowing the outbreak. Then the Government came up with a COVID-19 tracking app called Aarogya Setu which tells us users about whether they are susceptible for the COVID-19 infection. Through GPS and Bluetooth, it takes note of the symptoms and get them alerted if any suspect comes near to them.
State Governments are also working on many of such innovative ideas to make people aware and safe.
The Kerala government launched an app called GoK-Kerala Direct using a platform developed by QKopy. It sends Covid-19 updates and travel information via phone notifications, and via SMS to older phones for the less than half of India's population without smartphones. Punjab Police takes help of AI-based drone developed by alumni and students of National Institute of Technology, Warangal (NITW) to manage social distancing amid lockdown.
IITs lead by examples
From developing a cheaper testing kit, hand sanitisers, personal protective equipment (PPE), and an app to monitor quarantine violations, to work on vaccines — the Indian Institutes of Technology (IITs) across the country are making all out efforts to turnaround things.
Researchers at IIT-Delhi have developed a test kit that promises to slash the cost of diagnosing Covid-19. The kit, developed at the Kusuma School of Biological Sciences, has been successful at the laboratory stage, and is now undergoing clinical trials.
IIT-Guwahati has provided lifesaving equipment to the Gauhati Medical College and Hospital (GMCH), including two real-time PCR (polymerase chain reaction) machines (DNA sample analysers) for Covid-19 diagnosis.
In addition, an IIT-Roorkee team has prepared more than 150 litres of a herbal hand sanitiser. IITBombay students and alumni have developed an app called 'Corontine' that can alert authorities about quarantine violations.
These machines can analyse up to 2,000 samples in 24 hours.
Startups which came up with innovative ideas
In an endeavour to help the country to combat the pandemic, some startups are working to develop hand sanitizer-dispensing robots and medical supply-delivering drones.
Asimov Robotics, a Kerala-based startup, has deployed robots at entrances to office buildings and other public places to dispense hand sanitiser and deliver public health messages about the virus. They have also developed Robots which have been deployed in hospital isolation wards to carry food and medicines, which eases the pressure on medical staff.
To ramp up number of low cost ventilators, start-ups such as Nocca Robotics, incubated at Indian Institute of Technology-Kanpur; Aerobiosys Innovations, incubated at IIT-Hyderabad; and AgVa Healthcare are developing low cost, easy-to-use, and portable ventilators that can be deployed even in rural areas of India. These ventilators have to seek approval from medical regulatory body before they could be deployed.
Another startup, Droom, claims it has come up with a special antimicrobial coating called Corono Shield, which inhibits the growth of microorganisms such as bacteria, algae, yeast, moulds, and mildew on the surfaces of vehicles.
Startups such as Marut Dronetech have partnered with state governments to test the use of drones to monitor adherence to social distancing rules. Drones are also being used to deliver medical supplies and even check people's temperature using thermal imaging.
Even entrepreneurs, innovators, scientists, and doctors are burning midnight oil to innovate quality and cost efficient solutions to tackle the corona crisis, the government needs to pay urgent attention to research and innovations. It needs to create infrastructure so that more and more people can think in the direction. Both 'Make in India' and 'Made in India' must be realised at any cost if India wants to self sustain. For that both private, government, and corporate sectors should work in sync and working in silos won't help us.
eHealth recently conducted a series of webinar, comprising various topics where Healthcare Experts and industry veterans participated. They pondered on various challenges of the Indian healthcare system in the wake of corona crisis. How the challenges lead to new opportunity for private providers with innovations being pivotal mainstay. In addition, critical thinking, planning, coherent strategy, leveraging technology, are some of the hallmarks to thrive in the tough time, as per the experts.

Follow and connect with us on Facebook, Twitter, LinkedIn, Elets video