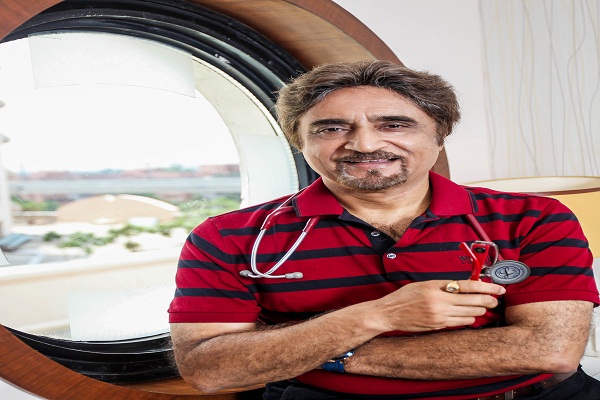 Christmas followed by the New Year ushering in 2020 was celebrated with same vigour and gusto all around the world as always. Life, rather the rush of life, offices, travels, entertainment, and businesses were as usual through January and, may I say, most of the month of February.
Slowly thereafter, disturbing scenes erupted from China which was not the epicentre of a viral outbreak for the first time. Did the rest of the world take much notice of it except sympathizing with Wuhan residents, the deaths, the lockdowns and the misery there? Some exotic theories of the origin of the novel corona virus did fodder speculation. By February end it was no more a matter of interest, but that of concern, the virus had started to show up globally particularly raising concern in a handful of countries. By now the questions were being raised on the delays by the Chinese and even the WHO in alerting the world of an impending calamity. May be it should have prompted early travel advisories. Early ? How early ? May be about 3 weeks. In a world which was unmindful of time in the mad rush of life what would be 3 weeks! But you would not say that in hindsight, now that there has been a seismic change in the way have been forced to live in the past several weeks in major part of this planet. The fatalities are rising by the minute. The cost of human life has just become many notches lower, the virus does not differentiate royals from commoners.
UN has recently reported that the global economy could shrink by up to 1 per cent in 2020 due to the coronavirus pandemic, a reversal from the previous forecast of 2.5 per cent growth. The impact of coronavirus has left the world counting costs – global shares have taken a hit, job losses have hit a new record high, travel, airline, cruise industry, hospitality, small and large businesses have all taken a massive hit. Human race is suddenly confronting uncertainties. The cost of Covid19 pandemic is so astronomical that economies could take years to recover. Poorest and most vulnerable countries may take years to recover.
So was the world prepared for this pandemic and how good is the global response system? Are countries dealing with this situation jointly? What lessons are we learning? Did we use an overall global health system and share timely intelligence to mitigate the spread of the virus? Did the Ebola, Influenza, MERS, SARS outbreak give us a wakeup call to get ready and be better prepared?
Future historians will write about life before and after Corona. Such a calamity has struck the world after exactly a century. Probably it was waiting to happen. Perhaps a correction was in order to bring a semblance of order to all greed and competition, but not this way. The world was not bracing to be amidst a world war like situation without a shot being fired. The virus may not retract itself from the face of the earth in a hurry. It is watching the response and reactions of more than half the planet under lockdown. Even in countries where there are no large scale lockdowns, there is radical change in the social behaviour of their citizens, social distancing ( I would rather call it 'Physical distancing' ) is the norm. But did the world tackle the situation as efficiently and intelligently as it could? Did we use advanced analytics and technologies to contain the virus? We saw complete lockdowns in communities but in some countries were they early enough? Could we have prioritised locations of lockdowns that posed higher risk of spread of infection?
The virus is also watching an unprecedented speed at which several countries are in a race to produce vaccines to neutralize the threat. Missile and Automakers have turned to making ventilators. Coffin makers in some countries are working overtime. Medical community has suddenly regained its lost respect and glory and cheered much the same way as soldiers are cheered in times of war. The virus also showed the mirror to the public health preparedness and the governments' response in several highly developed countries. Whether it is to do with BCG vaccination, Malaria, Dengue, unique micro RNA which helps novel Corona mutate into less virulent form or perhaps to a small extent it is the climate, the developing as well as the poorer countries seem to have fared better so far than their brethren in the west who enjoy more privileged life and breathe cleaner air.
Human race is re-learning the vicissitudes of life. In a way it is rebooting. If there is no massive economic help to the businesses and individuals through public distribution system, even direct cash to the unfortunates then there could be fears of widespread discontent. All these factors play on the minds of the citizens least being on complete restrictions of their movements outside the forewall of their houses. They do understand , however, that this is their best chance to fight the virus. The virus won't come to you, instead you will take the virus to others. Though confinement has led to some increase in discord in some parties, largely it has brought the families together. They share their quality time together, have started understanding the family values and support system better. The clapping for Covid soldiers against the virus, an unprecedented spectacle in several countries also brought the neighbours together. The mindset is changing fast. While majority of the world is enduring a 'Big Boss' like situation, avenues are being created to set up education if social distancing gets stretched over several months. Work from home is carried out as efficiently as in the offices. Do we need gigantic corporate offices? a question that might be shaking up the think tanks. E-learning and e-commerce will strengthen their norm and save the world travel related billions of dollars and carbon foot print. Small and medium enterprises will value their employees more dreading what might happen if they walk out until the time of course, when robots and AI take over, a little distant though. Of immediate concern will be the world struggling with bankruptcies. When the tornado of economic fallout settles and a new world order sets in, realignments and self-dependence is prioritized by nations, the historians will then judge who are the winners and who the losers if there would be any winners at all. The world will not be the same post-Corona.
The world did not react when pollution was killing people, we did not react when the glaciers were melting, and there were floods and fires, we were silent spectators of global warming and when nations were racing to test and stockpile the missiles, nuclear bombs even clandestine bacteriological weapons. The nature said why are you wasting your energy and resources let me help you a little bit. It is a grim reminder and you know what, God is watching
Is it a reminder to the world to slow down and let our planet breathe? Were we not better off and happier in many ways in the good old days when we did not have so much. Corona has also taught us how little we really need for ourselves and the rest is all a show-off. The air has never been as clean for decades. There must be urgent steps to do away with polluting industries and vehicles. Those who don't will be looked with suspicion and contempt.
We are born as humans, not robots or artificially engineered beings. The resurfacing of human suffering may be a grim reminder that no matter we may have reached the moon, we are failing somewhere if the technologies don't mitigate the human suffering. Finally, are we still going to continue with public hugging, shaking hands or high fives, not for a long time I believe.
(Disclaimer: The writer is Dr. M.S.Kanwar and the Covid team, Indraprastha Apollo Hospital, New Delhi. Views expressed are a personal opinion.)

Follow and connect with us on Facebook, Twitter, LinkedIn, Elets video