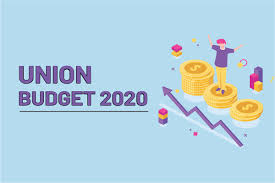 The Union Finance Minister Nirmala Sitharaman announced a slew of measures to boost healthcare sector, as a part of first full term budget of the second term of the Government presented in the Parliament on Saturday. With an objective to improve healthcare infrastructure, the government allocated Rs.69,000 crore for the healthcare sector. In addition, Budget announced scaling up of Ayushman Bharat initiative, expansion of Jan Ausadhi programme, anti-TB campaign by 2025. "Propose public-private partnership (PPP) mode hospitals in 112 aspirational districts," she said presenting first budget of the decade.
Govt will provide viability gap funding for setting up hospitals under Aayushman Bharat in districts which don't have empaneled hospitals. Proceeds from taxation on medical devices to be used to fund the above, said Minister in the parliament.
Budget announcements for healthcare 
A total of Rs 69,000 crore has been allocated for the health sector
Rs 6000 crore for the Pradhan Mantri Jan Aarogya Yojana
Hospitals under PPP mode would be stablished in 112 aspirational districts
Government proposes to attach a medical college with the district hospital to address gaps on shortage of medical professionals
Proceeds from tax on medical devices will be used for funding government hospitals in tier II and tier III towns
Anti-TB campaign to be launched to eliminate TB by 2025
Jan Aushadhi Kendras would be established in all districts of country to provide medicines at affordable rates
Here is how healthcare fraternity has reacted:
Ruchi Sogarwal, Co Founder & Director, International Institute for Human Development
While it was encouraging that Government of India has given more emphasis on preventive care, PPP in Ayushman bharat, expansion of Jan Aushadhi Kendra in all districts to provide medicines at affordable rates, etc. The government should have allocated adequate investment and actionable targets to foster digital healthcare infrastructure such as tele-medicine – increasing accessibility to diagnosis, treatment and management services. Anti-TB campaign is one of the highlights of the budget. However, the increase of budget spending up to 2.5 per cent of the GDP is still left unaddressed.
Rajiv Nath, Forum Coordinator, Association of Indian Medical Device Industry (AiMeD)
We were expecting the government to move forward on promised reforms and anticipated conducive measures to boost domestic manufacturing of the medical devices. It is frustrating that against our expectations, the government has not included any measures to help end the 80-90% import dependence forced upon us and an ever increasing import bill of over Rs. 38,837 crore & promoting growth Indian Medical Device industry. I express deep disappointment and anguish over the Union Budget 2020 giving cold shoulder again to the Indian Medical Device Industry.
Two years back Finance Minister announces Duty increased to 10% up from 7.5% and in evening we saw notification reversing this to 7.5% .
Manish Sacheti, CFO, Ziqitza Healthcare Ltd
This year's Union Budget has been a positive, holistic and visionary one for the healthcare segment. The allotment of Rs 3000 crore funds under skill development is a positive move by the government since the EMS (Emergency Medical Services) industry requires a high number of skilled individuals in paramedics as they play a vital role in saving lives. There is also a huge potential for job creation in the EMS segment. The announcement by the Government to provide viability gap funding for setting up PPP mode hospitals in areas like tier 2 and tier 3 cities under the Ayushman Bharat Scheme is another positive move.
Dr Babit Kumar, Radiologist, Motherland Hospital, Noida
The allocation of an additional Rs 69,000 crore to healthcare in the new financial year is a heartening measure. We are also pleased with the increased coverage announced under the PMJAY, which seeks to improve access to quality healthcare and insurance in Tier II and III cities as well. The FM has also addressed the shortage of qualified doctors, a major concern for the healthcare segment, and announced setting up new hospitals with tax generated from the sale of medical devices, which is a welcome move.

Nitiz Murdia, Marketing Director, Indira IVF
Increased budget allocation will definitely help the healthcare sector to grow. Better healthcare facilities were needed for tier 2 & tier 3 cities. The step to provide medicines at affordable rates is the need for the hour especially for the economic weaker section of the society. But the insurance coverage remained poor leaving higher expenditure struggle for people. The accessibility of the healthcare services for people will increase with focus on the infrastructure. More was expected from the government for the healthcare industry as it is directly related to the citizens' existence
Shalabh Paliwal, Chief Financial Officer, Jaslok Hospital and Research Centre
Budget 2020 has certainly focused more on the healthcare than previous budget. Government in last two fiscal years have increased budget for healthcare sector from Rs 54000cr to Rs 69000cr mainly aiming to provide more support to schemes like Ayushman Bharat, PM Jan Arogya Yojana Mission, Indradhanush and more. Government will be concentrating on empanelling hospitals under Ayushman Bharat more in Tier 2 cities for the benefit of the poor in these areas. Also in rural areas, where there are no hospitals, government aims to operate on PPP mode hospitals. As a measure to boost local manufacturing of medical equipment government has proposed health cess on import which is going to help in boosting local industries and encourage competition
Gaurav Gupta, Co-founder, Navia Life Care
From the healthcare sector perspective, accessibility issues were addressed and setting up of more hospitals in Tier-II, Tier-III cities under the PPP model for expansion of the Government's Ayushman Bharat scheme is a step in the right direction. It would definitely assist health-tech startups like Navia to expand its reach to Tier-II and Tier-III cities. Also, even though the budget allocation of 69,000 crores to the healthcare sector represents about a 10.5% jump from 2019 in absolute terms, India's public healthcare spending still stands at a little over 1% of GDP and it has a long way to go in comparison to other developing  countries where public healthcare spending stands at around 2-2.5% of GDP
Arindam Haldar, CEO, SRL Diagnostics
The budget allocation of Rs 69,000 crore for the healthcare sector will give the much required impetus to the sector. Ayushman Bharat that emerged as a powerful scheme for the country received further boost as the budget proposes development of hospitals under PPP model. Additionally, expanding the Jan Aushadhi scheme to every district along with Mission Indradhanush, covering new diseases and vaccines will further ensure access to quality healthcare.
The allocation of Rs 3000 crore for skill development of teachers, nurses, paramedical staff and care givers is an excellent step, well-trained resource has always been one of the major concern for the healthcare industry. But what's still missing is a healthcare scheme that provides cover for out-patient department (OPD) and diagnostics expenses. Ayushman Bharat, being the world's largest government-funded insurance scheme, could have brought in diagnostics under its ambit, as the Indian healthcare spend entail huge amount under out-of-pocket expenditure.
Chander Shekhar Sibal, Senior Vice President, Fujifilm India
We congratulate the government on a pragmatic Budget 2020, centered around the common man and its needs. The emphasis and outlay for healthcare and education was a much-needed boost to create a healthier and more skilled India. The government's intent to make a healthy India by expanding its horizon and supporting the "TB Harega, Desh Jeetega" to eradicate tuberculosis by 2025 is a commendable initiative that will yield positive and long-term impact.
Rs 69000 crore stimulus to the healthcare sector will provide the required impetus to the sector. Further, the government's proposal to boost the domestic electronics manufacturing will also impact the healthcare sector encouraging innovation and this reducing cost of healthcare. We believe that the government has put forward a progressive budget with a strong vision to take India's social, economic and overall well-being to greater heights.
Live Updates of the day
08:00 AM: The Union Finance Minister Nirmala Sitharaman is all set to present first budget of the decade.
08:30 AM: "Budget2020 is the time for NDA govt to provide a healing touch to common people & industries, who have been facing hardships since noteban. Hope the budget fulfills expectations of common people and provide relief across sections," Ashok Gehlot, Chief Minister of Rajasthan, tweets.
09: 00 AM: Finance Minister Nirmala Sitharam & MoS Finance Anurag Thakur meet President Ram Nath Kovind ahead of the presentation of Budget 2020.
10:03 AM: Nirmala Sitharaman arrives in the Parliament to present the budget.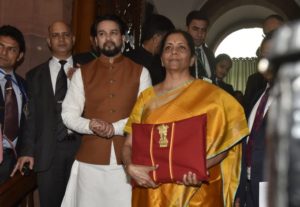 10:20 AM: Budget2020 documents arrive in Parliament.
Copies of #Budget2020 documents being brought to Parliament

Be with us as we bring you what those documents offer, as FM @nsitharaman presents the Union Budget in Parliament, from 11 AM

Watch the presentation LIVE on YouTube: https://t.co/TN71mvbfGt

& https://t.co/ykJcYlvi5b pic.twitter.com/WKF3MdR7iq

— PIB India (@PIB_India) February 1, 2020
10:25 AM: Ministers arrive in Parliament for pre-budget cabinet meet before the budget presentation.
10:39 AM: Prime Minister Narendra Modi reaches Parliament House, to attend the Cabinet meeting, ahead of the presentation of #Budget2020 by FM.
PM @narendramodi reaches Parliament House, to attend the Cabinet meeting, ahead of the presentation of #Budget2020 by FM @nsitharaman

Stay tuned

LIVE from 11 AM: https://t.co/TN71mvbfGt pic.twitter.com/vznPJc6cod

— PIB India (@PIB_India) February 1, 2020
10: 59 AM: The presentation of #Budget2020 is just a few minutes away.
Finance Minister Nirmala Sitharaman after Union Cabinet meeting at Parliament House.#AIRVideos: Diwaker#Budget2020 | #BudgetWithAIR pic.twitter.com/wB8x4KJpEW

— All India Radio News (@airnewsalerts) February 1, 2020
11:02 AM:Finance Minister Nirmala Sitharaman presents the full Budget of the second term of the Narendra Modi government.
11:10 AM: With renewed vigour, under PM's leadership, we commit ourselves to present the people of India with all humility and dedication. People have reposed faith in our economic policy. – FM
11: 13 AM: Our people should be gainfully employed, our businesses should be healthy, for all minorities, women and people from SCs and STs, this Budget aims to fulfill their aspirations: FM
11:17 AM:
FM @nsitharaman underlines some of the achievements of the government

Watch LIVE: https://t.co/TN71mvbfGt#Budget2020 #JanJanKaBudget pic.twitter.com/2zcLZvFRGV

— PIB India (@PIB_India) February 1, 2020

 11:18 AM: GST has resulted in efficiency gains in transport and logistics sector, inspector raj has vanished, it has benefitted MSME Consumers have got a annual benefit of 1 lakh crore rupees by GST: FM
11:21 AM: We shall strive to bring #EaseOfLiving to every citizen – FM
11:25 AM: FM translates Kashmiri poem into Hindi. It says, "Hamara vatan kilte huey Shalimar bagh jaise …hamara vatan dal lake me khilte huey kamal jaisa…naujawanon ke garm khoon jaisa…mera vatan tera vatan hamar vatan duniya ka sabse pyara vatan"
11:26 AM: FM lists 16 action points to boost agriculture
11:27 AM: Will double farmer income by 2022, says Finance Minister. A total of 6.11 crore farmers insured under Fasal Bima, says finance minister.
11:33 AM: Digital revolution will see the next wave, says FM. Will achieve seamless delivery of services through this: Nirmala Sitharaman.
11:42 AM: "Propose public-private partnership (PPP) mode hospitals in 112 aspirational districts": Finance Minister Nirmala Sitharaman
11: 44 AM: Govt to provide viability gap funding for setting up hospitals under #AayushmanBharat in districts which don't have empaneled hospitals. Proceeds from taxation on medical devices to be used to fund the above.
11:46 AM: Allocation of Rs 12,300 crores for Swachh Bharat Mission for year 2020-21. #BudgetSession2020
11: 50 AM: #MissionIndradhanush has been expanded to cover 12 disease, and 5 new vaccines have been added.
11: 53 AM: A total of Rs.69,000 crore has been allocated for the health sector in Union Budget 2020

Follow and connect with us on Facebook, Twitter, LinkedIn, Elets video