Despite huge demographic challenges in terms of large swathe of difficult terrain and tribal population, Jharkhand has come a long way serving the people of the State with quality and accessible care. The Government has leveraged Centre's game-changer scheme Ayushman Bharat and various other initiatives through PPP mode to resuscitate healthcare infrastructure across the State, writes Mukul Kumar Mishra and Gopi Krishna Arora of Elets News Network (ENN).
With India facing a double whammy of communicable, and non-communicable diseases due to a number of reasons including sedentary lifestyle and changing food habits of people at large in cities, accessible and affordable care hold huge importance. In the light of huge demographic variations across India, technology and innovations play a pivotal role to boost healthcare delivery system especially in rural areas.
Understanding the needs and requirements pertaining to quality care, the Centre, Jharkhand Government and various other State Governments are leaving no stone unturned to improve patient care.
JHARKHAND RECORDED POSITIVE IMPROVEMENT IN VARIOUS HEALTH INDEX
As per 2018 Niti Aayog Health Index report, Jharkhand showed a positive improvement on various healthcare parameters. The State maintained a strong growth trend with an increase of 33 percent in the health index from 2014-15 to 2017-18. It recorded a progressive trend in 9 out of the 10 primary health outcomes along with a strong system of qualified healthcare professionals.
PM ROLLED OUT AYUSHMAN BHARAT IN RANCHI
The Central Government is resolutely working towards realising the dream to provide affordable care to people of last mile and various initiatives including the game-changer scheme Ayushman Bharat are proof of its intent for making honest endeavour in this direction. The Jharkhand Government is also trying to align itself with the Centre's healthcare delivery bandwagon.
Last year Prime Minister Narendra Modi had launched the gamechanger scheme from the soil of the Jharkhand, which shows the strategic importance of the state which has registered a tremendous progress in all sectors including healthcare in last decade.
HYBRID MODEL OF AYUSHMAN BHARAT
Jharkhand has adopted hybrid model of Ayushman Bharat where a part of the claim comes under the insurance model while the balance gets processed under trust. As per the State official, 630 hospitals have been enlisted in the scheme and out of them, 216 hospitals are run by the Government. Under the scheme which promises Rs 5 lakh/family to vulnerable section for tertiary care a total of around 1,73,501 patients have been treated. Out of these patients, at least 1,51,668, around 90 percent of the total number, have been treated in private hospitals.
PPP MODEL RESUSCITATING HEALTHCARE INFRASTRUCTURE
Despite Jharkhand being predominantly a rural and tribal society with half of the areas falling into hilly terrain, the State has evolved in terms of different deliverables of healthcare. The State has 26 percent tribal population and its 15 districts are LWE (Left Wing Extremism) affected.
In this light, taking rural healthcare to people's doorsteps is a challenge. Nonetheless, the State is taking all measures to improve existing machineries of delivery process to ensure hassle free quality and affordable healthcare services.
With an aim to take healthcare to the last mile, a comprehensive effort is being made in by the State Government to fill the infrastructural gaps on many fronts. Public Private Partnership (PPP) model is being explored to improve healthcare infrastructure at various levels which in turn bolsters patient care in rural areas. Medall, Ziqitza HealthCare, and Tata Motor are working on various projects to improve patient care in every nook and corner of the State.
Niraj Arora, CEO, HealthMap, said, "PPPs model are becoming a preferred mode of delivery across various geographies of the country. There are enough good examples of this model generating the desired level of services at affordable price which have led the government and the private players to work more closely and deliver better results. The government of Jharkhand has rolled out PPP for both Radiology and Pathology for all districts of the State and Healthmap, SRL and Medall are the service providers."
"All the 12 labs in Jharkhand are high end advanced labs with NABL accreditation. Patients now have access to advanced tests in biochemistry, haematology, immunoassay, cytology, microbiology & histopathology with consistent TAT," a statement on behalf of Medall, a diagnostic company which works on various PPP projects in Jharkhand said.
State Government's Initiatives: In nutshell
Free diagnostic and free radiological on PPP mode in all district hospitals
Free dialysis on PPP mode at district hospitals
108 ambulance service to provide emergency services  104 toll free service for health advice
Separate cadre for specialist doctor and recruitment through bidding system under NHM
Telemedicine service for 100 PHC is ready to be rolled out
Running of CHC and HSC on PPP mode
MMU service for rural area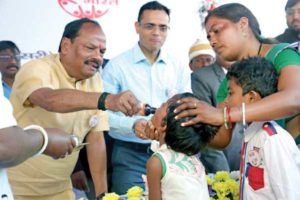 JHARKHAND MAKING GIANT LEAP ON VARIOUS DETERMINANTS OF HEALTHCARE
The State Government is undertaking a number of initiatives to cater quality and cost efficient healthcare facility to every citizen, though lots need to be done on fronts of doctors' shortage, primary healthcare infrastructure in rural areas, infant mortality rate (IMR) and maternal mortality rate (MMR).
A slew of measures have been taken on every level i.e policy, schemes, and implementation. The State Government has not only announced many flagship programmes to improve patient care but also ensured that it should reach people in the remotest corner of the State.
From maternal and neonatal care to urban and tribal health, the Government has undertaken many initiatives including Mukya Mantri Janani Sishu Swasthya Abhiyan and Mobile Medical Unit to improve accessibility of care.
Some of the healthcare interventions by the State Government to augment overall healthcare delivery enabling people to get better medical facilities in terms of quality, accessibility and affordability are:
URBAN HEALTH
Rapid urbanisation has given rise to a range of issues like contaminated water, poor sanitation, and air pollution in the cities. These factors are responsible for deteriorating health status of the urban poor in the long run. Existing systems and available resources are often found to be inadequate to deal with the situation. In this light, the State Government has launched various programmes to improve the living condition of the urban poor. Strategies adopted by the State include strengthening all the UHCs, formation and training of Mahila Arogya Samittee (MAS) and Urban Social Health activist (USHA) in districts, PPP with local bodies/non-government institutions/ hospitals to ensure health services for the urban poor population, and formation of a state and district level task force.
TRIBAL HEALTH
Jharkhand holds 6th and 10th position respectively in terms of Schedule Tribe population and the percentage share of the ST population to the total population of the State. Tribal communities are vulnerable and often face social exclusion because of their habitation, social networking pattern, low level of awareness, poor penetration to media, and lack of availability and accessibility of basic health services.
Most of these groups are small (numbering just over two lakhs), have not attained any significant level of social and economic progress, and generally inhabit remote localities with poor infrastructure.
The awareness regarding treatment and care is considerably low among tribal people. They visit health facilities only when the problem becomes serious enough. Tribal health strategies include setting up tribal friendly integrated quality healthcare services, outreach activities, including health camps, signing up of MoUs with the private and public-sector undertaking health facilities for providing healthcare services, making drugs available at all remote facilities for snake, dog, other animal bite, and periodical monitoring of facilities in the tribal area by a special monitoring team.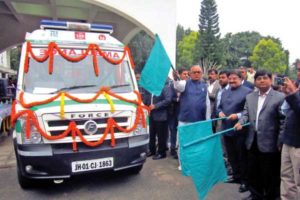 MOBILE MEDICAL UNIT (MMU)
Being a plateau, Jharkhand has many hard to reach areas and inaccessible localities. Poor infrastructure in terms of basic amenities of living has made life difficult for the inhabitants. Though, most of the health issues are preventable and easily treatable, lack of awareness and basic accessibility make thing difficult. In addition, lack of proper maintenance and management of the existing Government healthcare facilities worsen the situation, affecting whole delivery mechanism of care.
In light of above issues, the Mobile Medical Units proves to be helpful to ensure quick delivery of accessible, affordable and quality healthcare services to people. The project has been designed to cater to rural communities with special focus on people residing in hard to reach areas. MMU will provide all basic facilities including OPD services, X-ray, ECG test, general physician consultation, obstetric and gynaecological consultation, ANC check-ups, treatment of minor ailments and minor injuries, immunization to children, and providing appropriate referral services to malnourish children.
MATERNAL HEALTH
Maternal health includes curative and preventative care for women of reproductive age. The social determinants which are responsible for poor maternal health include poor educational levels, early age of marriage, early pregnancy, and large family size. Though the State Government is making all out efforts to improve various indicators but a lot needs to be done. The steps taken to improve maternal care includes strengthening the MCH tracking system, skill training of health workers to address ANC (Antenatal care), perinatal and PNC situations, scaling up of the labour room in tribal area, regular house-visits by Sahiyyas, Anganwadi Workers (AWWs) and Auxiliary Nurse Midwives(ANMs) within 48 hours of delivery, strengthening of Mukya Mantri Janani Sishu Swasthya Abhiyan (MMJSSA) and setting up of grievance redressal cells to monitor the progress and implementation of JSY.
CHILD HEALTH
Infant Mortality Rate (IMR), under five Mortality Rate, Child growth status (age-weight) are some of the indicators which determine child health of any country. Diseases like diarrhoea, acute respiratory illness, malaria and measles, are responsible for more than 50 percent of child deaths in India. In addition, social determinants like poverty, nutrition, access to healthcare, and education also affect child mortality. In this light an integrated effort in terms of syncronisation of various components of NRHM is needed to save the life of children. Several initiatives have been undertaken in this direction including establishment of Special New Born Care Units, New born Stabilisation Corners, Scaling up of Integrated Management of Neo-natal and Child Illness, control and prevention of Acute Respiratory Infections and Diarrhoea. In addition, various facility-based interventions including strengthening of referral facilities, operationalisation of new born care corners (NBCC), improved routine immunisation and Vitamin A coverage, Convergence with ICDS for nutritional aspects, and integrated management of Neonatal and Childhood Illnesses (IMNCI), have also been adopted to make child healthy.
TB PROGRAMME
The Government provides free treatment to drug-sensitive as well as drug-resistant tuberculosis patients under RNTCP (Revised National TB Control Programme). There is a network of around 340 DMCs, 36 CBNAAT Labs, one Intermediate Reference Lab at Ranchi and about 20,000 treatment providers. TB patients are also being provided Rs 500 per month during entire period of treatment for nutritional support under Nikshay Poshan Yojna. For better engagement of community, TB forums are being formed in each district along with regular community meetings and patient – providers meetings. An MoU has also been signed with Medanta to make Jharkhand a TB free State with active cooperation from the PSU located in the State.
INTEGRATED DISEASE SURVEILLANCE PROJECT
In an endevour to strengthen surveillance system in connection with communicable diseases and risk factor of non-communicable diseases Integrated Disease Surveillance Project was launched in November 2004. One of the important components of the project, funded by the World Bank, is to use Information Technology and Communication Technology in data management, analysis and rapid response in case of impending outbreaks.
AYUSH
The State Government has robust plan to implement Ayush (Ayurveda, Unani and Homeopath) systems of medicine, which holds huge significance to keep people hale and hearty. Plan and strategies which are afoot to streamline this alternative treatment process include mapping and establising AYUSH facilities, organising AYUSH MELA in all ten tribal districts, establishment of State Level Warehouse of AYUSH (Ayurveda, Unani and Homeopath), and training of ANMs and Anganwadi workers on AYUSH system of medicine.
In essence, the State Government is going all the way to improve things on every fronts of care delivery system. Though the existing challenges try to jeopardize the way, nonetheless the intent of making tangible difference will help it to create an enhance care model.