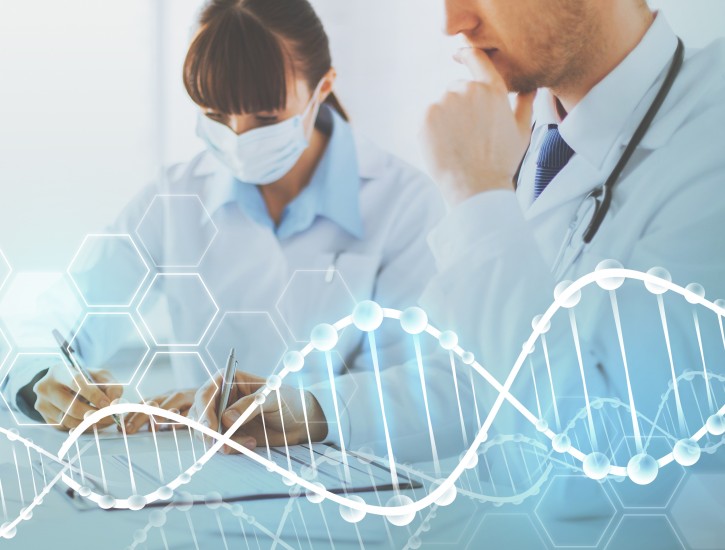 In our modern world, with advent of technology & modified lifestyles, concept of genetic counseling is drawing attention as a measure to improve quality of health care. After the Human Genome Project in 2001, there is a consensus among professional bodies around the world fostering the importance of genetic counseling in the management of genetic disorders.
What is Genetic Counseling?

As per the definition by World Health Organization (WHO), "genetic counseling is the process through which knowledge about the genetic aspects of illnesses is shared by trained professionals with those who are at an increased risk or either having a heritable disorder or of passing it on to their unborn offspring". (Source:www.who.int)
Genetic counseling is an integral part of the genetic testing and screening. It enables gathering of patient genetic history and other information required for taking genetic testing decisions, which are highly complex in nature.
Genetic testing and counseling for a patient at genetic risk are beneficial. By assessing medical and family history, it allows accurate diagnosis of the disease by identifying the underlying genetic causes; accurate management of the disease; predicting risk for family members; explaining what genetic testing is best and discusses medical and emotional implications for the family.
What genetic counselors do
A genetic counselor is an expert in medical genetics and psychological counseling and provides information and support to patient and family members who are at increased risk of a genetic disorder. These counselors provide information and support to patients and families in many different specialty clinic settings such as neurology, pediatrics, newborn screening, cancer, pregnancy, heart, etc. A typical genetic counseling session offers a personalized care plan for patients and families by facilitating informed decision making regarding their genetic health.
 How genetic counseling helps patients?
A genetic counseling session can lead to a range of positive outcomes including increased knowledge and awareness on risks, perceived personal control, positive risk behaviors and improved risk perception. During the session, the counselor provides answers to patient's medical questions, discusses implications and provides education and resources.
A genetic counselor has expertise at interpreting and explaining complex genetic information while providing emotional support to the patients at the same time. For example, in a prenatal genetic counseling session for couples expecting a baby, the counselor helps the couple to understand the chances of the unborn baby having a genetic condition. He/She discusses and provides accurate information, guidance about the probable birth defects the baby may have. The counselor explains all information specific to the patient's timing in the pregnancy and the need for counseling. This may include an assessment of specific risks for the pregnancy and options for genetic testing and screening. A counselor also explains what the potential testing results might mean and how to use these results to care for the pregnancy. Speaking with the counselor helps such couples as they receive useful information and guidance important to adapt and prepare for any risks or conditions and the emotional support to have peace of mind.
Also read: LifeCell launches Pentastic to detect genetic abnormalities in fetus
Counselors, beyond counseling
Genetic counselors play a critical role in assisting patients and their families in managing genetic information. Apart from counseling the patients directly, many genetic counselors focus on research to develop new treatment modalities pertaining to genetic disorders as part of the multidisciplinary healthcare team. The research to help in the development of new or improved treatment for people with genetic conditions helps the counselors to learn and adopt new research skill sets beyond working in a traditional setting of a hospital or clinic. Some counselors also work with scientists and medical doctors and play an important role in genetic data curation and interpreting test results.
With a focus on public health, genetic science provides many new dimensions to work for genetic counselors including in the fields of education, administration, policy-making, as well as for biotechnology companies as representatives.
Genetic Counseling: A promising endeavor
Given the extensive experience of implementing genetic testing, genetic counselor insight offers a valuable contribution to new practitioners of genomic medicine. By encouraging patients and their families for genetic testing and integrating the patient genetic information into their medical care, a clinician can understand how it affects their health.
Advances in genomic medicine to improve patient care is promising. However, there is a need to explore how to enable health care systems, clinicians, patients, and families to maximize the utility of this new knowledge on genetics.
In today's world, genetic counseling services need to continue to evolve to meet the changing needs of patients and families with genetic conditions. This probes for an urgent need for generating a greater evidence base for practice with increased funding and research resources focusing on implementation.An effective and responsible implementation is possible only when a comprehensive health care team including genetic counselors will work together towards the common goal of improving quality of healthcare through genomic medicine.
(Disclaimer: Author Neha Mathur is an independent consultant. The Views expressed are a personal opinion.)

Follow and connect with us on Facebook, Twitter, LinkedIn, Elets video