Rajiv Nath, the founder and forum coordinator of Association of Indian Medical Device Industry (AiMeD) and Joint Managing Director of Hindustan Syringes & Medical Devices Ltd, has been recently honoured for his exemplary contribution to global public healthcare sector.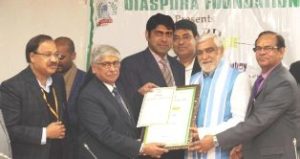 He was conferred upon the 'Award of Appreciation' by Minister of State for Health & Family Welfare Ashwini Kumar Choubey recently at a ceremony, organised by Diaspora Foundation.
Nath was honoured for his valuable, remarkable and outstanding achievements in the field of healthcare and community services for affordable Medtech access and patients safety initiatives.
"I am pleasantly surprised and humbled to receive this award.It validates the contribution and efforts made by us at AIMED, HMD and AISNMA to better the healthcare sector in the country and internationally in areas of Injection Safety, Drug Delivery , Patients Safety & Affordable access," said an elated Nath reacting to being appreciated in such a way.

"This recognition by the Indian NRI Diaspora is an appreciation of the hard work and dedication we have made towards transforming the healthcare sector in India. I thank the teams of all three organisations who were always behind me, supporting my vision and working relentlessly to meet our common goal," said Nath whose dynamic leadership to drive innovations and contributions in medical devices for healthcare has played an important role for the country to carve out a niche for itself on the global map.
Also read: Siddhartha Bhattacharya appointed Secretary General of NATHEALTH
Nath has demonstrated exceptional performances in setting up the agenda and roadmap for the future healthcare by putting up an exemplary entrepreneurial competency and leadership in the healthcare industry not only by his own manufacturing company Hindustan Syringes & Medical Devices Ltd but also for the entire MedTech industry segment to realise his vision to position India among the top five manufacturing global hubs of medical devices.
As the founder and forum coordinator of AiMeD, Nath has undertaken many initiatives for establishing a collaborative framework with various Government departments and media to bring to their attention issues affecting the industry and drawing investments in India as part of the endeavour to make the country a global manufacturing hub of medical devices – Make in India — and a preferred manufacturing destination and the leading supplier of medical device worldwide.
Hindustan Syringes & Medical Devices Ltd is one of the largest manufacturers of disposable syringes in the world and the largest manufacturer for auto disable syringes.
AiMeD is an umbrella association of Indian manufacturers of medical devices, covering all types of medical devices including consumables, disposables, equipment, instruments, implants, electronics, and diagnostics.
Nath was recently appointed a member on Board of National Medical Devices Promotion Council by DIPP, established to boost the Indian Medical Devices sector and lead India to an export -driven market in the medical devices sector.
Follow and connect with us on Facebook, Twitter, LinkedIn, Elets video