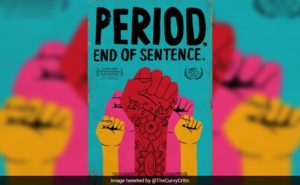 Highlighting the existing social stigma that exists in India at large about menstruation, the short documentary 'Period. End of Sentence' has won the Oscars.
It won the coveted award in the Documentary Short Subject category at the 91st Academy Awards, held in Los Angeles on Sunday.
The documentary feature is set in Hapur district of Uttar Pradesh, where women lead a quiet revolution as they fight against the deeply rooted stigma of menstruation. For generations, these women did not have access to sanitary pads, which lead to health issues and girls dropping out from schools.
It shows when a sanitary pad vending machine is installed in the village, the women learn to manufacture and market their own pads, empowering their community. They name their brand "FLY".
There has been an increased focus on period hygiene in India. Last year's Bollywood movie "Padman", starring Akshay Kumar beautifully highlighted the issue, prevalent in Indian society.
The movie was based on the biopic on Arunachalam Muruganantham, who started making low cost pads in his village despite being ostracised.
As per the National Family Health Survey report, as many as 62 percent young women in the age group of 15 to 24 years in our country use cloth for menstruation protection.
Majority of women in rural areas don't resort to hygienic method to protect themselves during the menstruation cycle.
Bihar, Chhattisgarh and Uttar Pradesh top the list where women still depend on clothes for protection during their menstrual cycle.
Meanwhile, the documentary which brought laurel to the country, a decade after music composer A R Rahman and sound engineer Resul Pookutty's historic Academy awards victory for 'Slumdog Millionaire' in 2009, has been directed by Rayka Zehtabchi.
Produced under the banner of Guneet Monga's production house, Sikhya Entertainment, is known for making critically acclaimed movies like Masaan, Lunchbox, and Haraamkhor, the short film highlights taboo surrounding menstruation.
"It is a surreal feeling. I feel so proud and excited. I would say it is just a great intention being rewarded," Monga said post the nomination.