If you have been in Delhi in 2016, it is likely that your life span may have decreased by 10 years, a study has suggested, adding the national capital was the second among 50 most polluted areas of the country.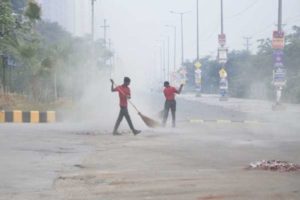 During the past two decades, Delhi's air quality was the "most deadly" in 2016 as it reduced the life expectancy of a resident by more than 10 years, the study has stated.

Stating India is today the world's second most-polluted country, trailing only Nepal, it has pointed out that loss of life expectancy was the highest in Asia, exceeding six years in many parts of India and China.
According to air quality life index (AQLI) and accompanying report produced by the Energy Policy Institute at the University of Chicago (EPIC), globally particulate pollution reduces average life expectancy by 1.8 years, making it the greatest global threat to human health.
"By comparison, first-hand cigarette smoke leads to a reduction in global average life expectancy of about 1.6 years," it said.
"The impact of particulate pollution on life expectancy is comparable to that of smoking, twice that of alcohol and drug use, three times that of unsafe water, five times that of HIV/AIDS, and more than 25 times that of conflict and terrorism," it said.
The study has highlighted over the past two decades, the concentration of fine particulates increased by 69 per cent on an average across India, reducing the life expectancy of a typical Indian citizen by 4.3 years compared to 2.2 years in 1998.
It has said concentrations of particulate pollution in India's northern states of Bihar, Uttar Pradesh, Haryana, Punjab, and the National Capital Territory of Delhi are "substantially higher" and the impact on life expectancy exceeds six years.
It said pollution is the "single greatest threat" to human health globally, with its effect on life expectancy exceeding that of devastating communicable diseases such as tuberculosis and HIV/AIDS, behavioural killers like cigarette smoking, and even war.
"The AQLI reveals that India and China, which make up 36 per cent of the world's population, account for 73 per cent of all years of life lost due to particulate pollution," it says.
Particulate pollution is "so severe that it shortens the average Indian's life expectancy by more than four years relative to what it would be if WHO air quality guidelines were met", the study states.
Among the 50 most-polluted areas in the country, Delhi was second to Bulandshahar.
In Delhi, the PM 2.5 concentration (particles in the air with a diameter of less than 2.5 micrometres)  was 114 microgram/m3 in 2016 which is 1.6 times more than 70 microgram/m3 in 1998, the study said.
In Bulandshahr, the PM 2.5 concentration was 124 microgram/m3 in 2016, which is 1.6 times more than 70 microgram/m3 in 1998, it said.
Delhi's air pollution reduced the life expectancy by more than 10 years of a typical resident in 2016 in a span of 18 years between 1998-2016, the study has found.
The AQLI is based on a pair of peer-reviewed studies that quantify the causal relationship between long-term human exposure to particulate pollution and life expectancy.

Follow and connect with us on Facebook, Twitter, LinkedIn, Elets video