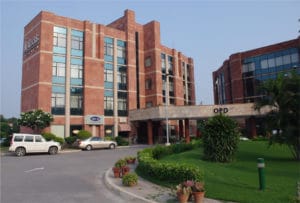 Fortis Hospital, Mohali, has introduced a technique which will be a boon to patients suffering from Sinusitis which remains a major health burden in the Indian population.
The technique, a first of its kind in the country, is an out-patient procedure, involving the placement of a stent in the sinus opening to dilate it so as to provide drainage of the sinus contents. It has so far been done only in UK, USA and Germany.

As per the Fortis Mohali doctors about 25 per cent of the ENT patients that they see in their practice have sinusitis. Responding to the development, Dr Ashok Gupta, former Head (II), Department of ENT and Head and Neck Cancer Surgery, PGI, Chandigarh, said, The management options are varied starting from medical management to surgical options. The patients failing medical management are offered surgical management. The surgical treatment options have been undergoing a lot of changes from extensive morbid procedures to lesser and lesser invasive procedures.
The most commonly used procedure is Functional Endoscopic Sinus Surgery (FESS). It involves use of the cold steel surgical instruments to open and dilate the sinuses by surgically widening the opening. Then came a short era of balloon sinuplasty which couldnt succeed due to cost factors and delayed presentation of the cases at the clinic or hospital making it ineffective, Gupta stated.
Explaining the latest technique, Dr Gupta said, the procedure is minimally invasive and no general anaesthesia is required. The cost involved is half of the most commonly used procedure Functional Endoscopic Sinus Surgery (FESS).
The SinuSys sinus dilation system is a novel approach to the treatment of sinusitis. It uses a natural low pressure system to dilate obstructed sinus drainage pathways which causes disease. Due to its simplicity and low pressure, the procedure can typically be performed with the patient awake, thus avoiding the time, risk and cost of other surgical procedures, while accomplishing excellent results, he said.
The success rate of the procedure in the appropriate patient population, has been found to be comparable to more aggressive techniques, such as endoscopic sinus surgery. The potential risk is much lower and typically with this technique, the patient may return to normal activity almost immediately, with no significant pain, he said.
The procedure can be performed at a significantly lower cost than other procedures, not only due to the lower cost of the device, but also the associated cost of the operating room, hospitalization and recovery. Even when compared to chronic use of medications, such as antibiotics, and nasal spray, this technique can provide more economical treatment options, the doctor added.
In 2001, sinusitis represented 13.6 million outpatient visits according to the U.S. Centers for Disease Control and Prevention (CDC). Approximately 40 million Americans are affected by sinusitis every year, and 33 million cases of chronic sinusitis are reported annually to the CDC.

Follow and connect with us on Facebook, Twitter, LinkedIn, Elets video