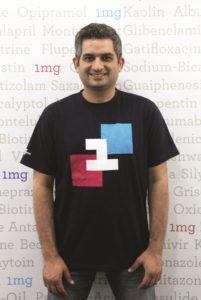 Digital healthcare platform 1mg has been selected along with 16 other leading companies from across the world as part of the Unreasonable Goals Programme to help solve the United Nations' Sustainable Development Goals by 2030.
"It is a privilege that 1mg received this recognition as a model that could have a significant impact on making healthcare work for patients across the world," said Prashant Tandon, CEO and Co-Founder 1mg.

"We operate with a simple philosophy: the consumer deserves to understand and participate in decisions regarding their well being. The consumer is losing confidence in the system, driven by the opacity and misaligned interests across the board. 1mg is committed to making healthcare work for the patients," he added.
The United Nations has identified 17 Sustainable Development Goals, which 193 countries have signed on to. For each goal, one company has been selected from around the world. 1mg has been handpicked as the model that could impact healthcare in a meaningful way (Goal no. 3: Health and Well Being for All).
The programme, designed to identify and support high growth ventures that have the potential to scale rapidly and use market forces to bring meaningful positive change across the 17 SDGs, is run by the Unreasonable Group in partnership with the US State Department and other global agencies.


Follow and connect with us on Facebook, Twitter, LinkedIn, Elets video