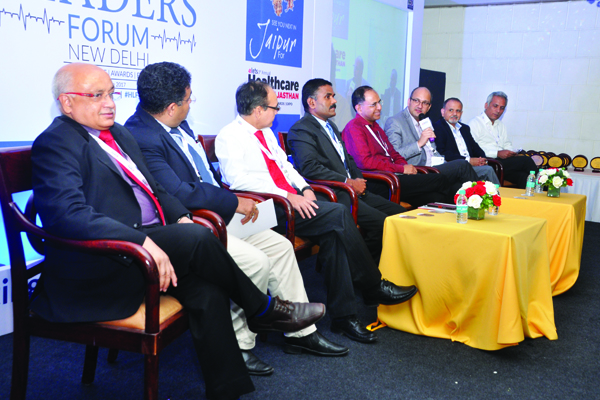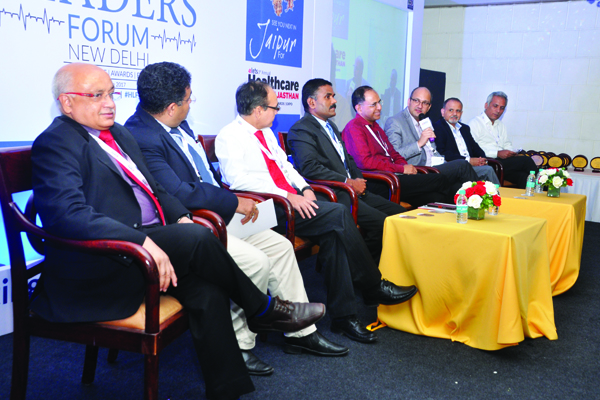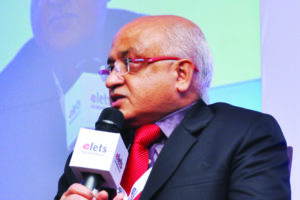 Dr Rajiv K Jain
Additional Chief Medical Director (Health & Family Welfare),
Ministry of Railways, Government of India
IT is as useful as physical infrastructure in the healthcare sector. Can we have IT functioning without the healthcare infrastructure on the ground? The answer is no, it cant. In India, we have to scale up IT application in healthcare. We need to have an accessible, robust and affordable healthcare system existing on the ground. Thats a prerequisite. Without the foundation, you cannot build an IT infrastructure supporting the healthcare system.

Similarly, in smart cities without a habitat you cannot have a smart city. So, it has to be synergically developed. Sometimes in order to push development of IT infrastructure, we forget that the basics of the healthcare systems are not available. We push IT too fast. Thats the word of caution we need to exercise.
To build healthcare infrastructure, it takes years and years because of very nature of healthcare system that it requires diverse set of individuals, skills to deliver in a unified manner to an individual patient in a predictable fashion every time continuously. It is here the use of IT comes in to make the quality more predictable, more standardised and transparent. The use of IT in this manner needs to be embedded in the system. Here India has an advantage compared to the US.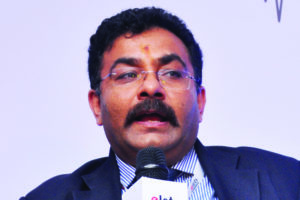 Naveen Sharma
GM Operations & Head Business Development,
Pushpawati Singhania Research Institute (PSRI Hospital), New Delhi
We are doing a lot of CSR activities to ensure that a woman sitting in Gajraula, which is 100 kms from Delhi, can consult a super-specialist in PSRI Delhi through telemedicine. Technology and IT have been bridging the boundaries. There is an acute shortage of clinical practitioners. So, ehealth can be a viable solution to this challenge. The government should take this initiative to bring down the infrastructure cost and other healthcare costs as well.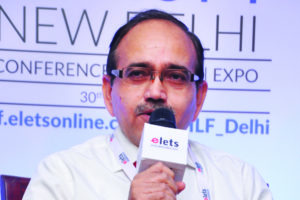 Jay Prakash Dwivedi
Chief Information Officer, Rajiv Gandhi Cancer Institute and
Research Centre, New Delhi
We dont do healthcare. All that we do is health repair and we start it at a point where it is mostly already irreparable. Smart healthcare would be, I enjoy the health and somebody else takes care of the care part. That somebody could be a technology, an agency, a person or a process. That is the smart way to deal with it.
All that smartness can bring or technology can bring is a series of steps that can start taking care of the care part. The first part is to monitor that how I am doing physically — how much am I excercising, what am I eating and what is my sleeping habit while I am still healthy. It will help us to move from healthcare to wellness.
The second part is information. Once something goes wrong, the technology informs me that you are going to encounter some problem. Also inform the nearby hospital that there is an incoming emergency case. The third comes the alerts and reminders. It tells me that you are due for a particular test or medicine. Then comes the subjects of accessibility, affordability, arranged telemedicine, tele consultancy, etc.
There are a number of ways technology can help us move from health repair to wellness.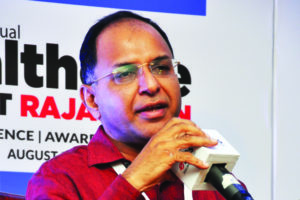 Dr Deepak Agrawal
Chairman of Computerisation,
AIIMS, New Delhi
We needed solutions not only for healthcare professionals, but for the patient as well. IT is just a catalyst. It is not the answer to anything. When you start working…, you realise that there were lot of standard operating procedures or protocols and processes which have not been documented. IT just helps you initiate this process and put it up in a systematic way, so that quality of patient care, consistency of care can actually be put into action.
The best example of how AIIMS leveraged IT to improve delivery of healthcare remains initiation of the appointment system of our institute. In the past three years, our institute used it so nicely and further developed it that it has taken a pan-India space. At AIIMS, we are booking more than 2 million appointments a year. The systems biggest advantage is that it empowers the under privileged patients, who were earlier queuing up for hours or days to get an appointment. These small steps have improved the approach to healthcare and ensure the last mile connectivity.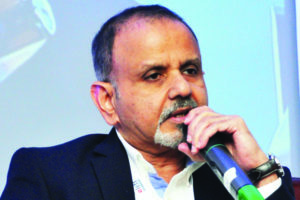 Inderjeet Davalur
Group Chief Information Officer, KIMS
Hospital, Hyderabad
Essentially the way we are approaching IT or technology use in KIMS is taking the view that let me walk a mile in the patients shoes. We focus entirely on what the patient experiences in a hopsital. Instead of taking a postmortem approach, we are tracking patients in all departments in real-time and we are using thresholds to generate alerts to operations staff.
We are also looking at other proactive measures that we take from our past experiences and build a system around that so that we can actually make it richer in terms of a better patient experience.
We are trying to get away from all the buzz words that you keep on hearing like AI, deep learning, etc and instead think about some very basic things from a patients standpoint.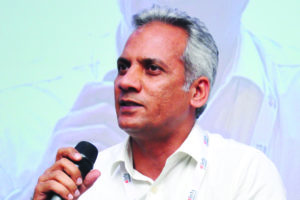 Dr Shankar Narang
COO, Paras Hospitals, Gurgaon
Healthcare is not only the delivery part. It is much bigger than this. It includes the life sciences part of it, where the pharmaceuticals, medical equipments, implants play a major role. It also includes the healthcare delivery right from the single doctor to polyclinics to primary, secondary, tertiary and quarter nary care. Then comes the payment part that includes TPAs, insurance companies and government agencies. I would call it a smart healthcare if all these parts of the healthcare ecosystem are integrated and connected to one platform where seamless exchange of data can take place, so that the customers or patients are not hassled.
Its not about making the solutions available but also implementation and adoption of that. To make sure that adoption of these solutions happen, I would recommend that we should take it to the level where the doctors and other service delivery personnel are trained right from the collegelevel or may be before that and have them integrated there itself, so that when they are ready to come on a platform they are ready to deliver the healthcare, they are more experienced and realise the advantages of these things. We should also be mindful of the e-waste we generate.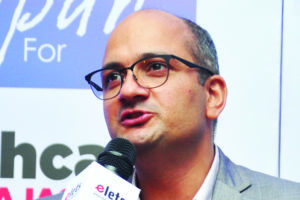 Dr Lalit Singh
Director, Clinical Solutions & Product Strategy, Elsevier Health
Speaking on how different stakeholders in the healthcare system are adopting technology and how the process of digitalisation will pan out in future, he said that technology adoption should be across the system and some progressive steps in that direction have been taken by the government as well — first of which is giving some standards to follow — and the next step will be initiatives like IHIP and health information exchange that will go a long way in helping the country achieve its health targets. He said that it was heartening to know that clinicians are finding technology adoption very useful. He added that the key thing is using the technology judicially and knowing exactly what we want to achieve, not withstanding whether it is public money or private money. Indian healthcare is fast moving from record management or financial module to clinical modules and connecting the dots to deliver quality healthcare in continuum.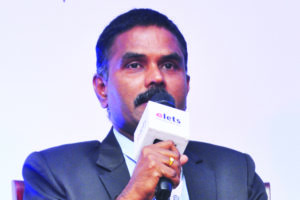 Niranjan K Ramakrishnan
Chief Information Officer,
Sir Ganga Ram Hospital, New Delhi
When we talk to media, we highlight the patient-centric approach. But within the organisation, it is always business, administration, doctors, nurses and then comes the patient. But with the adoption of technology, the focus becomes patientcentric. Everybody believes that the system should support the patient experience — whether it is waiting time, reducing the number of bed days or discharging procedures. The technology can really improve the patient experience. Business assumes that technology has to improve, while technology assumes that business has to coordinate. I think there has to be a marriage between the two to make the things work.

Follow and connect with us on Facebook, Twitter, LinkedIn, Elets video