Transforming Medical Infrastructure
Its drive to create an integrated world-class healthcare system, Artemis Healthcare Institute (AHI) has built an infrastructure backed by cutting-edge medical technology. The hospital has installed some of the most advanced equipment in predictive, diagnostic and therapeutic imaging. Kapil Mehrotra, responsible for Information Systems function in the Artemis Hospital, has extensive experience in development and deployment of IT strategy, systems and integration projects for domestic and international clients. Rated as one of Indias top Most 100 Respected CIOs and an IT thought leader, he has won several prestigious recognitions including Indias Best CIO, Next 100, and Indias Best IT Manager. He has also featured in the list of Indias top 100 CIOs.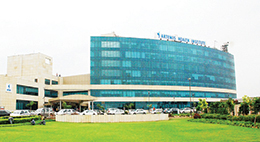 Organisation Profile
The corporate value system at Artemis is founded on three pillars " Service, Compassion and Integrity. We care for customers and deliver world class patient care services, excel in the delivery of specialised medical care supported by comprehensive research and education. Artemis develops, applys, uates and shares new technologies and is an active partner in local community initiatives and contribute their well-being and development.

Follow and connect with us on Facebook, Twitter, LinkedIn, Elets video