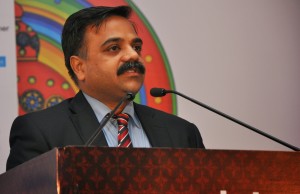 The quality and level of health IT services is also expected to evolve with time across the countrys healthcare value chain, says Sanjeev Gupta, Managing Director, Accenture in India
How do you perceive the Indian Health IT market? What are the drivers that are influencing this segment in India?

Over the past decade, IT has made continuous inroads into the Indian healthcare sector. Currently there are a slew of National Level Health IT Programs, which utilize technology and data capture methodologies including Ministry of Health and Family Welfares Mother & Child Tracking System (MCTS), online TB monitoring program Nikshay and the National Health Management Information System (HMIS). During the same period, private players have also focused on digitalizing operations to offer price-competitive offerings packed with cutting-edge features that deliver a world-class experience to consumers.
The drivers of IT health adoption in India include advent of electronic health records, increasing healthcare data management needs, advent of private insurance and medical tourism in the country and technological advancements.
Is Health IT going to be a game changer in Indian healthcare industry?
Besides overcoming several challenges like accessibility, portability, affordability and awareness, one of the biggest advantages that health IT offers is enabling patient-centred coordinated care. Health IT can significantly improve the operational and clinical efficiencies of hospitals and emerge as a game changer in Indian healthcare industry.
What are the functional areas where Health IT can make a difference?
Hospital information systems (HIS) and records digitization: Integrated healthcare delivery through efficient processes/workflows with focus on improving citizens experience
Automation of supply chain: Better and more effective management by integrating the SCM system with other healthcare systems in the ecosystem
Handheld based data collection: Advantages include significant cost savings, data collection at source (rather than periodic data updation) and real time information availability to decision makers
Analytics enabled real time disease surveillance: Prevent infectious outbreaks by eliminating information leaks involving notification of communicable diseases
Is it the right time for public and private sectors in India to seek technological advancements for optimizing their business outcomes and improving healthcare scenario in the country?
Yes, given the growing competition, rising consumer expectations and increasing cost benefits of digitalization, seeking technological advancements and investing in health IT is the need of the hour for stakeholders.
At Accenture, we have been working with businesses to develop innovative health IT strategies such as Village-Aligned IT initiatives that bring quality primary care to people in rural India by empowering intermediaries (healthcare or outreach workers from each village) already active in those regions. Multiple stakeholders help equip field workers with Decision Support System (DSS) enabled tablets or smart phones that incorporate the latest World Health Organization (WHO) guidelines, clinical protocols and best practices.
The average person is now connected all the time via a smartphone. How does that affect Health IT?
With smartphone shipments expected to touch 155.6 million by 2017, Indian consumers have never been more connected to government, businesses and among themselves. This rapidly growing smartphone penetration is making information dissemination much more transparent, efficient and convenient, making it possible for a large number of citizens to benefit from technology advancements including those pertaining to health IT.
How do you see the Health IT evolving in the coming years?
Over the next few years, we expect the level of health IT adoption to increase among healthcare facilities in India. For instance, currently we see only a 25 per cent implementation of electronic medical records at hospitals with 250+ beds and none at smaller facilities. Similarly, while clinical decision support systems have seen adoption by hospitals with 100-250 and 250+ beds, it has yet to see the light of the day at hospitals with fewer beds. This is expected to change over the coming years.
The quality and level of health IT services is also expected to evolve with time across the countrys healthcare value chain i.e. preclinical (stage 1), diagnosis (stage 2) and treatment (stage 3). While many programs have either been rolled out, or envisaged in parts of India, the implementation, almost always, has been partial or incomplete, but is expected to improve over the coming years.

Follow and connect with us on Facebook, Twitter, LinkedIn, Elets video