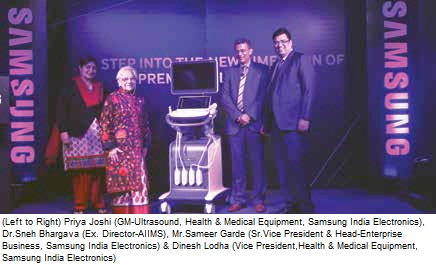 Samsung Electronics has launched the UGEO WS80A, its first premium ultrasound with 5D technology in India. With stylish Samsung design and innovative features including the 5D technologies, MPI and ElastoScan that provides superior image performance, the UGEO WS80A redefines premium ultrasound for womens health. The device features a 21.5 wide LED imaging screen and a 10.1 touch screen for the controls, as well as a variety of software optimizations that help resolve relevant anatomy and outputs data to 3D TVs for an even more realistic view. As the first premium device, the UGEO WS80A represents the latest ultrasound innovation and leading IT technologies of Samsung, said Dinesh Lodha, Vice President, Health and Medical Equipment Business, Samsung India. Samsung will continue to put its best efforts towards developing medical devices that deliver true-to-life images and features that provide faster diagnosis. The new UGEO WS80A combines Samsungs latest technology in display to deliver faster and more accurate di diagnoses in the field of womens health. Its key features are:
The 21.5 Wide LED screen offers users higher quality color image representation as well as higher resolution compared to conventional monitors, delivering enhanced vision of the ultrasound images.
A 10.1 Touch Control Pad is highly sensitive, allowing for easy input to minimize users stress from pressing the buttons.
FRV + Inversion Mode " FRV (Feto Realistic View) has been upgraded to improve speed and to support inversion mode. Advanced FRV allows for detailed visualization of subtle anatomical features, thereby enabling intuitive diagnosis on the scanned 3D images and enriching patient communication.
5D NT (Nuchal translucency)* — Enables realistic visualization of NT images that help detect Down syndrome.
. 5D Cine — Provides images that can be viewed on 3D TV for healthcare practitioners to acquire new clinical value through more accurate diagnoses of lesions and blood vessels. Apart from the clinical benefit, this feature also gives life-like 3D images of the unborn child.
ElastoScan – applies strain imaging technology which displays the gradient value of tissue displacement via color map, thus making it easier for users to differentiate between benign and malignant masses through acquiring the strain ratio between the target and reference area at a much faster rate than its predecessors. Simple ROI selection and automatic calculation make breast diagnosis more efficient and intuitive. Other additional features include the Additional EV Probe Holder, Probe Cable Hangers, Default Gel Warmer and up & down Lift that allows the user to adjust the system to the users preferred height without straining.

About Samsung Electronics Co., Ltd.
Samsung Electronics Co., Ltd. is a global leader in technology, opening new possibilities for people everywhere. Through relentless innovation and discovery, we are transforming the worlds of televisions, smartphones, personal computers, printers, cameras, home appliances, LTE systems, medical devices, semiconductors and LED solutions. We employ 270,000 people across 79 countries with annual sales of US$187.8 billion.
Follow and connect with us on Facebook, Twitter, LinkedIn, Elets video