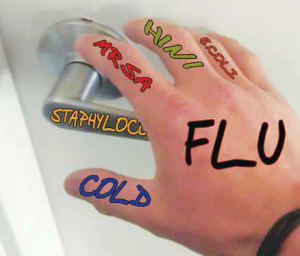 Standard principles for infection prevention and control focusing on hospital environmental hygiene, which is crucial to the prevention of healthcare associated infection (HCAI). Good hospital hygiene is vital to any strategy for preventing HCAIs in hospitals
By Japneet Kaur, Elets News Network (ENN)
It is said that It is easy to make friends but very difficult to maintain friendship. Healthcare infrastructure is no different. It is not enough to engage great architect, health planner and a very good uting agency offering attractive, pleasing and rich specifications in the construction of healthcare infrastructure. The essence lies in the proper maintenance of infrastructure so that it functions smoothly and aids the sustainable delivery of healthcare.
Though there is a suitable protocol, standard operating procedures should be in place during the design and planning of hospitals but the efficiency and effectiveness of healthcare delivery lies in its maintenance.
HCAI- Causes and Precautions
Health care-associated infection (HCAI), also referred to as nosocomial or hospital infection, is an infection occurring in a patient during the process of care in a hospital or other health care facility which was not present or incubating at the time of admission. HCAI can affect patients in any type of setting where they receive care and can also appear after discharge. In a health-care facility, the sources of infection, and of the preceding contamination may be the personnel, the patients, or the inanimate environment. The most frequent route of transmission, however, is indirect contact. The infected patient touches"and contaminates" an object, an instrument, or a surface. Microorganisms can be transmitted from their source to a new host through direct or indirect contact, in the air, or by vectors. Based on data from a number of countries, it can be estimated that each year, hundreds of millions of patients around the world are affected by HCAI.
Every day, HCAI results in prolonged hospital stays, long-term disability and increased resistance of microorganisms to antimicrobials, massive additional costs for health systems, high costs for patients and their family, and unnecessary deaths. Healthcare services are in a dire need of a paradigm shift in terms of providing care more efficiently.
Many infection prevention and control measures, are simple, lowcost and effective, however they require staff accountability and behavioral change.
Over time, healthcare providers and clinicians at various hospitals have realised this oversight and have instituted corrective measures. They ensure that timely checks and actions are taken to make sure that delivery of health care is uninterrupted and efficient.
Many of these efficient ways of functioning are being practised across the country. Diagnostic and other allied services like laundry, kitchen waste management are already being outsourced. This is called wet leasing where, the space is provided within the infrastructure and the cost of installation, running and maintenance of the equipment lies with the vendor. Similarly, facility management is out-sourced and is responsible for looking after the house keeping and engineering maintenance besides the efficient functioning of these out sourced areas of specialty. This has helped in creating an environment where the clinician and medical staff can attend their clinical services more efficiently and effectively and not worry about maintenance of general running of the hospital.
Infection control is the discipline concerned with preventing HCAI. It is an essential (though often under-recognized and under-supported) part of the infrastructure of health care.
 

The main solutions and perspectives identified for improvement are:

>>Implementing standard precautions, particularly best hand hygiene practices at the bedside. It is recommended as the most important practice to control hospital acquired infection.>>Improving staff education and accountability.>>Disposables provides the best possible protections for the healthcare professional, i.e the surgeon, the caregiver, the nurse and finally the patient himself/herself. Using disposables during intra-operative procedures provides comfort and convenience to user and also earns the confidence by providing the consistent protections.

>>Designated proper place for garbage, bio medical waste (BMW) bins and temporary bio medical waste storage with removal facility through separate staircases and lifts and proper segregation, collection and disposal.

>>Energy conservation must be planned and implemented, and some of the measures are – use of efficient light sources, natural light utilization, effective ventilation and energy recycling.

>>Air curtains should be installed at entry of patient care areas such as ICU, OT sterile area and delivery suites.

>>Washrooms should be provided with grab bar with enabled entry of wheelchairs and with provision of emergency call button.

>>Flooring should be non slippery and abrasion, acid and alkali resistant.

>>There should be distinct, ideally separate, access for ambulances and ambulant cases.

>>Corridors should not be less than 2.85 m in width to facilitate the movement of trolley and stretchers.

>> Provision for separate lifts for the patients, visitors, staff and supplies. Lifts should be capable of accepting hospital beds with emergency equipment and attendants.

>> Appropriate traffic flow. Easy movement of patients and staff from one clean area to another. >>Critical areas like LR, OT, ICU should be isolated from general traffic and avoidance of air movement from areas like laboratories and infectious diseased wards.

>> Provision of natural light should be made to the maximum.

>>Septic and non septic nursery provision to prevent the infection transmission between the neonates.

>>Right locations and zoning.

>>Mechanically or electrically operated beds.

>> Applying technology in innovative ways to enhance operational efficiency, enabling care coordination and improving patient outcomes