Since the first X-ray machine installed in India in Lady Hardinge Hospital, New Delhi in 1918, Indian radiology has walked through many evolving phases. Tele-radiology, interventional radiology, neuro-radiology and the like were included in radiology with several technology upgradation
By Sharmila Das, ENN
Radiology is the cornerstone of any hospital. An efficient radiology department increases patient satisfaction as a result of its ability to improve patient care. Radiology is now the key diagnostic tool for many diseases and has an important role in monitoring treatment and predicting outcome. The anatomical detail and sensitivity of these techniques is now of a high order and the use of imaging for ultra structural diagnostics, nanotechnology, functional and quantitative diagnostics and molecular medicine is steadily increasing. Over time, a well-run radiology department adds significant patient volumes, which, of course, favourably enhances the hospitals bottom line regardless of whether the hospital is not-forprofit or for-profit. All these developments have necessitated the establishment of a well equipped, well qualified radiology department in every hospital.
According to a report published by Millennium Research Group (MRG), the Indian market for diagnostic imaging systems is currently witnessing a strong growth rate each year. In 2011, the diagnostic imaging market witnessed an average growth rate of nearly nine per cent. It also predicts that the market would reach almost USD 830 million by 2016.
Radiology equipment
Earlier machines were single phase self rectified x-ray machines with air-cooled rectified valves with cones and cylinders.The tables were mechanically or manually operated with crude spot film devices, etc. One was lucky to get access to a 200 or 300 mA unit. In Delhi, upto 1952, Irwin Hospital and Lady Hardinge Medical college had the only well-equipped radiology departments while Safdarjung Hospital languished with only one 100 mA unit. At present, there are scores of well-equiped departments in Government and public institutions and there are over a 100 private clinics. Similarly, all the metropolitan cities have scores of well-equipped centres.
It appears that there are about ten thousand 500 mA units in India today; 100-500 mA units are about 30,000 and less than 100 mA units may be about 20,000. The annual demand for conventional x-ray machines is in the vicinity of 1500 (though it appears that demand is going down). There are about 350 CT scanners all over the country with a demand of about 50 per annum. There are about 50 MRI scanners and the anticipated demand is 20 per year.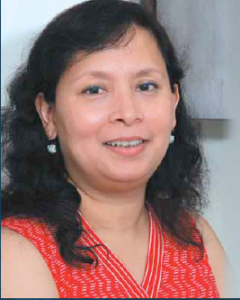 Dr Rakhee Gogoi
HOD-Radiology & Imaging,Paras Hospitals
Over the years I have seen a lot of changes. With latest MRI equipments we could now see good number of patients coming to us. The radiology department of Paras is a comprehensive one thats actually benefitting patients. Earlier we used to produce radiology reports in a day or two, now with coming of upgraded machines and technologies the turnaround time has reduced significantly. With such quality machines there have been wonderful changes for betterment. There are wonderful CT scan machines, the waiting time of the patients has also decreased, and diagnostic has improved. Moreover, with the significant development of medical technology and medical equipments we can now see how the cell is working inside the body. This is enormously helping the doctors and radiologist to perform their work better giving better care to patients.
Now everything being in cloud we can say that the Radiology is also seeing a huge scope working through cloud based software. However in India still now web based solutions are doing very well. Although I feel now there is very less demarcation between cloud and web based solutions. In this regard, tele-radiology has been doing wonderful contribution to the growth of Indian radiology. With tele-radiology, a person can have the reports sitting at the comfort of a home and the radiologists too do not have to rush to hospitals to see the reports. For performing tele-radiology procedures we use different web based solutions and we are very happy with the present web based set up. Having said that, I know in days to come everything will be cloud based and we will be incorporating such solutions in matching our requirement. Paras is shortly coming up with two new set ups in Bihar and we will be connected and working through tele-radiology in Bihar. We have taken up all the advanced machines that have improved our workflow. We are now planning to upgrade our MRI machines. I feel this is the time when we need to play with the tide. With all the machines in place, we are doing all type of cases including the angiograms and all. There is no doubt of the benefit of using 3Tesla MRI machine reason being we are in the process of acquiring this soon.


Follow and connect with us on Facebook, Twitter, LinkedIn, Elets video