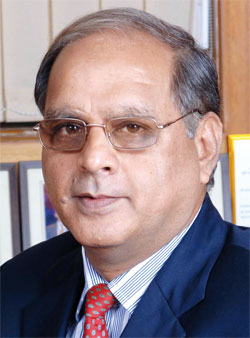 SURESH VAZIRANI


Chairman & Managing director
COMPANY PROFILE: TRANSASIA BIO-MEDICALS LTD
Corporate Office
Transasia Bio Medical ltd, Transasia House, 8 Chandivali Studio Road,
Andheri – East, Mumbai -400072
Web: www.transasia.co.in
COMPANY PROFILE
TRANSASIA BIO-MEDICALS LTD. is a leader in the clinical diagnostics segment of the Indian healthcare sector, providing total solutions for clinical diagnosis. With an enviable track record in the industry, the company is a leading Indian manufacturer and exporter of diagnostic instruments and reagents. The company has successfully developed and manufactured hi-tech In-Vitro Diagnostic (IVD) instruments and reagents and has become a name to reckon with, in India and about 50 plus countries across the world.
Transasia today has a sales and installation base with over 30000 installations all over the country supported by a network of 129 service engineers, 250 sales and marketing professionals, 60 centres and 14 zonal offices in metros and major cities backed by a strong force of trained engineers and customer training personnel.
Transasia has a 100 percent subsidiary in Germany; Erba Diagnostics Mannheim GmbH,which is equipped to manufacture instruments, reagents and consumables conforming to IVD directives. Erba Diagnostics Mannheim is playing a stellar role in bringing world-class products within reach of laboratories across the globe.Today, Transasias products enjoy a strong global presence and are exported to Italy, Germany, France, Australia, China, Turkey, Latin America, Africa, Russia, Middle East, SAARC and Asia.
In September 2009,Transasia has acquired Erba Lachema Diagnostics S.R.O, a leading diagnostic company in Europe and Diasis Diagnostic Systems, Turkey along with a majority stake in US based IVD Company Ivax Diagnostics, Inc. (headquartered in Miami, Florida) which develops, manufactures and markets proprietary diagnostic reagents, instrumentation and software worldwide through its three subsidiaries; Diamedix Corporation, Delta Biologicals S.r.l. and ImmunoVision, Inc.
PRODUCTS/SOLUTIONS
Transasia Bio-Medicals Ltd offers Total Solutions for Clinical Diagnosis in Biochemistry, Haematology, Immunology, Critical care, Coagulation, Urine analysis, Molecular diagnostics, and Clinical diagnosis.
Biochemistry
" EM 100, EM 200, EM 360
" ERBA XL SERIES – (300 & 600), ERBA CHEM-7, ERBA Chem-5 Plus v2, ERBA Chem-5X
Haematology ( from Sysmex )
" XT4000
" XS 800i
" KX-21
" pocH-100i
Immunology (from Erba Mannheim)
" Mago 4, ERBA LisaScan II, ERBA LisaWash
Clinical Electrophoresis: ( from Helena)
" V8
Urine analysis
" Uro dip check 300
Molecular Diagnostics ( from Gen Probe)
" Panther
Diabetes Management (from Drew scientific)
" DS 5
" DS360
Reagents
" ERBA LIQUIXX & POWDER
" Controls & Calibrators
" Immuno Turbidimetric assay
" WAKO- premium biochemistry range
" Critical infectious rapids
" Erba Mannheim quality assurance system " EMQAS
ACHIEVEMENTS
Niryat Shree silver trophy for 2008-09 by Federation of Indian Exports Organisations (FIEO) " 2010
AIMA " Dr J.S. Juneja award for creativity and innovation, 2010
USP: Customer and service focus which has helped to set benchmarks in terms of customer expectations

Business Alliances
Sysmex, Japan
Medica, USA
Diesse, Italy
Wako, Japan


Follow and connect with us on Facebook, Twitter, LinkedIn, Elets video