Primary Eye Care Centres in Rural areas

Aravind Eye Care System
Highlights
Nearly 500,000 or close to 25 percent of the 2.6 million outpatient visits handled annually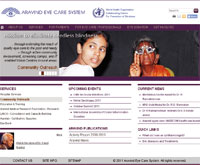 One of the challenges in healthcare is that of ensuring "Universal Coverage". It is usually the rural poor who don't get access to health care.

To address this, Aravind Eye Care established a series of vision centres (primary eye care centres) aimed at providing comprehensive primary eye care services to the rural and remote population and thus creating access to quality eye care. Each vision centre covers a population of 50,000 to 60,000. These centres are equipped with ophthalmic equipments and a computer with a webcam and high bandwidth (4 mbps) point to point wireless (802.11b – license free spectrum) or BSNL broadband connectivity. These centres are run by a well-trained ophthalmic technician who performs a comprehensive eye examination with slit lamp, does refraction and treats minor ailments while a counsellor, counsel the patients and manages the vision centre operations. Aravind pioneered the concept of screening eye camps to reach the unreached community through various approaches.
The specific objective is to provide quality primary eye care services in local neighbourhoods of the rural population on a permanent basis and significantly reduce the necessity to go to a centre of higher care by offering the services of a specialist locally by integrating telemedicine technology.
Website: www.aravind.org
---


e-Hospital Govt Fever Hospital
Fever Hospital & NIC APSC, Hyderabad
Highlights
On-line realtime availability of the patient records acorss the hospital

Elimination of wastage of medicines and hospital consumables, with increased accountability

Automatic reporting for disease surveillance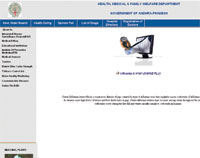 Patient care is provided on round the clock basis by the hospital, with the innovative use of information and communication technology. Patient services used to be affected as there used to be more documentation work. Nurses used to spend more time in writing manually in the registers rather than patient care.
The project was started to improve patient care and reduce patient waiting time. It was initiated to eliminate time consuming documentation procedures and provide low cost and open source technologies. Medicines and their prescriptions are made online. Online indenting and supply of medicines, diet, etc., to patients and timely administration.
It has made use of technology easier for hospital staff without any prior computer knowledge as they are now able to operate themselves. We provide innovative user interfaces requiring minimum entries. No typing work for nurses, lab-technicians, doctors is needed as, only with a few clicks they could perform their job. No physical paper movement and associated delays in getting supplies and information to serve the patients from wards to labs, pharmacy, etc, is required.
Website:www.health.ap.nic.in/
---

Rajiv Aarogyasri Health Insurance Scheme
Aarogyasri Health Care Trust
Highlights
The Government is able to provide insurance coverage of up to `2 lakhs per year on a family floater basis for 1.98 crore families at a cost of only `400 per family per year
Government of Andhra Pradesh has accordingly formulated this scheme for implementation on a pilot basis in three most backward districts of the state viz., Anantapur, Mahaboobnagar and Srikakulam. "Aarogyasri Health Care Trust" was set up in February 2007 to act as "State level nodal agency" for the implementation of the scheme. In the state, people living below poverty line require financial protection for the treatment of serious ailments.
To improve access of BPL families to quality medical care for treatment of identified diseases involving hospitalization, surgeries and therapies through identified network of health care providers through a hybrid model consisting of tailor-made policy (serviced by Insurer) and self funded reimbursement mechanism (serviced by Trust) to assist BPL families for their catastrophic health needs without compromising the importance of existing Health Care Delivery system of the Government.
However the scheme is designed in such a way that the benefit in the primary care is addressed through free screening and outpatient consultation both in the health camps and in the network hospitals as part of scheme implementation and areas of catastrophic health expenditure is met by the insurance scheme.
Website:www.aarogyasri.org
---

Soalni Healthcare Pvt Ltd
Soalni Healthcare Pvt Ltd
Highlights
The project has ensured that the residents of Palwal and adjoining villages and Tier2 & 3 cities areas can now access quality and reliable healthcare in their vicinity
The project has been set up with an aim to provide standardized, quality, affordable, comprehensive, timely healthcare through hubs of 120-150 bedded hospitals in Tier II and Tier III cities linked to spokes of primary clinics with pharmacies, in larger villages and urban slums. A complete eco-system is intended to be developed with links to diagnostic centers, blood banks, ambulance service and mobile clinics, telemedicine, insurance coverage and arrangements with tertiary care facilities.
It is aimed to set up a chain of such hospitals, clinics and pharmacies all over the country. The Palwal hospital, OM SPERO HOSPITAL has been set up as the first pilot project of this model. The hospital is set up in the rural outskirts of Palwal city with a coverage area of over 300 villages and 10 Tier 2 & 3 cities surrounding the hospital. The hospital provides state of art facilities in all major disciplines at the door step of patients. More than 600 million individuals in the middle and low income groups living in urban slums, Tier II & III cities and in rural areas do not have access to proper healthcare.
The project was started to transform India's healthcare by creating the next generation secondary and primary healthcare delivery system.
Website:www.sperohospitals.com
---
Follow and connect with us on Facebook, Twitter, LinkedIn, Elets video