Vatsalya Hoshangabad

Collectorate, hoshangabad
Highlights
Complete removal of paperwork cutting down repetitive tasks leaving ample time for field work

Digitisation of the health records of all the children of Hoshangabad between the ages of 0-5 years achieved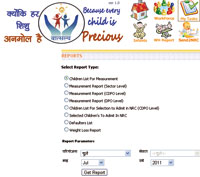 District administration conceptualised an IT based solution- Vatsalya Hoshangabad to identify and monitor malnutrition sensitive zones / areas and individuals through complete automation of the reporting of nutrition, keeping a close tab on timely reporting, admissions in nutrition rehabilitation centers (NRC), health checkup follow-ups and maintaining a temporal age to weight database of every child.

The system also incorporates special feature of sending alerts through SMS to all the key stakeholders from concerned staff to parents and to district administration. Vatsalya Hoshangabad thus is an initiative of district administration, Hoshangabad, imbibing elements of G2C, G2G, mGovernance and e-Governance. The traditional system of reporting is slow, non-targeted and relies more on summary reporting from one level to another.
Vatsalya Hoshangabad aims to achieve this by improving the monitoring procedure of child health parameters with the use of technology and a re-engineered workflow model that is user friendly and operates in real time. Easy quantification of work being done at the aganwadi, sector and block level to improve decision making and to make timely and effective interventions. Integrate the entire scheme with the maternal and child health care activities being taken up by the health department through convergence.
Website: www.vatsalyahoshangabad.org
---


Hospital Management for Chief Minister's Jeevan Raksha Kosh
National Informatics Centre Rajasthan
Highlights
About 35 percent of the state's population is benefitted with this system

System is operational for about 500 health institutes

Currently data is reported from 395 locations and records of more than 12 lakh patients are available online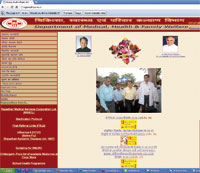 Mukhya Mantri's Jeevan Raksha Kosh (MM-JRK) is one such scheme initiated in Rajasthan for the poor population. It is a web based on-line application, intended to facilitate free medical treatment to poor patients in any government health facility at state, district or sub district level.
The system is developed by National Informatics Centre (NIC), Rajasthan and is part of HEALING which is a comprehensive e-Gov tool of the department. The system is intended to cater to a target population of more than one crore. Software provides appropriate interfaces for online verification of patient category from their respective data bases. It maintains stock for the drugs and surgical accessories at every institute on real time basis.
Software provides for online disbursement of medicines. The system is used for providing medical & health services to patients belonging to categories like, BPL, pensioners of social welfare schemes, handicapped and 7 other special categories.
Website: www.rajmedical.raj.nic.in
---

Hospital Management Information System (HMIS)
TCS
Highlights
Has more than 7000 Users

Around 11,705,736 registrations done accross Gujarat
The Hospital Management and Information System (HMIS) developed by Tata Consultancy Services (TCS) has been envisaged to not only help the administrators to have better monitoring and control of the functioning of hospitals across the state using decision support indicators but also assist the doctors and medical staff to improve health services with readily reference patient data, work flow enabled less-paper process and parameterized alarms and triggers during patient treatment cycle.
The HMIS enables monitoring pre-defined health indicators and the embedded exception reporting facilitates decision making by the hospital management and state level administrators for policy and strategic decisions. HMIS is state-of the-art healthcare solution to provide better care to patients by addressing all the major functional areas of the hospital and the entire gamut of hospital activities.
The project streamlined the operations and increased efficiency in government hospitals and improved patient care. The effective administration and control with pro-active monitoring of quality health service indicators and integrated state-level holistic view of the resource utilisation.
Website: ww.tcs.com/SiteCollectionDocuments/Brochures/LSH
---

Integrated Hospital Management System
Shri Vinoba Bhave Civil Hospital
Highlights
PACS for viewing X-ray, USG and CT scan within 5 seconds

Paperless OPD

Centralized Medical Store with transparency
Integrated Hospital Management System (IHMS) covers all requirements of a modern healthcare institution. It is a fully integrated solution that caters to the clinical, administrative and financial needs of the hospital. A generic application which streamlines operations enhances administrative control, improves response to patient care, cost control and most importantly the transparency of the system.
It generates various MIS which gives statistical information on prent diseases in certain areas, catchments areas of the hospital and also works as cost centre to improve the judicious use of the funds. It also provides comprehensive data security to prevent unauthorized user access.
The project was started in aim to cater the patients with reduced waiting time and to organize the patient data optimally as well as to maintain the transparency of the system. To address the health needs of the local population by providing timely specialized healthcare services that is holistic, easy to access offer quality and timely healthcare services for the entire tribal population of Dadra and Nagar Haveli.
Website: www.silvbch.org
---
Follow and connect with us on Facebook, Twitter, LinkedIn, Elets video