Dr B.R Ambedkar Memorial Teaching hospital & Tripura Medical College
Highlights
Reduced waiting time of patients at the counters for registration, cash payment, laboratory and radiology investigations, consultation etc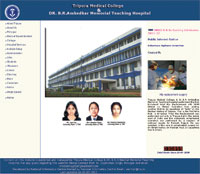 e-Hospital@NIC, a Hospital Management System is a workflow based ICT solution for hospitals specifically meant for the hospitals in government sector. This is generic software which covers major functional areas like patient care, laboratory services, work flow based document/information exchange, human resource and medical records management of a hospital.
It is a patient-centric system rather than a series of add-ons to a financial system. One of the top most areas of concern to the common man is health care service. Mainly down trodden masses are being served by government hospitals in rural and urban areas. e-Hospital is designed to help small size to large size government hospital to deploy ICT solution at affordable cost. Hospital-wide management and seamless integration of information across various departments of the hospital is set up along with comprehensive information about patients.
This generic software for a government hospital covers all major functional areas of medical college at remotest corner of India. Unicode based Indian multilingual support comprehensive reporting on various customizable parameters with a comprehensive role based access control and security enables data sharing across various departments.
Website: www.tmc.nic.in
---


e-Hospital Govt Fever Hospital
Fever Hospital & NIC APSC Hyderabad
Highlights
On-line realtime availability of the patient records acorss the hospital

Elimination of wastage of medicines and hospital consumables, with increased accountability

Automatic reporting for disease surveillance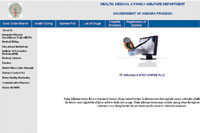 Patient care is provided on round the clock basis by the hospital, with the innovative use of information and communication technology. Patient services used to be affected as there used to be more documentation work.
Nurses used to spend more time in writing manually in the registers rather than patient care. The project was started to improve patient care and reduce patient waiting time. It was initiated to eliminate time consuming documentation procedures and provide low cost and open source technologies. Medicines and their prescriptions are made online. Online indenting and supply of medicines, diet, etc., to patients and timely administration. It has made use of technology easier for hospital staff without any prior computer knowledge are able operate themselves.
We provide innovative user interfaces requiring minimum entries. No typing work for nurses, lab-technicians, doctors, only with a few clicks they could perform their job. No physical paper movement and associated delays in getting supplies and information to serve the patients from wards to Labs, Pharmacy, etc, is required.
Website:www.health.ap.nic.in
---

MCD Hospitals
Wipro Ltd
Highlights
Average handling increased to nearly 900 patients per 4 hours OPD session in the front office, OPD clinics
Wipro Healthcare IT provided integrated Hospital Information System to MCD Hospitals implementing 28 modules which cater to outpatient and inpatient functionality, inventory & MIS within every hospital. This includes patient registration with demographic details, outpatient visitors, doctor appointment scheduling, admission, discharge, transfer, order entry, laboratory/radiology/cardiology result reporting, operation theatre management, pharmacy etc. Wipro has helped MCD to consolidate data from all their 6 sites and setup their data center.
Wipro implemented web portal to access patient's clinical data from any with the help of internet. Wipro implemented end to end automation of the entire life cycle management of the healthcare solution. commencing from registration, electronic patient folder have been automated.
The list of process automated are as follows- Registration, ADT, OP Billing, IP billing, ward, ICU, emergency, operation theatre, physiotherapy, phlebotomy, laboratory, cardiology, radiology, diet and nutrition, house keeping, laundry, biomedical equipment management, CSSD, maintenance, administration, security and identify management, pharmacy, medical records, discharge summary, MIS, lab equipment Interface, web enabling features. The primary objective was to provide healthcare facilities to patients.
Website:www.wipro.com/industries/healthcare
---

Follow and connect with us on Facebook, Twitter, LinkedIn, Elets video