IndiaHeartBeat.comHospital

DreamWeavers InfoCom Pvt. Ltd.
Highlights
Empanelled a record breaking 45000+ medical entities in less than a year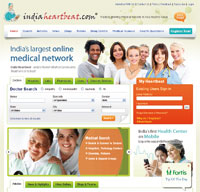 Choice and accessibility being the need of the hour in the health realm encouraged Dreamweavers Infocom to take the first step forward towards building the country's first digital-medical network. They always tried promoting IndiaHeartBeat.Com as a digital socio-economic initiative.
Placed at the intersection of two ever-growing verticals namely Healthcare and IT, IndiaHeartBeat.Com is deemed to be the world's first medical networking and resource portal architecture on Web 2.0. The platform primarily acts as a robust digital- bridge and ensures seamless connectivity between the patients and the diverse medical world which comprises doctors, hospitals, diagnostic centers, pharmacies and auxiliary medical services. Some of the areas of immediate interest are medical search, medical networking and patient information records.
Some of the other features of the portal include international medical tourism, free consultation forums, health insurance application, service discounts, access to drug references/ molecular pharmacology etc. The primary objective is to build the largest community of medical professionals and countrymen and improve the accessibility and enhance efficiency and efficacy in the domain.
Website: www.indiaheartbeat.com
---

Rajiv Aarogyasri Health Insurance Scheme
Aarogyasri Health Care Trust
Highlights
The Government is able to provide insurance coverage of up to `2 lakhs per year on a family floater basis for 1.98 crore families at a cost of only `400 per family per year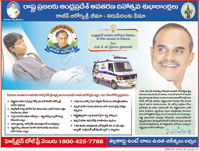 Government of Andhra Pradesh had initially formulated this scheme for implementation on a pilot basis in three most backward districts of the state viz., Anantapur, Mahaboobnagar and Srikakulam. "Aarogyasri Health Care Trust" was set up in February 2007 to act as "State level nodal agency" for the implementation of the Scheme.
In the state, people living below poverty line require financial protection for the treatment of serious ailments. To improve access of BPL families to quality medical care for treatment of identified diseases involving hospitalisation, surgeries and therapies through identified network of health care providers through a hybrid model consisting of tailor-made policy (serviced by insurer) and self funded reimbursement mechanism (serviced by trust) to assist BPL families.
However the scheme is designed in such a way that the benefit in the primary care is addressed through free screening and outpatient consultation both in the health camps and in the network hospitals as part of scheme implementation and areas of catastrophic health expenditure is met by the insurance scheme.
Website: www.aarogyasri.org
---

Integrated Online Portal forAIIMS Trauma Centre
JPN Apex Trauma centre, AIIMS
Highlights
Live (real-time) statistics on the total number of patients at JPNATC available on the website

It is for the first time in the world that such a project has been conceptualised and implemented
The project was conceptualised to set a benchmark for accountability and transparency in public funded healthcare in India. As a small initial step, statistics on the number of patients coming to a hospital, as well as number of patients being admitted and discharged be available online publicly in a real time manner or as close to real-time as possible were required. No other healthcare facility anywhere has allowed itself open to scrutiny in such a global manner where real-time statistics on patient flow as well performance audits of each department are available for all to analyse, compare and criticise.
The objective was to internally audit the clinical performance of each department and also has this audit available online publicly so that it could be compared with other hospitals in India and abroad. The centre wanted to have live statistics on the number of patients coming to a hospital, as well as number of patients being admitted/discharged be available online publicly. This would make the overall working of a hospital transparent to the public.
Website:www.jpnatc.org

Follow and connect with us on Facebook, Twitter, LinkedIn, Elets video