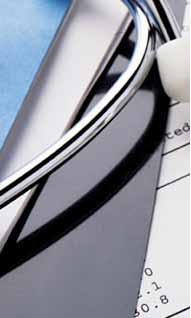 One of the fastest growing segments in the non-life insurance industry, health insurance offers hope for a healthy living
By Divya Chawla
The healthcare expenses in India are financed through general tax revenue, community financing, out-of-pocket payment and social and private health insurance schemes. Out of pocket expenses, however, contribute for the major chunk of healthcare expenses made. Protecting households from high out-of-pocket expenses for healthcare is a key issue that needs to be addressed to protect households from being pushed into poverty and be made vulnerable to catastrophic health expenditures. As per a recent study, the analysis of nationally representative data from India shows that 3.5 percent of the population falls below the poverty line and 5 percent of households suffer catastrophic health expenditures. The poverty deepening impact of out-of-pocket expenses was at a maximum in people below the poverty line in comparison with those above.
Owing to shrinking public healthcare budgets, escalating healthcare costs coupled with demand for healthcare services, and lack of easy access of people from the low income group to quality healthcare, health insurance is emerging as an alternative mechanism for healthcare financing.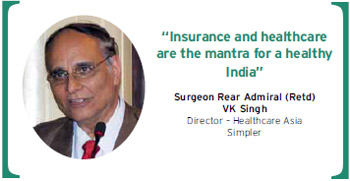 Health insurance was introduced in India in 1912, when the first insurance act was passed and witnessed little change until 1972, when the insurance industry was nationalised and 107 insurance companies were brought under the umbrella of the General Insurance Corporation (GIC). Further, in 1999 the enactment of Insurance Regulatory Development Act (IRDA) took place, which allowed private and foreign entrepreneurs to enter the insurance market in the country. The bill also facilitated establishment of an authority to protect interest of the insurance holders by regulating, promoting and ensuring orderly growth of the insurance industry. According to the bill, foreign promoters are expected to hold paid up capital of up to 26 percent in an Indian company and requires them to have a capital of INR 100 crore along with a business plan to begin operations.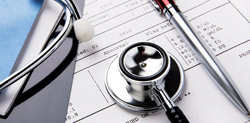 Indian scenario

In India, health insurance has been the fastest growing segments in the non-life insurance space. The sector is now, also emerging as a significant line of business for the life insurance companies and all the major life insurance companies are now rolling out health insurance products into the market.
Healthcare insurance in India may be categorised under:
Voluntary or private-for-profit schemes

Employer-based schemes

NGOs/community-based schemes

Mandatory/government-run health insurance schemes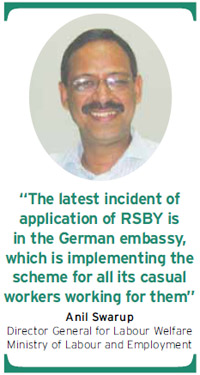 According to data published by the Insurance Regulatory Development Authority (IRDA), the gross premium underwritten by non-life insurers in the health insurance space, for the period April September 2010, amounted to Rs.5532.6 crore. Of this, the stand alone health insurers accounted for Rs.663.49 crore, while the remaining `4869.11 crore was contributed by the remaining non-life insurers. For the same period in 2009, the total gross premium underwritten in the health insurance space was `3904.79 crore. Hence, 2010 marked a growth of almost 29 percent over 2009, for the period April September. The high growth rate reflects the phenomenal rate at which health insurance is being adopted by more and more people in India.
At present, 17 general insurance and three health insurance companies are selling health insurance. As per reports, during 2009-10 the total gross premium is expected to have touched Rs.8100 crore. The number of stand-alone health insurance companies is gradually increasing. Star Health insurance was the first health insurance company, followed by Apollo Munich in 2007. Max Bupa, initiated its operations in April 2010. Owing to the growing healthcare costs, the assured insurance limit has also increased from Rs.500,000 to Rs.10,000,000. Max Bupa has introduced a product which provides coverage of Rs.50,000,000 and has no age limit. The latest trend is that hospital and pharma companies are now becoming promoters of health insurance companies and are investing in these companies.
The latest projections suggest that by 2015 health insurance will become a Rs.35,000 crore industry and by 2025 the value of this industry will be worth Rs.400,000 crore.
Key Issues
Less than 15 percent of people in India have some form of health insurance coverage

More than 40 percent people, who get hospitalised have to borrow money/sell assets to cover expenses

A quarter of these people fall below poverty line because of high costs

Medical care is one of the three main causes of impoverishment in the country

A large share of consumption expenditure is made on health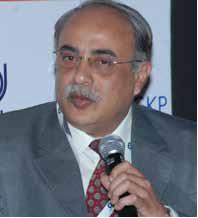 IT in Health Insurance
Payers around the world share the same concern—how to stay competitive while healthcare costs are on the rise. In the past, many companies approached this challenge by trying to roll out premium rate increases to their customers. This strategy is being met with resistance from employers and retail consumers. With a growing backlog of claims and continually rising costs of adminis-trative processes and medical care, the market is ripe for IT solutions that reduce a companys operatingcosts and improving customer experience during a claim process. For those considering adopting technology solutions, the decisions range from identity management, automating claims processing and using intelligent adjudication and score card systems. Among the high priorities are predictive analytics as a tool for underwriting processes.
Industry analysts believe the level of automation in a payers business processes is now becoming the key success or failure factor within the sector. In addition to outdated paper processes, studies show thatmany payers are affected by a high inefficiency factor in the automated systems they currently use. Often,they achieve less than 50 percent of the possible efficiency in their back-office systems simply becausethey are unaware of benchmarks and what they should be able to accomplish. Buyers, therefore, must understand not only what technology solutions to adopt, but also how to mitigate risks in those businesssolutions as existing technology evolves or new technology emerges.
The internet is a vital link to increasing functionality and interconnectedness for sharing data and information. Hospitals and physicians need quick response to verify health benefits coverage of theirpatients and status of transactions.In addition, Internet functionality of a business process and its related data facilitates a payers ability to increase customer satisfaction by providing Web access to health care providers to submit pre approvals and claims electronically. Initiatives by government of India like legalising digital signatures for use in e-commerce bring in credibility and accountability in enabling web transactions for health insurance.
Payers in India, Central and State governments rolling out social insurance programs have adopted to paperless claims processing solutions to mitigate customer relationship issues and faster turnaround time at the point of care. The Health Insurance eco system is moving towards customer centric outcomes of IT deployment.
Government Initiatives
Government run health insurance schemes such as Rashtriya Swasthya Bima Yojana, Andhra Pradesh's Aarogyasri, Tamil Nadu's Kalaignar Health Insurance scheme, Gujarat's Chiranjeevi scheme, and so on have empowered the below poverty line and weaker sections of the society with better healthcare. Sharing the success of RSBY, Anil Swarup, Director General for Labour Welfare, Ministry of Labour and Employment said, "Almost every state of the country is now offering RSBY scheme to its BPL population. As on date 23 million smart cards are active in the country and more than 1.5 million people have already availed treatment at various hospitals. The scheme has been chosen by the World Bank as one of the top 18 social security schemes. Countries like Bangladesh and Maldives have also taken decision on replicating a similar scheme in their countries." Dr S Vijayakumar, Special Secretary, Health and Family Welfare Department, Government of Tamil Nadu and Project Director, Tamil Nadu Health Systems Project said, "Kalaignar Insurance Scheme for Life Saving Treatments has converted the dream of the people to access to quality medical care and has provided financial protection against huge medical expenses for high-end treatment into a reality for the BPL or low income population." Babu Ahamed, CEO of Aarogyasri, an equally important government-run health insurance scheme in Andhra Pradesh said, "The scheme has screened and provided treatment for common ailments for 42 lakh patients in 25,000 health camps."
In future, the health insurance industry will continue to follow the growth trajectory and will play a crucial role in hospital payments. Health insurance providers will not only come up with product innovations, but also delivery innovations. The industry will bring specialisation and professionalisation in the system. It will also bring quality, standard and cost optimisation in healthcare delivery.

Follow and connect with us on Facebook, Twitter, LinkedIn, Elets video