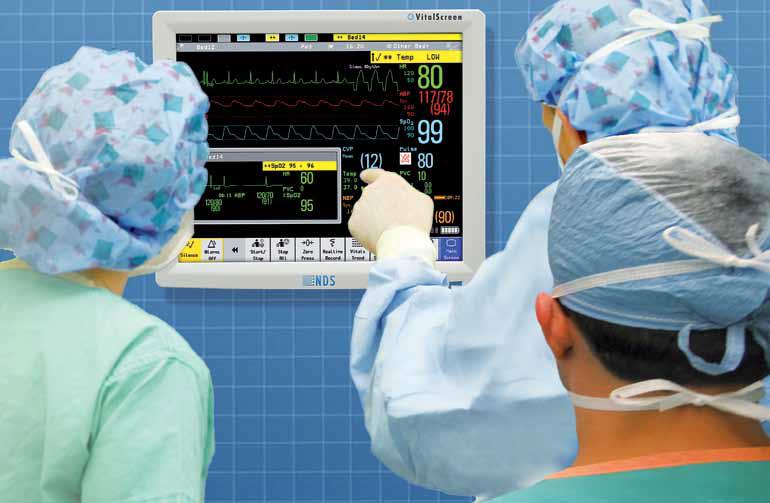 Patient monitoring systems are tailored to meet the individual needs of care units and care providers, helping them deliver high-quality patient care
By Dhirendra Pratap Singh
The patient monitoring market is an expanding and profitable sector in the global healthcare industry. A new report by Global Data, Global Patient Monitoring Market Analysis and Forecasts to 2015, shows the global patient monitoring market was valued at US $4.9 billion in 2008. Driven by the rise of the chronic disease population, the market is forecast to grow by 3.8 percent annually until 2015 to reach US $7.2 billion.
The growth in the patient monitoring market is driven by wireless and ambulatory monitoring and micro electromechanical systems, promoted by an increased desire for flexibility. Together, these accounted for 24.9 percent of the overall market in 2008.
Globally, the US remains the largest patient monitoring market. In 2008, it was valued at US $2.4 billion and is forecast to grow by 4.3 percent annually during 2008 to 2015, to reach US $3.6 billion. However, with most of the demand originating from the emerging economies, the centre of the global patient monitoring market activity is up for a huge shift. India and China are forecast to grow faster than the average, driven by rise in the number of hospitals and large chronic disease populations.
In India, estimated market size is roughly around Rs.230 crores. In all, five crucial product segments have been identified in this market, which include "multi-parameter patient monitors, wireless and ambulatory patient monitors, remote patient monitoring, non-invasive blood pressure monitors and micro-electromechanical systems. Growth in the market for patient monitoring is also driven by increasing awareness among medical professionals and growing incidence of diseases.
Technology Trends

Remote patient monitors are a massive area of growth. They are used in conjunction with a device that is implanted in the body. This is a recent technology that has been commercially applied only to the cardiovascular market, specifically to pacemakers and ICDs.
This category exhibited double-digit growth in the past and is expected to continue with this trend in the future. Though currently restricted to the cardiovascular market, this will soon expand to gynaecology and the diabetes market.
Novel technologies in patient monitoring are emerging to meet the increasing demands of an aging population. A few of these latest technologies include wireless communication systems that 'sort' the vast amount of data collected
A significant feature of the patient monitoring market is that certain segments within patient monitoring are developing rapidly, as compared to others, and are expected to follow similar growth patterns in future, as well. However, there are other segments that have yet not reached that level of growth and development. This has created unequal development of different segments as some are progressing faster than the others. Reports identify, wireless and ambulatory monitoring and micro-electromechanical systems to be the key segments driving growth globally.
Patient Monitoring Systems in ICU
Dr Narendra Rungta
President-Elect, Indian Society of Critical Care Medicine
When we talk of patient monitoring systems, it would generally mean monitoring the vital data of the patient in ICU or ICU like location  in hospital,  The monitor should be able to give at least 6 parameters like ECG recording  with heart rate,  Blood pressure (NIBP), Respiration, Pulse Oxymetery ( SPO2) and temperature of the Patient. Out of these ECG/BP and SPO2 are more important when we are talking about monitoring of a stable patient.
Other parameters needed in level III ICUs and advanced surgeries may be ETCO2 with invasive BP (IBP), CVP monitoring and beat to beat cardiac output. This completes the list of parameters, by and large,  that are needed in an unstable patient who may be in Multiorgan failure and receiving multiple vasopressors  and/or mechanical ventilation. An ideal paramonitor should provide at least the first six parameters and  should be up gradable, I would always place the endurance, dependability and after sales service above the  capital cost of the equipment. Each medical center should decide what kind of patients, they are going to  handle and therefore what kind of monitors in terms of number and specification they need Not unusually, over-enthusiastic selection may lead to purchase of specifications and numbers of monitors which they may never need. Select sturdy, reliable, your need based monitors which have proven tract record of after sales service record.
NIKIL RAO, General Manager-DR"GER MEDICAL INDIA 
Future of patient monitoring is clearly based on  IT integration, data access and capture  from across hospitals and remote access  from any point within the hospital or across globe.  Protocol based standardised charting solutions saving on  time and effort of care giver, recording the information flawlessly for future access and meaningful interpretation  for clinical as well as costs uations.
Today's technologies talk about information access at bedside bringing together  Vital signs, Information from HIS/CIS, Laboratory results, Radiology images, etc at Acute Point of Care to accelerates clinical decision-making,improve care delivery and facilitate consultation between clinicians at the bedside including industry's best  technologies.
Patient monitors should be standardized,  scalable and mobile across all care units. This enables  flexibility in staff utilization, reduces training time. Scalability of patient monitors accommodate all acuity levels and patient types within and across departments, upgrades and expands with ease, supports the sharing of assets, helps build a tailored solution as the demands  grow " smoothly and without redundancy. Standardisation, Scalability and Mobility also saves time preparing patients for transport and for their return, monitoring same parameters in  transit as at the bedside, optimizes staff and equipment utilization.  This increases patient safety and productivity. 
Patient Monitors should have device Integration to consolidate monitoring  and therapy information for a better view  of patient's care state at a single point,  providing a more complete view of decision-relevant patient data, supporting  rapid treatment and generates more comprehensive chart-ready documents, automatically. 
They should be IT enabled and open a pathway between patient monitoring  and hospital IT systems which delivers highest performance, builds on existing,  non- roprietary hospital infrastructure , offers literally infinite connectivity  through open architectural design, connects effortlessly across multiple sites and  finally allows system growth through a partnership between hospital IT department and  Medical equipment supplier's professional Services.To summarise, "Bring Patient Care andPatient Information System closer and help to reduce workplace complexity and support building of efficient care processes."
Opportunities and Challenges for Vendors
Growing  IT demand in Indian Healthcare Market is a great opportunity but at the same time  understanding the right need of information is a great challenge.

Wireless multi-parameter patient monitors are currently the hottest selling products in this market. Reasons being the multiple benefits they offer in terms of allowing the healthcare professional to monitor patients from anywhere and the increased productivity and cost-efficiency these systems offer.
Says Nikhil Rao, Draeger Medical, "One of the major trends in healthcare today is towards less invasive care. And another trend is toward continuous, rather than intermittent monitoring. If we take basic parameter monitoring, all parameter are non-invasive and continuous except for blood pressure monitoring. If one wants to measure continuous BP, then going for invasive technique is mandatory which is specialized procedure and involves pain. expertise as well as expense."
He adds, "When used in conjunction with other continuous, noninvasive monitoring technologies such as ECG, SpO2 or etCO2, the CNAP SmartPod offers a continuous and truly comprehensive cardiovascular monitoring concept " without the risk of invasive methods such as arterial lines."
Dr¤ger product range includes Infinity® Monitors, Pick & Go®, Infinity® Omega, Infinity® Gateway, Innovian® Solution Suite, Infinity® OneNet, Infinity® M300.
Mindray's product range includes Patient Monitor, Anesthesia machine, OT table, light and pendant; Black&White Ultrasound, Color Doppler; In-Vitro Diagnostic (Chemistry analyzer, Hematology analyzer).
Novel technologies in patient monitoring are emerging to meet the increasing demands of an aging population. A few of these latest technologies include wireless communication systems that 'sort' the vast amount of data collected in order to put it into the context of a patient's condition, portable and ambulatory monitors, web-based access to the patient record, systems that transfer data to an electronic medical record (EMR), and full-service outsourcing that includes a clinician to uate data and send a report to the attending physician.
There is also a constant rise in demand for continuous pulse oximetry monitoring. Technologies such as sophisticated algorithms, reduced level of false alarms, ease-of-use and flexibility of the remote alarm management solutions, ability to adjust the alarm levels on a patient by patient basis and easy to follow patient vital sign display at the central nursing station enables healthcare workers to provide better care with existing resources in this segment.
Impediments


Certain key impediments to growth in the developing countries include old equipment and hardware, trend of maintaining records on paper, lack of proper communication channels, and shortage of information and skills. These countries are required to make an effort to address these issues through developing low cost monitors, re-engineering cheap electronics to monitor crucial parameters in a cheap and efficient way, and developing and implementing solutions for maintaining and retrieving data provided by these systems. It, therefore, becomes imperative for developing countries to focus on developing their internal infrastructure to be able to achieve the optimum level of growth they are capable of.
Latest developments in patient monitoring equipment are now focused on enhancing interoperability within various departments within a clinical setting. Development of IT-integrated patient monitoring systems is already taking place and vendors across the globe are rolling out such products into the market. Although, some research papers also suggest that manufacturers are limiting market growth because of their reluctance towards interoperability, yet there is availability of products which are able to communicate with each other within a clinical setting.
Suggested reasons for vendors to limit interoperability options include lack of incentives to allow this to happen more quickly than technology permits and have a control over the market by making customers dependent on proprietary systems that do not integrate with systems manufactured by other vendors.
European efforts

While the US market remains the biggest sector, the European remote patient monitoring market is being driven by the vast proportion of individuals with chronic diseases. However, the limited reimbursement provided by the government presents a challenge to device manufacturers.
To combat this, the European Commission has started a mobile healthcare project called MobiHealth. The MobiHealth consortium consists of 14 partners from five European countries. Partners include hospitals and medical service providers, universities, mobile network operators, mobile application service providers and mobile infrastructure and hardware suppliers.
The MobiHealth system enables patients to be fully mobile while undergoing health monitoring. The patients wear a lightweight monitoring system " the MobiHealth BAN (Body Area Network) " which is customised to individual health needs.
Trials have been carried out throughout Europe. In Netherlands there has been intense monitoring of high-risk pregnant women where paramedics wear the BAN systems to enable faster communication. In Germany, telemonitoring of patients with cardiac arrhythmias has been carried out to allow detection of arrhythmic patterns without the need for hospitalisation. Meanwhile, Spain has focused on patient rehabilitation in the homecare scenario. This has provided information on patient exercise and vital sign information to the online physiotherapist, who in turn provides feedback and advice.
In Germany, telemonitoring of patients with cardiac arrhythmias has been carried out to allow detection of arrhythmic patterns without the need for hospitalisation. Meanwhile, Spain has focused on patient rehabilitation in the homecare scenario
Demand for effective monitoring products and increased acceptance of technologies aimed at the homecare setting will be the key factors influencing and driving the penetration of products currently in pipeline. The market opportunity being significantly high, the products and technology landscape could see the emergence of multiple new companies with a stronger pipeline portfolio.
Reimbursement, lack of awareness and limited innovation remain the key challenges but awareness, affordability and an ever-improving health infrastructure in the emerging economies (coupled with ageing population growth) should ensure that the global patient monitoring market continues to grow at a steady pace.
Future

Sales of patient monitoring products that are currently in the pipeline, will be driven by effective monitoring parameters and increased acceptance of technologies aimed at home care settings. Factors such as awareness, affordability and an ever improving healthcare infrastructure in developing economies will drive the global market for patient monitoring equipment. The challenges that will always remain include reimbursements and lack of awareness and limited innovation issues in certain segments of the society. Device manufacturers across the globe are struggling because of limited reimbursements being provided by the government. While the government is required to take an initiative, the industry must look at including the best technologies in their products and make them available at the best possible price.
In the future, patient monitor system should provide more ideas for the doctors as well as the patient for the real body checking and suggestions. More parameters would be implemented for the doctors to know the patient condition better. More medical facilities should be combined to give the comprehensive suggestions for the patients.

Follow and connect with us on Facebook, Twitter, LinkedIn, Elets video