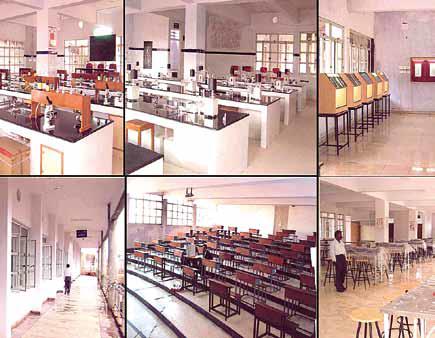 Uday Krishnan, a class twelfth student and medical aspirant, has better chances of becoming a doctor now. The new guideline of Medical Council of India allows medical colleges, of 1100 beds strength or above, to increase their intakes in medical courses up to 250. This new regulation of MCI will allow several top colleges in the state to increase their seats by twenty percent to even fifty percent at some places. Approximately thirty percent more medical aspirants will be benefitted in Andhra Pradesh from the coming academic year.

The new MCI guidelines will allow a number of colleges in the state to increase their intakes by thirty percent on an average. Students bliss
The competition for getting seats in medical colleges is very high. As per the stats, every year around thirteen students compete for one seat. The competition is likely come down from the coming year. On an average 60,000 students qualify EAMCET, state entrance exam for getting into engineering, agriculture and medical colleges. Allocations of medical colleges' seats are just restricted to some of the top rankers. Any increase in the number of seats will bring ease to thousands of students every year.
Osmania Medical College, with bed strength of 6,000, currently has 200 seats. They would be able to add fifty more seats in the wake of MCI's new guideline. Similarly, Gandhi Medical College and Warangal Medical College, with 1100 beds and 1200 beds respectively, can increase their intakes by fifty to hundred, depending upon their faculty strength.

However, the new guideline has not brought any good news to private medical colleges and hospitals. Most of the private colleges don't have required infrastructure supporting 1100 beds. So they have to continue with the existing number of seats. A private college management said that even students with the rank of 6,000 will stand a fair chance of getting medical admission now.
However, there is apprehension existing among the senior doctors about increase in the number of medical seats. The existing ratio in the state, at undergraduate level, is estimated to be around one teacher per nine students. As per the senior doctors, there are multiple factors that should be taken into consideration before increasing the number of seats. Medical equipments, availability of teachers, hostel facilities, classrooms and multiple other infrastructural needs have to be fulfilled before increasing the intakes.
The quality concern has been raised against MCI guidelines. This country is already facing the unemployment problems for thousands of trained engineers every year.  Hitherto, medical profession has been in the elite group because of the tough competition that students face to get into medical colleges. So far only those students are given an opportunity to become doctors, who are capable enough to be trained. The increasing ratio between number of students and teachers will also affect the quality of training. In rural areas we have a number of incompetent doctors creating medical blunders every now and then.
But looking at the positive side of the coin, this new guideline can play a significant role in strengthening up the fragile medical condition in India. "The country is still facing a dearth of medical practitioners; we need around 1.8 million doctors to maintain a good medical environment." Dr Naresh Trehan, Chairman Medanta Medicity said at a recent conference. Post graduate medical seats have also been increased by thirty percent from coming year.
Follow and connect with us on Facebook, Twitter, LinkedIn, Elets video