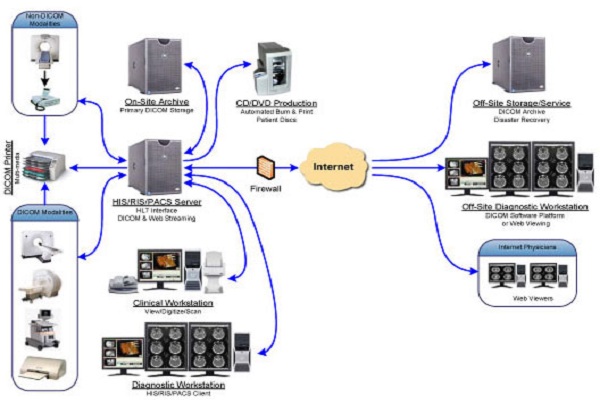 The RIS/PACS market in India, though still in a nascent stage, is set to achieve greater heights owing to increased opportunities in the health IT space. Divya Chawla from eHEALTH examines the intricacies of the RIS/PACS market with a focus on the market size, opportunities and challenges and the evolving technologies and trends in India.

The market penetration of Picture Archiving and Communication Systems (PACS) in India is gaining momentum owing to the growing popularity of digitisation at the level of hospitals and healthcare delivery centres. PACS integration with Radiology Information Systems (RIS) allows hospitals' radiology departments to store, manage and retrieve a huge amount of medical imaging data generated from various specialised imaging applications. Further, PACS allows easy and efficient access to this medical imaging information throughout the hospital. A seamlessly integrated RIS/PACS solution can tremendously enhance the productivity of an organisation by bringing in efficiently managed solutions for multiple departments.


Implementation of PACS is complex and costly, hence it is imperative to have a business oriented approach and judiciously plan to be able to balance the expenditure with the benefits that the solution offers. It also requires substantial time and resource, which needs to be managed right from the beginning. Therefore, the decision making process for implementing PACS must begin with having a clear understanding of the business and its future requirements, simultaneously balancing it with the benefits expected from the technology. Further, it is important to have an idea about the additional infrastructure requirements and how the PACS system will interface with the legacy and heritage systems. All parties involved in the decision making process should have an adequate understanding of the traditional paradigms and procedures for the delivery of imaging services, from the acquisition of the image to the delivery of the final image product to the customer, that will evolve after implementing PACS.
Effective PACS purchasing decisions are based on efficiently planning, procuring, implementing, and uating the new system. Financial risks can be minimised if the PACS procurement and implementation is aligned with the organisation's business and strategic technology plan. To make the best decision, the organisation can hire a vendor-neutral IT consultant with PACS expertise. As the scope and benefits of PACS extend to other departments, apart from the radiology department, as well, it may be worthwhile to involve these departments in the decision making process. Planning, workflow redesigning, system configuration and training form major aspects of a PACS implementation. Hence an effective planning process should be followed by an efficient implementation process to realise full benefits of the technology.
RIS and PACS Integration

An integrated RIS/PACS allows for access to more complex data that can be used for advanced business planning, by providing crucial information on profitability of various modalities, efficiency of physicians, productivity levels of all employees, efficient time-management and patient throughput rates. Leveraging on an RIS/PACS integration can hence bring about a positive change in the way modalities are managed inside a radiology department.
An integrated RIS/PACS allows for access to more complex data that can be used for advanced business planning, by providing crucial information on profitability of various modalities, efficiency of physicians, productivity levels of all employees, efficient time-management and patient throughput rates.
Two major aspects that drive the integration of RIS/PACS are protocols and database sharing. The transmission protocol designed for image management using PACS is Digital Imaging in Communications Management (DICOM) and the standard adopted for management of patient information is Health Level 7 (HL7). To be able to manage PACS imaging data, the PACS application must have a DICOM interface, as HL7 cannot directly read DICOM data. Older RIS/PACS systems consisted for separate databases for patient images and patient records, which caused duplicacy of records at times and which created problems in accessing correct records from the system. For complete integration the RIS and PACS components must have a single database.
"PACS market in India is on the cusp of high growth in coming years and the improving infrastructure in the hospitals and availability of low cost bandwidth would give way to new models like PACS in cloud, HyperPACS etc. Evolution of PACS technologies will continue to keep vendors on their toes to provide more features and advanced visualization techniques while reducing the overall costs. Medsynaptic is in a unique situation to tap this growth curve and will continue to be a leading player and innovator in this segment. We offer a range of products in this segment including: Medsynapse PACS – true web based PACS (enterprise solution), Medsynapse RIS-Web-based radiology information system and MiniPACS-lighter version of enterprise PACS for small hospitals and diagnostic centers."
The RIS/PACS integration may be interfaced (brokered) or integrated (brokerless). In the interfaced RIS/PACS system, the RIS/PACS has a DICOM interface, known as a PACS broker or gateway, which is a separate device  combining hardware and software that interprets DICOM data for the RIS. The drawback of PACS
"PACS market from being very obscure and expensive just few years back has become commoditised and more affordable now. This has happened primarily because of storage and servers costs coming down dramatically and similar things being experienced in the networking space. PACS is fast getting accepted as a vital part of integrated patient care. Another aspect that is making a big difference is the increased awareness of computers among people in general and less resistance to it's adoption by doctors. Combination of all of these factors has brought this industry to a point where the market could boom. We offer a range of FDA approved and HIPAA and HL7 compliant products in this segment including Basic Telerad, Enterprise level Telerad, Basic PACS, Enterprise level PACS and RIS/PACS. We have done more PACS implementations in the country in the last 18 months than all the other vendors put together."
Key International Players
Agfa

Carestream

GE Healthcare

Siemens

Fuji

Vepro Emerging Local Players

21st Century Healthcare solutions

Medsphere

MedSynaptic

Ashva Technologies

Karishma Software

Perfint Technologies

Sobha Renaissance IT Ltd. (SRIT)

Softlink International

Srishti Software Major PACS Implementations in India

Aditya Birla Memorial Hospital, Pune

Breach Candy Hospital, Mumbai

Amrita Institute of Medical Sciences, Coimbatore

Apollo Hospital, Chennai

Christian Medical College, Vellore

Deenanath Mangeshkar Hospital, Pune

Dr Shyama Prasad Mukherjee Hospital, Delhi

Fortis Hospital, Mohali and Delhi

G Kuppuswamy Naidu Memorial Hospital, Coimbatore

Indraprastha Apollo Hospital, Delhi

Jehangir Hospital, Pune

Kidwai Memorial Hospital, Bangalore

 KIMS, Bangalore

LNJP Hospital, Delhi

MS Ramaiah Memorial Hospital, Bangalore

Max Devki Devi Hospital, Delhi

Madras Medical Mission, Chennai

NIMHANS, Bangalore

P D Hinduja Hospital, Mumbai

Rajiv Gandhi Cancer Institute, Delhi

Ruby Hall Clinic, Pune

Sahyadari Hospital, Pune

Sree Chitra Tirunal Institute of Medical Sciences, Trivandrum

Tata Memorial Hospital, Mumbai

Vallabhbhai Patel Chest Institute, Delhi

Vikram Hospital, Mysore

Wockhardt Hospital, Bangalore
broker is that it requires its own database that further hampers data integrity. In an integrated system, the RIS has the capability to read th DICOM data, thereby eliminating the need for a separate database. The disadvantage of this system is that it does not allow replacement of a single part as the entire system is completely integrated. A brokerless system, still offers more benefits as compared to a brokerless system as it allows for complete integration of RIS and PACS.
Integration Process

An efficient RIS/PACS integration offers significant workflow improvements and the user must have a good understanding of the product to be able to choose the right solution and provider and achieve maximum from the integration. Completing an RIS/PACS integration requires active involvement of three parties – the RIS vendor, the PACS vendor and the client. It is imperative for all three parties to have a clear understanding of the final work, in absence of which the integration will not deliver its full benefits. The major challenges faced during this process include technological aspects, patient confidentiality and legacy systems. It is crucial for the vendors to have a complete understanding of the most efficient workflow for the integration coupled with the expectations of the clients. The final workflow must be decided in advance, on the basis of which the the timelines can be outlined. Also, the information available with RIS and with PACS must be understood to avoid functionality overlap. In case, there is an overlap, it is important to choose the product module that best suits the workflow.
A good RIS/PACS integration must have the ability to maintain data integrity as inaccurate data can have huge impacts on patient care. To completely eliminate duplicacy of patient information and improve data consistency the DICOM modality worklist must be enabled.
Further, the worklist for diagnostic interpretation must also be accurately managed, which can either be done by the PACS vendor or both the PACS and the RIS vendors. Also, the RIS/PACS integration must allow easy access to both images and reports of all prior diagnoses. The ability of the RIS/PACS integration must be tested under the most complex situations to ensure the efficiency of the system. Finally, the system must comply with all standards to be able to deliver the best to any radiology department.
"The radiology segment has taken the next step to upgrade image management and distribution, which is the need of the hour to improve productivity. As the IT infrastructure has developed quite fast in the country, it has helped to pave way for adopting IT based image management. It helps improve efficiency and allows seamless workflow that serves the patient quickly with high quality. The three main steps that have taken the radiology segment to next level for productivity gains include a radiologist's  ability to report from his workstation, the availability of patient exams and images in a Single Jacket, where previous reports and images are organised and accessibility of these reports to radiologists and physicians due to adoption of advance RIS systems available, and accessibility to patient images and reports across the network of physicians, radiologists, cardiologists and surgeons by adoption of IT in a seamless workflow that serves the patient faster, accurately and with high quality."
Overview of PACS Market in India
Major PACS Segments
Enterprise PACS – A Complete turnkey PACS with film-less operation

Modality PACS – Single-modality PACS such as ultrasound PACS, mammography PACS, Cardiology PACS etc
Key features of PACS
Teaching repository

Automated offline centralized mechanism

Automated offline indexing

Disaster recovery functionality

Modality perform procedure steps (MPPS)

Medical grade display

Central archiving

Interoperability with other hospitals information systems

Teleradiology support

Interoperability with DICOM / Non-DICOM compliant

modalities
Scalable architecture
Key market drivers
For the Indian PACS market the key market drivers are the need for film-less environment, cost savings, better workflow through accessibility and availability, centralised storage, entry of local players, teleradiology services, increase in medical tourism, increasing competition amongst hospitals and increasing awareness and demand for quality healthcare.
Market Restraints
Some of the major market restraints are inadequate IT infrastructure (at referral doctors' level) and low penetration of DICOM compliant modalities. The low growth of the PACS market, till now, may be attributed to high cost of installation (that is, cost of required software and hardware), low IT budgets of healthcare facilities, demand for films by patients and referral doctors, no clear RoI (perceived) and the attitude of healthcare facilities towards adoption of IT.
Benefits of PACS
The major benefits that a PACS solution offers include easy accessibility and availability of images, teleradiology services and cost reduction due to film reduction, increased productivity, faster transcription and reduced rates of repeated imaging.
Market Insight

The RIS/PACS market, the world over, is undergoing rapid expansion owing to the growing awareness about the benefits of digitisation in healthcare. The major drivers for this expansive growth are increasing adoption across imaging centers and hospitals, advancing communication and enterprise technologies, and ability of PACS systems to be integrated with other imaging modalities. As the PACS technology has now evolved beyond being just a radiology-centric technology to a data management technology for various departments under a healthcare facility, the benefits it offers to the healthcare facility have multiplied. Further, increasing demand for advanced reporting and management capabilities owing to rise in imaging data volumes, coupled with technological advancements, and extending benefits beyond the radiology department to other modalities, are the major drivers for growth. Globally, the USA, Europe and Japan occupy the major chunk of the RIS/PACS market.
"NexGen eSolutions offers a range of exciting products in the RIS/PACS segment including Hospital Information Systems (Hospilogix), which includes RIS; cath-lab information system (Cardiologix) with a mini-PACS and scheduling solutions (Schedulogix). Further we have a Mini-PACS product that is still in the testing stage. The major challenges that vendors in this segment face are price sensitive market, lack of standards,fragmented small hospital market and intense competition from international and domestic players."
The Indian market for RIS/PACS is still evolving, and is yet to catch up with the global trends. However, owing to the increasing acceptance of healthcare providers towards IT implementation in various healthcare processes. The overall RIS/PACS market in India is estimated to be USD 7 million, of which PACS, valued at USD 6 million, accounts for almost 86 percent of the market pie. The remaining 14 percent is accounted for by RIS, valued at USD 1 million.
Total RIS/PACS Market in India
Total PACS Market in India
The PACS market can be further segmented into – bundled PACS and modular PACS. Valued at USD 4.2 million, bundled PACS accounts for 70 percent of the overall USD 6 million PACS market. Modular PACS is still a smaller segment, accounting for the remaining 30 percent, valued at USD 1.8 million.
With the rapid growth that we are witnessing in the radiology space and a significant shortfall in the availability of  adiologists/technicians, there is a definitive need for solutions that improves productivity and efficiency of both equipment and radiologists/technicians. There is immense data available that points out to the advantages of going digital.
Ashva is the first Indian company to get its PACS FDA cleared. We have been recently recognised by Frost & Sullivan as the "Indian PACS Company of the Year 2009".
Ashva's has more than a 1000 customers across its product range. From enterprise class radiology workflow (RadSpa) and PACS (EDGE) solutions to powerful radiology workstations (RADION), Ashva provides IT solutions to plug every need of the radiologist. New verticals such as orthopaedics, veterinary, dental, chiropractic are discovering the advantages of going digital and Ashva's product line caters to these markets too.
Although implementation of RIS/PACS is an emerging trend in this market, the next step would be the advent of cloud-hosted services for RIS/PACS. Other emerging technologies include Web based PACS, Thin client 3D rendering, Accurate Speech recognition for Indian accent and HyperPACS for hospital chains. Enterprise PACS solutions are creating the maximum excitement in this segment as it provides benefits to multiple departments in a hospital. With newer hospitals coming up, the RIS/PACS market has a great scope for growth in future. The good news is that now, the government has also realised the potential of IT and are implementing key IT solutions in most of their major healthcare projects. Emergence of health insurance and medical tourism has further compelled hospitals to adopt best solutions, which may act as a major factor towards fuelling growth or RIS/PACS.
While the advantages of digitisation are well known in the developed countries, developing nations like India are yet to realise the full potential of IT in healthcare. The biggest challenge that countries like India are facing is to extend the reach of these technologies, beyond the tertiary care hospitals and network of corporate diagnostic centres. India has a large number of independent imaging centres that have still not adopted technologies like PACS, because of the high price tags attached to them. Cost-sensitive nature of the Indian market is the key challenge that vendors face to enhance the reach of their products. Healthcare providers feel the need to balance the high costs with the benefits it delivers to enhance productivity and efficiency as most organisations right now have no budget for IT implementation.

Follow and connect with us on Facebook, Twitter, LinkedIn, Elets video