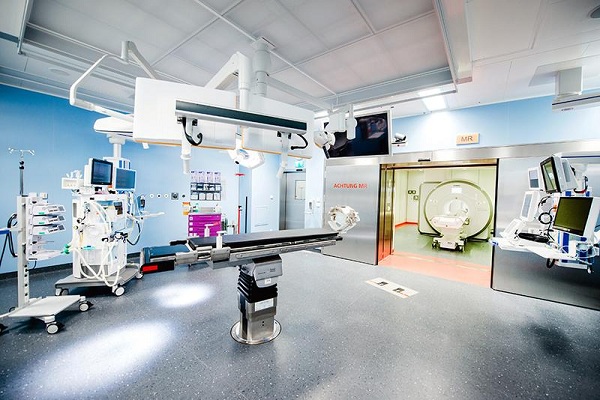 Medical robotics and computer-assisted surgery systems, support the surgeons in performing tedious surgeries with complete recision. This is one of the newer technologies that has completely taken the surgical profession by a storm.
---
Integration of information technology has brought about a revolution in almost all human activities and the inception of robotics has the potential to completely alter the way surgeries are being performed. The work of a surgeon is supported by computers working in tandem supported by microprocessor-based technology, bringing in safety and precision in performing various surgeries. The need to perform delicate surgeries with complete perfection has been the major force behind the growth of the global market of medical robotics and computer-assisted surgery (MRCAS) systems. As per a technical report, the global market of MRCAS devices and equipments is estimated to be less than USD 1.30 billion in 2008 and rise to more than USD 1.30 billion in 2009. The major contributor in this market is the US, which accounts for almost 52 percent share. However, with a slow CAGR of nearly 18 percent (between 2009 and 2014), this share is expected to decrease to 46 percent, thereby making space for other countries to fit in. While the overall annual market is estimated to be more than USD 500 million, the growth rate is tremendous, even more than the growth rate of the surgical devices and equipments market.

Research and development of robots and robot enhancements are taking place throughout the world. Systems with enhanced capabilities are being developed to offer surgeons with cutting-edge technology. One of the first systems developed ever for surgery was the Puma 560, which eventually led to the development of Probot, a robot specifically designed for transurethral resection of the prostate. Robodoc was another system being developed during those times for hip replacement surgeries, which eventually turned out to be the first robot approved by the FDA for surgery. This marked the beginning of an era, which has ever since been experiencing development of several systems and technologies being marketed by various companies. Going further, Aesop (voice controlled camera holder) prototype robot was the first surgical robot marketed by the US FDA in 1994. In 1997, Intuitive Surgicals Inc. launched the da Vinci robot that has proven to be a breakthrough technology in this domain. This robot is a master-slave manipulator with three arms, one for the camera and two for operating the instruments. In the meanwhile, Zeus, another master-slave manipulator system for general, cardiothoracic and gynaecological surgeries was also developed. These and several newer instruments are now being used the world over for performing robotic surgeries.
Widespread Applicability
Technological advances and the incorporation of robotics into the operation theatre has been mainly via the use of microscopy, navigation, instrumentation, optics and imaging. As more and more institutions acquire robotic surgery as a tool to perform various surgical procedures, the number and types of surgeries being performed by robots is increasing rapidly. Robotic procedures are now spanning a vast spectrum of surgical procedures and are headed towards an era where robotics will be included in everyday
surgical procedures. There are a plethora of specialities where robotic surgeries are already being implemented. Some of these include:
Neurology: Neurosurgery has traditionally been at the forefront of advancing technologies adapting to new technologies, among which are surgical robotics. The implementation of robotic interventions is relatively new in brain and spine surgery and there have been several robotic approaches to address the challenges in interventions on the brain. The implementation of robots in the intracranial procedures has been made possible through developments focussed on gaining access to deep pathology or structures in the brain with the help of image-based navigation systems and development of precise target-acquisition capabilities.
Orthopaedics: Orthopaedic surgery is an ideal application for medical robots. Robot-assisted techniques apply improved accuracy and precision to orthopaedic surgical procedures including bone surface preparations and greater spatial accuracy. Various orthopaedic procedures that are currently under investigation for the application of robot-assisted techniques include total hip and knee replacement, tunnel placement for reconstruction of knee ligaments, and trauma and spinal procedures.
Urology: Following a slow development, the use of robotics in urology was initially focussed on image-guided systems. Urology has incorporated robotic assistance in a growing number of applications such as transurethral resection of the prostate, percutaneous renal access, laproscopy and brachytherapy. As a matter of fact, majority of robotic applications now are in the field of urology.
Cardiology: Minimally invasive cardiac surgeries have transformed medicine completely and generated maximum excitement among surgeons. It is one of the latest attempts of converting open heart surgical procedures to minimally-invasive procedures, causing least trauma to the patient. Robotic surgeries are now being performed in varied cardiac procedures including repair and replacement of the mitral valve, bypass of coronary arteries, closing atrial septal defects, implanting left ventricular pacing leads and resecting intracardiac tumours. Robot-assisted cardiac procedures are however, still in the development stage and require much research and development before they can be fully incorporated into all cardiac surgeries.
Advantage over Traditional Procedures
Robotic surgeries practically eliminate the need of multiple surgeons and assistants in an operation theatre; a single surgeon can perform the entire surgery by controlling the robotic arms through the computer console of the surgical robot. In future, this will also serve as a scope for the emergence of telesurgeries, where a surgeon sitting miles away would be able to perform a surgery via a computer console that is connected to the surgical robot placed at the site of the surgery. Further, robotic surgeries considerably reduce the trauma caused to the patient and the recovery time as surgical procedures can be performed simply by making two or three small incisions in the body compared to the long incisions being made in conventional surgeries. Also, traditional surgeries that lasted for several hours caused immense amount of fatigue to the doctors. On the other hand, during robotic surgeries, the surgeon is comfortably seated at the computer console and performs simple tasks to control the robotic arms. This not only reduces the stress on the operating surgeon, but also enhances the efficacy of the surgery being performed, thereby improving the outcome of the entire procedure.
Robotic surgical procedures have also been able to overcome many of the obstacles of the laproscopic surgical procedures. The major advantages include improved dexterity, improved hand-eye co-ordination and ergonomic position and enhanced visualisation. The conventional laproscopic cameras offer 2D vision, whereas the 3D view with depth perception is a remarkable improvement. Also, technically difficult surgeries can now be performed with ease with the help of these systems.
Drawbacks
The robotic systems are very expensive and have equally high maintenance costs. Further the upgradation of these systems may also invite huge expenditures by the hospitals and healthcare institutions. This is a major roadblock in the applicability of this technology in a cost-sensitive market like India. India currently has poor health statistics as compared to the developed countries; in such a scenario, adoption of such a costly technology may not be practical. Widespread multidisciplinary usage is hence absolutely necessary for the justification of the high costs of these systems. The size of these systems is another major disadvantage. The surgical robots have relatively large footprints and hence are difficult to accomodate in a standard operation theatre. Innovation in terms of reducing the size of these systems is hence required to make comfortable room for them in the operation theatres. zA lack of potentially compatible instruments and equipments is another disadvantage.
There is an increasing trend towards incorporation of cutting-edge technology, advanced medical equipments and treating and testing modalities in institutions. Installation of medical robotics and computer-assisted surgery devices is one of the top priorities of institutions wanting to join the league of the most advanced centres in the country. Although, the technology is still in its infancy, yet it has generated much excitement among surgeons all over the world. While future advancements in this field are already being researched, several technical upgradations are required before the full potential of this technology can be realised. 
Robotic Intervention in Cardiac Surgeries
Percutaneous coronary intervention (PCI) is a major method of revascularization for coronary artery disease, with over 2 million coronary interventions performed annually. The majority of interventions (more than 90 percent) are coronary dilatations, which are performed using stents. The catheterization laboratory personnel so far have been operating in an unfriendly environment subject to continuous x-ray radiation. This has been unchanged since the beginning of the field of interventional cardiology more than 25 years ago. "Interventionalists' disc disease" is a well confirmed entity with cardiologists reporting more neck and back pain, more subsequent time lost from work, and a higher incidence of cervical disc herniations, as well as multiple level disc disease owing to the tiresome standing procedure of angioplasty and the heavy weight of the anti-radiation gear that takes a toll on the operator.
Robotic System for PCI and its Advantages over Conventional Systems
Dr LH Hiranandani Hospital, in May 2007, installed the first robotic arm for angioplasty. The Physician Workstation incorporates a touch-screen control console and a joystick. With this, Dr LH Hiranandani Hospital became Asia's first and one of the world's few centres of excellence to be conducting research on this exciting international breakthrough.
This robotic remote control PCI system not only helps patients avail precise stent placement by removing human error, but also helps physicians to operate in an x-ray free and relaxed environment with lesser chances of spinal risk, thereby increasing the ability of the operator to deal with long procedural hours. In contrast to the present angioplasty procedure that requires two cardiologists, the robotic remote control procedure can be conducted without need of assistants making the process more efficient and reproducible and reducing chances of operator-based error. The robotic arm allows remote manipulation of percutaneous coronary interventions (PCI).
It allows the physician to control the wire and device movements from a remote location. In this system motors and motion sensors are used to manipulate angioplasty wires, stents and balloons via a joystick and a computer touch screen leading to enhanced precision of balloon and stent-positioning (which may be an extremely important feature in DES therapy). Semi-automatic procedures can also be robotically controlled by the system by obtaining continuous image based feedback data. On-line communication with the patient is obviously of value in generating trust and confidence of the lightly sedated patient and the medical team. The robotic remote-control system allows for doctor-patient interactions with voice and image technology. If for any reason the system malfunctions it can be switched to manual mode in a few seconds.
The current remote navigation system (RNS) is the first clinically oriented system for remote manipulation of PCI and allows full navigation of coronary wires and devices in parallel allowing operation in a standardised catheterization laboratory using standard wires and devices that are robotically manipulated and allow for transatlantic communication. This RNS is composed of a bedside unit and a remote manipulation unit. The bedside unit has individual wire and device manipulators capable of precise manoeuvring and positioning of the wires and devices.
Interventional physicians are among the most highly trained operators in the field of noninvasive surgery; robotic intervention utilizes the physician's existing techniques while incorporating an additional level of control through the use of robotic technology. This combination introduces the exactitude of robotic precision to interventional procedures and is expected to produce better clinical outcomes in the drug eluting stent era. Further, a high level of x-ray exposure to medical professionals is a fundamental concern, which has grown with a marked rise in case load in the past decade. Remote controlled technology significantly reduces x-ray exposure to operators.
Manufacturers/Distributors of MRCAS Systems
Berchtold GmbH

Brainlab Ltd.

B Braun Medical India Pvt. Ltd.

Conmed Corp.

Delhi Hospital Supply (Prosurgics)

DSS Imagetech (Immersion Medical)

GE Healthcare

J Mitra and Bros. (Intuitive Surgical)

Karl Storz Endoscopy India Pvt. Ltd.

Philips (India Medtronic Pvt. Ltd.)

Siemens Healthcare

Smith & Nephew Healthcare Pvt. Ltd.

Steris India Pvt. Ltd.

Stryker India Pvt. Ltd.

Viking Systems (Surgdent Medicare)
The use of lead protective garments, and the related health problems known as 'interventionalist's disc disease' is another major problem for operators and staff. Severe physical ailments are associated with prolonged use of heavy lead attire causing preventable pain and disability. Remote controlled technology provides a safe and comfortable working environment while assuring procedural accuracy.
Future: This robotic remote control PCI system will help patients avail services of their preferred doctors over large distances by having a robotic unit installed at smaller district hospitals or at remote interior places of the country and the expertise (the operator) sitting at long distance (say 500 kms away) and perform the case.


Follow and connect with us on Facebook, Twitter, LinkedIn, Elets video