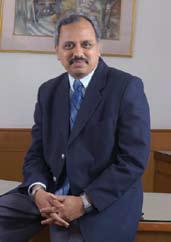 V Raja, President & CEO (South Asia), GE Healthcare talks with eHEALTH about achievements and initiatives of his company in India, and challenges that are holding back the real success of domestic manufacturing in this country.
What is your R&D and manufacturing strategy in India? What advantages are derived out of it?

GE always viewed India as a place for strategic investment in R&D and manufacturing. Our John F. Welch Technology Centre in Bangalore is credited with many pioneering innovation in healthcare and allied technologies. Almost 25% of our global healthcare engineering workforce is based out of this centre.
Components, accessories and finished products developed in India have provided superior quality at far lower cost than the Western world. Over the years, this has reposed tremendous faith for investing in this country. It is almost certain that this trend will continue over coming years.
What is your current portfolio of healthcare products and components produced in India?
We started off with manufacturing CT machines, and gradually went into Ultrasound, Colour Doppler, ECG, EEG, Foetal Monitors and Patient Monitors. We are still expanding the basket with Photo therapy Systems, Baby Warmers and advanced X-ray machines.
In addition, we are producing a wide range of components and accessories for global markets. Last year, we supplied USD 250 million worth of critical components and accessories to GEs worldwide healthcare business.
What are your offerings for rural markets and low-income economies?
Products like our Mac 400 portable ECG machine developed in India are testament to our effort in this direction. We are also working on low-cost ultrasound. The objective is to provide adequate quality at a price point that fits the rural segment.
What are the objectives and expectations of your partnerships with some state governments and non-profit organisations?
We are working on a PPP model with some state governments, like Gujarat and Madhya Pradesh to make advanced technologies available for masses. Unutilised physical space in government hospitals are used by our private service partners to install advanced MRI and CT machines from GE, without any financial obligation on the hospital. Patients are charged at discounted rates (30-50% lower than market) preapproved by authorities. It makes sense for private providers as they get assured patient volume and opportunity for optimum asset utilisation. In addition,  students at teaching hospitals get to train themselves on such advanced equipments.
In the non-profit sector, we are working with organisations like NICE Foundation, Vivus Clinics and Manipal Hospital Foundation for supplying mobile vans retrofitted with ECG, ultrasound, defibrillators and first-aid facilities, which are  used for running rural health camps and for responding to emergency situations. However, whether such initiatives can develop a sustainable business model is yet to be seen.
Which are your best performing prod-ucts in Indian market and which carries the most potential?
Our biggest footprint and market share is in the ultrasound segment. This is closely followed by molecular imaging equipments like PET-CT and Gamma Cameras. Nuclear medicine is another important segment for us in India, however, currently we are only importing them. In coming years, we are expecting a large market share in maternal and infant care and home healthcare products.
What was your business growth over last couple of years? What was your total turnover in last year and what is your expectation for current fiscal?
We have had consistent double digit growth over last couple of years. In 08, we grew by almost 20%. Last year, our turnover was nearly USD 500 million and in spite of the downturn, we are expecting somewhat healthy growth in the current year.
As the new Chairman of FICCI Medical Electronics Forum, what issues do you wish to advocate for the industry?
Broadly there will be three priority areas for us. Firstly, how to increase footprint of local manufacturers by encouraging and incentivising the industry. Secondly, how to facilitate technology transfers so that local manufacturers can keep themselves  competitive in global markets. Last but not the least, how to create a firm regulatory environment to ensure quality and safety of products.

Follow and connect with us on Facebook, Twitter, LinkedIn, Elets video