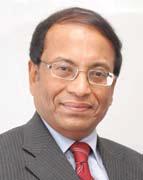 eHealth caught up with Anjan Bose, Senior Director and Business Head, Philips Healthcare, to get his perspective on the needs of a fast-changing Indian medical device industry and about the growth plans of his company in India. Excerpts from the interview.
Can you detail upon the major advances in the medical devices industry in recent years?
The last two decades have seen a lot of technological advancements in almost every field of medicine. The development of high-tech medical devices has truly revolutionised the healthcare systems all over the world. Especially, areas like  cardiology, neurology, ortho are hugely benefited by technology. Introduction of transthoracic and transesophageal echocardiography, 3D echocardiography, advanced MRI ranging from 0.1 Tesla to 3 Tesla machines, C-arm X-rays are testament to some of these. Also, molecular imaging deserves a special mention in this regard. The great strides made in this domain is bringing paradigm shift in healthcare " moving from curative to preventive and early disease detection based advanced equipments like PET-CT are the result of stupendous progress made in this field.
Do you think technology is often overpurchased than what is optimally required? How would you react to such concerns?
I think susch arguments are facile. If we look at mobile phone market, we have both high-end as well as low-end phones. Both are in demand and are targeted for different user segments. We need to have this, as requirements of customers differ. Similarly, there is relevance for a broad range of medical equipments catering to different needs. Moreover, the quality of healthcare and their outcomes offered by advanced technologies is often beyond mere cost consideration. Having said that, low-cost medical technology innovation is surely desirable. Last year, Philips made two acquisitions  n India, namely, Meditronics and Alpha X-Ray Technologies – both of which have adopted proven costinnovation models for manufacturing cost-effective quality products. I think the trick in this matter lies in making judicious investments to make ethical usage of technology.
What is the current ratio of medical equipments manufactured in India against those imported by Philips? How  is Philips contributing to make India as a manufacturing hub?
Its very difficult to give the exact ratio. However, I can say that Philips is a champion of indigenous manufacturing. Thats the reason why we have acquired two Indian companies last year and would like to strengthen our manufacturing base in India. We want to manufacture products for the domestic as well as international market to create goodwill of Indian medical device industry globally.
What measures do you suggest for cost effective manufacturing?
Use of efficient supply chain and inventory management, along with superior resource planning and quality control are crucial for achieving excellence and cost-effectiveness in manufacturing. The labour arbitrage advantage in our country, coupled with above best practices can give desired results.
Which products are your top revenue earners and which possess potential for future? 
Philips has been a consistent market leader in areas like Cardiac CathLab, Patient Monitoring, High-end MRI, Multi-slice Cardiac CT and a host of other segments. I think Indian healthcare system is in a state of flux and five years down the line, there would be tremendous growth of medical device industry than what it is today. Recently, Philips expanded its healthcare product portfolio by launching home healthcare products like sleep therapy solutions and respiratory care solutions. For such products to do well in the future we need to create awareness among  atients. For instance, there have been many cases where sleep apnea patients have lost their lives in sleep. Philips wants to cater to demands of both bigger and smaller cities and also want to tap rural hospitals and emerging markets.
What are the regulatory barriers for Indian medical device industry?
I think regulatory consciousness in the Indian medical device industry is coming of age and I really feel proud that from being an underdeveloped industry, today it is developing exponentially. The government is trying to put in place a regulatory framework and there is a lot to be done. Instead of calling them barriers, I would say  they are short-term challenges. In the current scenario, what we need the most is commitment from the industry and the government to work  together


Follow and connect with us on Facebook, Twitter, LinkedIn, Elets video