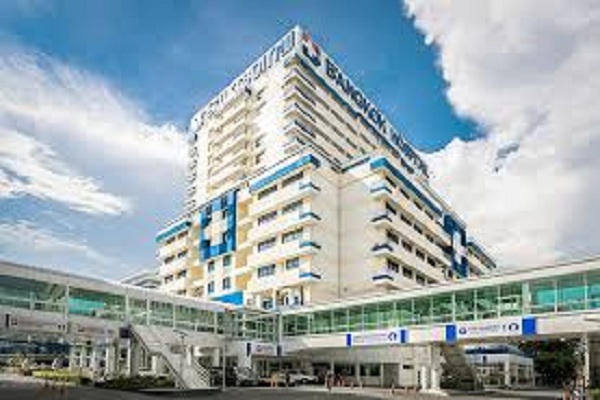 Bangkok Hospital Medical Centre (BMC) is one of the most technologically sophisticated hospitals in the world today. Located in Bangkok, Thailand, BMC is an expansive state-of-the-art medical campus providing comprehensive medical care through multidisciplinary teams of highly trained specialists. With its four hospitals and broad range of specialised clinics, BMC is equipped with all of the diagnostic and treatment facilities not generally available at local hospitals. The centre has received Joint Commission International (JCI) accreditation and is known throughout the world for delivering world-class, award-winning healthcare.
The flagship of Thailand's largest hospital group, BMC has more than 650 full-time and consulting physicians, 700 nurses, and numerous teams of support technicians and specialists.
Their medical campus offers every amenity imaginable, from concierge services and luxury accommodation, to translation and visa assistance, shopping and dining, ensuring that every patient's stay is a comfortable one.
Bangkok Hospital (BGH) is their primary facility for internal medicine, paediatrics and general surgery. BGH houses numerous specialised centres, including endocrinology, gynaecology, nephrology, orthopaedics, radiology, urology, cosmetic surgery, eye and LASIK, gastrointestinal tract and liver, and ear, nose and throat.
BGH is one of the largest hospitals in Thailand and the institution of choice for referrals from smaller facilities that lack some of the specialised diagnostic and treatment facilities available here. Founded in 1972 by a group of doctors and pharmacists with a staff of only five specialists and 30 full-time nurses, BGH has grown to become one of the most advanced and comprehensive healthcare institutions in the region.
The largest hospital at Bangkok Hospital Medical Centre (BMC), BGH provides a wide range of medical services and houses most of the surgical facilities of BMC. Continuous development and investment in technology, medical expertise and support facilities have contributed to the hospital's current stature as one of the pre-eminent medical institutions in Southeast Asia.
More than 2,200 patients arrive at BMC each day, and the centre of activity is its main 16-story, 400-bed facility, BGH. Today, BGH is home to more than 20 specialised centres, covering almost every area of expertise, and supported with comprehensive emergency and ambulatory services.
Each of their clinics takes full advantage of the most sophisticated medical advancements to achieve the highest quality of patient care, and through their streamlined patient management system, they have been able to reduce waiting time to nearly zero. This, combined with their excellent record of successful treatment and renowned hospitality and service, has made BMC the preferred healthcare provider for more than 3.4 million patients from 160 countries.
BMC was the first private hospital in Thailand to receive the ISO 9002 and 9001:2000 accreditations and has also received the Prime Minister's Export Award for Best Service Provider in 2001.
Bangkok International Hospital (BIH) is the first hospital in Thailand developed exclusively for international patients. It is designed to address all the cultural and linguistic considerations while providing the full range of amenities expected of a world-class multicultural institution. BIH is subdivided into three designated outpatient departments: Japanese Medical Services (JMS), Arabic Medical Services (AMS) and International Medical Services (IMS).

Bangkok Heart Hospital (BHT) is the only dedicated private heart hospital in Thailand and is regarded as one of the finest cardiac facilities in the country. With its state-of-the-art technology and highly trained physicians and support personnel, BHT offers the most advanced and effective treatments in the fight against cardiovascular disease, and has treated more than 40,000 cardiac outpatients and performed more than 1,100 heart surgeries since opening in 2005.
Wattanosoth Cancer Hospital (WSH) is the first private cancer hospital in Thailand. Through collaborative research with international institutions and multidisciplinary teams of specialised physicians, WSH utilises cutting-edge technologies to provide innovative treatment methods that are pioneering advanced cancer treatment in the country.
IT Infrastructure

The infrastructure at BGH is based on Wintel platform with Active Directory for Security and Authentication. They use MedTrak (TrakHealth's product) as their main Hospital Information System (HIS) and PeopleSoft Financial and HR for the back office system. MedTrak has electronic medical record (EMR) as one of the modules inside it that integrates Patient Record, Drug Allergic profile and clinician ordering system. The Document Scan system in it also helps fulfil any lack on the part of the HIS so that all information is ready for the hospital's clinical staff.
For PACS, theyuse EBM PACS from EBM Technologies and also have a Tele-radiology network with their network hospitals thatallow each hospital to send the PACS images to be diagnosed by radiologists at the central facility, available 24/7.
Teleconferencing technology is also used to facilitate many functions in the hospital like tele-consultation and training; and the hospital has plans this year to provide telemedicine to multiple locations around the Bangkok area.
Cutting Edge Technology at BMC

Rapid advancements in medical technology are resulting in more reliable diagnostic imaging, shorter recovery periods, and less invasive surgical procedures for patients. Bangkok Hospital Medical Centre is committed to applying the latest innovations in medical technology throughout all their clinics and specialised centres.
Endovascular and interventional radiology is treatment of veins and arteries by either inserting a catheter or other medical devices into the desired spot in those blood vessels or organs using DSA (Digital Subtraction Angiography).
Uterine Fibroid Embolization (UFE) is an FDA

approved minimally-invasive procedure used to remove fibroid tumors in the uterus. The procedure does not require general anesthesia and recovery time is faster compared to open surgery.
Digital mammography is the latest innovation in the fight against breast cancer and allows more accurate diagnosis and earlier discovery than previous methods, particularly in women under 50.
Greenlight PVP Laser for Prostate Treatment. One of the most common and painful afflictions experienced by men over 50 is prostate enlargement. At BMC, we offer PVP laser treatment (photo-selective vaporisation of the prostate) to precisely target prostate tissue with a high-powered laser beam. This innovative treatment is significantly less invasive than previous methods and is
often performed in an out-patient setting.
Positron Emission Tomography (PET)/Computed Tomography (CT) Scanner. The first combination PET/CT scanner in Thailand is a major advancement in imaging technology and patient care and is the most functional imaging technology available today. Applications range from the early detection of cancers and assessment of heart muscle viability, to the uation of functional brain anatomy in dementia, epilepsy and stroke.
Novalis Shaped Beam Surgery System. Novalis is a dedicated system for non-invasive stereotactic radiosurgery (a high dose of radiation applied in a single session) and stereotactic radiotherapy (radiation administered in a series of treatment sessions). What makes Novalis special is the precision with which it applies doses of radiation, allowing it to destroy diseased tissue or cauterise a problem area without affecting healthy adjacent tissue. Novalis has numerous treatment applications, including cancerous tumors, arteriovenous malformations and Parkinson's disease.
4D Ultrasound. With the speed of 25 volumes per second, the latest 4D ultrasound creates a life-like motion picture.
Magnetic Resonance Imaging (MRI – Intra Achiva 3.0T MRI) Advances in MRI technology are providing extremely accurate, high-contrast images of internal organs. Unlike conventional x-rays, MRI scans yield the detailed information necessary to discover blood circulation abnormalities and are particularly useful in the early detection of brain cancer. BMC is proud to possess the latest and most advanced MRI to date, the 3.0 Tesla.
Gamma Knife surgery marks a turning point in the treatment of neurological diseases. Invented by a Swedish doctor, the system makes non-invasive brain surgery possible by applying highly targeted gamma radiation to the treatment of tumors, arteriovenous malformations of the brain and functional disorders. BMC is the first and only hospital in Thailand to offer Gamma Knife treatment for neurological diseases.
IMRT (Intensity Modulated Radiotherapy) is an innovative cancer treatment that utilises ionising radiation in the treatment of malignant tumors. Using high-powered computers, IMRT is able to focus radiation doses on tumors without damaging the surrounding tissue. This advance in tumor targeting results in fewer side effects and better overall treatment.
Minimal Invasive Heart Surgery. A breakthrough technology for cardiac surgery, the da Vinci Surgical System uses robotics to translate the surgeon's natural hand movements into the micro-movements of a robotic arm. With the aid of a viewing monitor, the surgeon is able to apply less invasive incisions with unprecedented precision, lowering risk, accelerating recovery, and greatly reducing scarring.
BMC Website
Their interactive website contains a wealth of information about BMC, including all of their clinics and patient services, their extensive facilities, and upcoming events. Users will also find the current cost of many of the procedures and treatments offered at BMC, and can begin a dialogue with the hospital and even schedule an appointment to explore the various options available.
One of the key features of the website is the 'Find a Doctor' program, which enables users to search for physicians by area of specialisations, read a brief biography and schedule a consultation.
Emergency Services

Bangkok Hospital provides 24hr emergency room facilities with physicians specialising in advanced and Critical Care. The well-trained and experienced staffs are experts in emergency care.
They also have a 'medevac' service for first aid and patient evacuation using:
Motorlance: The motorcycle ambulance is the hospital's innovative solution to cope with Bangkok's heavy traffic, whereby a doctor or paramedic is sent by motorcycle to provide medical support to patients in need of immediate care, before the ambulance arrives.

Ambulance: A fleet of 10 ambulances includes Thailand's only specialised Cardiac Care ambulance.

Mobile CCU, which provides:

special equipment to reduce cardiac pumping load in state of shock, heart failure, severe anginal (chest) pain, and refractory ventricular arrhythmias.

high-energy electrical conversion of life-threatening cardiac arrhythmias. Monitoring heart rate, rhythms, respiration, and oxygen saturation in the blood, systemic and intravascular blood pressure.

electrical stimulation in case of cardiac arrest, or severe bradycardia (slow heart rate).

respiratory support via use of respirator in case of insufficient respiration or respiratory failure.

echocardiography to examine heart muscle function and heart valves. Precise and accurate intravascular access.

specialised physician, and well-trained medical personnel in coronary emergency care and transportation.

special service CDMA network system to facilitate emergency situation. The CDMA links to hospital's patient record, database system, and consultation. So, while the patient is still in Mobile CCU, the cardiologist at the hospital can arrange for immediate interventional coronary procedure, such as coronary angiography, cardiac catheterization, balloon angioplasty or bypass surgery if indicated.

Helicopter Emergency Medical Service (HEMS): Bangkok Hospital Medical Center in association with Bangkok Airways (PG) now offers the first Helicopter Emergency Medical Service (HEMS) in Thailand. BMC is the flagship hospital in the Bangkok Dusit Medical Services group of hospitals and this new service links the hospitals even closer together, enabling patients to be transported from almost any location in South East Asia to any of the hospitals in the group.
The BMC Helicopter Emergency Medical Services (HEMS) was inaugurated in September 2007 as the first commercially life-saving certified HEMS ever offered in South East Asia. This helicopter has the capability of both day- and night-time flights including poor weather conditions.
Installed on-board with certified Advanced Life Support equipment and attended by certified aviation medicine doctors and certified flight nurses. All medical crewmembers are highly skilled in acute care of trauma, cardiac, neonatal, obstetrics, paediatrics, burn care, and emergency cases. The service provision includes on-site patient medical treatment and patient stabilisation, air ambulance of point-to-point patient transfer, and medical logistics of equipment/supplies and personnel. Territories of operations cover all provinces in Kingdom of Thailand and neighbouring Indochina counties including maritime areas.


Follow and connect with us on Facebook, Twitter, LinkedIn, Elets video