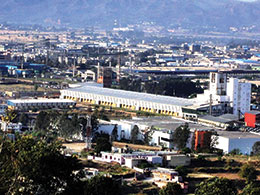 The success story of Baddi, a small town in the hill state of Himachal Pradesh, is the one that every state in the country is striving to emulate. A non-descript town not long ago, today it is a leading industrial and pharmaceutical hub in the country with biggest brands in the market vying with each other to set up and expand in the area, writes Priya Yadav of Elets News Network (ENN)
Barely 40 kms away from Le Corbusier's legacy of Chandigarh, the Baddi-BarotiwalaNalagarh industrial belt, as it is officialy referred to, is now home to country's leading pharma, FMCG, manufacturing and IT companies.
The blueprint of this amazing success story was laid over a decade ago when the Atal Bihari Vajpayee Government sanctioned a massive tax incentive package in 2003 paving way for the small town to rise from its obscurity to present status of fame and glory.
It's true that the shifting of major industries to this area has not helped improve the basic infrastructure of roads, connectivity, etc., but that has not deterred the big companies from setting up base here.
The town still has what the industry needs the most – adequate power supply, a kind of rarity in our country, proximity to country's capital, New Delhi and Chandigarh, Amritsar as close neighbours. In addition, it can boast of a peaceful industrial climate.
A journey down the lane
The first units set up base here more than two decades ago- in 1991 and since then it has emerged as Asia's largest pharmaceutical hub. It has nearly 2500 factories belonging to leading textile companies, pharma companies and FMCG and is credited with generating an annual turnover of `60,000 crore.
With its massive development, the small town alone accounts for over 85 per cent of total investment of Himachal Pradesh with nearly `14,000 crore investment made in the area in the past two decades. It has also the credit of employing one of three persons engaged in Himachal's medium and large industries. Its importance to the hill State can be gauged from the fact that the town chips in half of the state's total revenues generated from industries.
There is hardly any doubt about the fact that the tax holiday scheme approved by the Vajpayee Government in 2003 gave a major push to the area, yet majors like Vardhman Textiles Ltd had already set up factories here, a decade before the centre handed out sops to Himachal Pradesh. The sops included five years of exemption of income tax and 10 years of central excise. Ever since, getting the tax holiday extended has been a major political issue with successive governments.
The stakes are high for each political party and it is for no reason. Baddi is home to biggest players in the market. For the pharmaceutical giant, Abbott, Baddi is largest branded generic manufacturing site. And Abbott is not an isolated case. Baddi is India's unofficial pharma capita. Pharma giants like Cipla, Cadila, Unichem, Dr Reddy's, Torrent and Glenmark have housed factories here. The town's contribution to the total turnover of pharma companies is more than significant and only growing.
For instance, Unichem's first factory in the area began production 25 years ago and now it has 36 acre campus in Baddi which houses its four units that chip in over 25 per cent of the company's gross revenues. Like Vardhman, Unichem too set up base here much before the tax exemption era kicked in.
The other side
Baddi is not just about pharma manufacturing, it also boasts of packaging, textiles, food processing and engineering units. It is estimated that more than `10,500 crore of investment has been made in the district of Solan, where Baddi falls, from 2003 to 2014.
The uncertainty over tax exemption to the industrial town not withstanding, the State Government is hoping that big majors will not quit the region just because there are no more exemptions.
Vardhman, which is among the earliest settlers in the region, now has nine units here in its 330 acres campus– which includes four spinning, two processing, two weaving and one garmenting. of the total revenue of the company, over 25 per cent is generated here, it is estimated. The company is still investing in the area and expanding its footprint.
It's true that the shifting of major industries to this area has not helped improve the basic infrastructure of roads, connectivity, etc., but that has not deterred big companies from setting up their base here
It is not just the surplus power availability in the region that helped its development, but also cheaper land rates. Industry majors acknowledge that it is not tax exemptions that matter, but also availability of land, power, water – all of which are critical resources for setting up industries.
The setting up of industry in the foothills has given an economic impetus to the entire region with its impact felt on the real estate sector as well. Property rates in the tri-city of Chandigarh, Panchkula and Mohali have shot up following development of Baddi. A decade ago the connectivity to the tri-city was not something to be proud of. However, domestic airlines now have stepped up operations in the area, with more than five flights daily between Chandigarh and Mumbai, for which Baddi takes a major credit.
The investment destination
Back in the pharma sector, major investments are still happening with pharmaceutical companies considering it a place for good investment. Alkem Laboratories is pumping `60 crore in its new formulations plant at Baddi, while Unichem Labs is already operating a betalactum plant here.
USV Limited has an investment plan of `80 crore for its manufacturing facilities in the area, while majors like Glenmark Pharmaceuticals Ltd, Dr Reddy's Ltd and Indoco Remedies have a `25 crore tablets, creams, medicated toothpaste facility in the area. Bangalore based Bal Pharma too has a `20 crore tablets and capsuling facility in the area.
Baddi has multi national companies like Colgate, Palmolive, Procter and Gamble, Hindustan Unilever, Cadburys, Johnson & Johnson, which have set up manufacturing facilities here.
India's leading corrugated box manufacturing group Horizon Packs has also set up their packaging unit Monad Technologies Pvt. Ltd. at Baddi.
Promed, Delhi based entity is planning to invest `25 crore in Baddi by setting up a facility here even as Hyderabad based Pulse Pharma is pumping `6 crore in the area. Morepan Laboratories has big plans as well, and began two units at `50 crore and `60 crore, and is further expanding with `20 crore biotech research project with US collaboration.

Recommended from all portals