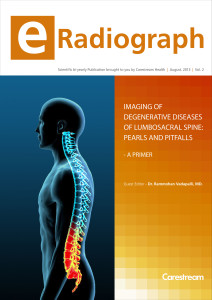 Preserved by readers for future references, Carestream Health's e-book provides comprehensive knowledge about industry's best practices in the area of medical imaging to the radiology community
Followed by the successful launch and overwhelming response received for the first edition of Carestream Health's e-Radiograph, the second edition of this bi-yearly scientific e-book is now out. In an endeavor to offer different views and perspectives on various topics, the second edition of e-Radiograph focuses on another critical imagining topic, "Imaging of Degenerative Diseases of Lumbosacral Spine". Contributed by Dr Rammohan Vadapalli, a renowned radiologist acting as a guest editor, the content of this edition is as comprehensive as the first one, carefully evaluated and researched.
Dr Rammohan Vadapalli said, "This compilation is targeted to all the spine enthusiasts to enhance their skills in interpretation of imaging of spinal degeneration. The e-book is packed with more images than words, tips and tricks, and RAD mantras."
Expressing his gratitude towards the readers of e-Radiograph, Mr Nilesh Sanap, Manager-Marketing, Carestream Health India said, "We are grateful to all the readers of e-Radiograph for their precious support and continuous encouragement. We promise to keep providing them information on latest proven practices in the field of medical imaging through e-Radiograph."
This one-of-a-kind e-book is an initiative under the Carestream's Radiology Education Services (CRES) in India, which provides a platform to radiologists for sharing best practices in medical imagining. To access this e-book, you can simply log on to www.carestream.in/eradiograph and register yourself to access the current and subsequent issues, without any cost. This reader-friendly educational tool (e-Radiograph) can be easily accessed by busy medical imaging professionals, anywhere in the world and even while on the go; and that is one of the key reasons of its success besides the comprehensive knowledge it offers.

Recommended from all portals