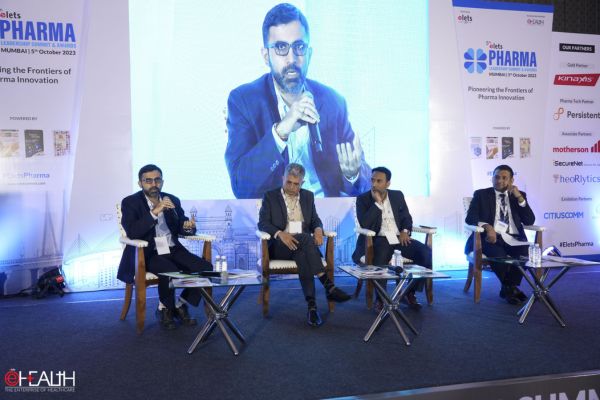 In a time where accuracy, rapidity, and dependability are essential, the pharmaceutical sector confronts distinct challenges in its supply chain and logistics management. At the 5th Elets Pharma Leadership Summit & Awards, our experts delved into best practices, ground-breaking solutions, and evolving trends that are transforming the sector. They discussed methods to enhance operations, cut expenses, and guarantee punctual deliveries, all whilst upholding the utmost standards of quality and compliance. Edited excerpts:
Gaurav Bhatia, Head of Planning and General Manager – Supply Chain, Reliance Retail Pharma
India stands prominently as a global powerhouse in the pharmaceutical sector. To provide some context:
European Dependence: India remarkably supplies about 25 per cent of Europe's pharmaceutical needs.
US Reliance: When it comes to the US, the dependency is even more significant, with India catering to approximately 40 per cent of its pharmaceutical requirements. This achievement is unparalleled by any other Indian industry.
Vaccine Prowess: India is the leading global producer of vaccines, contributing to nearly 70-75 per cent of the world's demands.
Formulation Strength: The country's pharmaceutical formulation sector is valued at about $40 billion USD, with a staggering year-on-year growth of around 19-20 per cent.
He added, "India's pharma industry continues to break its own records each year, leveraging advancements and support from various service providers. A pivotal role in this evolution is played by digitalisation and technology enhancements."
"As a case in point, Reliance Retail Pharma, which I represent, aims to stay closely connected to the consumer. One of our key initiatives has been the development of an omni-channel platform. Through our platform, Netmeds, customers can order medications online. Furthermore, they have the choice of visiting our physical stores at Reliance Smart Point locations, which also house Netmeds outlets. This gives them the flexibility to either order online and pick up in-store or order in-store and have it delivered to their homes", he further added.
In essence, our goal, powered by digitalisation and efficient logistics, is to place the customer at the core of our operations. This ensures they have a convenient, seamless experience, whether ordering online or offline, as long as they have the necessary prescriptions. Through such measures, we aim to serve our consumers swiftly and more efficiently.
Kalpajit Saikia, Senior Director, Sales APAC, Kinaxis
Kalapjit commenced his speech by stating, "Pharmaceuticals is an incredibly intricate industry. Coming from a supply chain planning background, I find pharma to be uniquely complex. From managing diverse market locations, navigating production intricacies, to acquiring necessary certifications and approvals – it's a monumental task. Their ability to manage such complexities astounds me daily."
Traditionally, the focus in supply chain planning is on accuracy, whether that be in forecasting, fill rate or material planning. However, given the volatility and complexity of pharma, a sheer focus on accuracy can be thrown off balance. It's more about how efficiently you can respond to disruptions and daily challenges.
"The old-fashioned supply chain planning method was sequential – starting with forecasting, followed by material planning, then capacity planning, and finally distribution planning. This method's origins lie in it being an extension of logistics. But now, supply chain planning has evolved and commands significant influence within organisations", he further explains.
A more fitting approach for today's demands is what we term 'concurrent planning'. It challenges the idea of sequential business processes. If business operations are simultaneous, why should planning be linear? Instead of waiting for one process to finish before starting another, everything is planned simultaneously.
Additionally he said, "Concurrent planning, which is gaining traction in pharma, operates on breaking down silos. From demand forecasting to capacity, material, and distribution – all processes are interconnected and transparent. It's about having a holistic view, operating on a singular data model and ensuring a swift, efficient response. This is the model many pharmaceutical organisations are now adopting and I believe will shape the industry's future working methodology."
Vickram Srivastava, Head of Planning, Global Supply Chain, Sun Pharma
"In today's unpredictable and volatile world, it's imperative not only to optimise supply chains but to ensure they are resilient. The challenges of the past few years have emphasised the importance of building supply chains that are adaptable, not just durable", shared Vickram Srivastava, Head of Planning, Global Supply Chain, Sun Pharma at 5th Elets Pharma Leadership Summit & Awards.
Historically, what might have been successful for the pharmaceutical industry might not be applicable to others, given its unique nature. The pharmaceutical sector, being one of the most stringently regulated industries, doesn't enjoy the flexibility inherent in industries like FMCG or electronics. This means that actions such as switching vendors, due to unforeseen demand, cannot be done swiftly. Regulatory barriers might make a simple vendor switch for primary packing materials a process spanning six to eight months, involving significant costs and effort.
Additionally he said, "Traditionally, the pharma industry has relied on a combination of Sales and Operation Planning (SNOP) and Sales and Operations Execution (SNOE). This involves short-term adaptive planning while also considering mid-to-long term objectives like vendor evaluations and capacity planning."
However, it's evident that the modern world requires us to overcome departmental silos and adopt a more integrated approach, similar to the Integrated Business Planning model. It's crucial to understand consumer demand patterns for essential drugs and ensure this information flows seamlessly up the supply chain.
Conclusion the session he said, "Merely having visibility with direct vendors is insufficient. We need an expansive view of our entire supply chain due to the interconnected nature of global events. A disturbance in one region could have ripple effects on a vendor located thousands of kilometres away. Thus, achieving comprehensive visibility and fostering collaboration have never been more crucial."
Follow and connect with us on