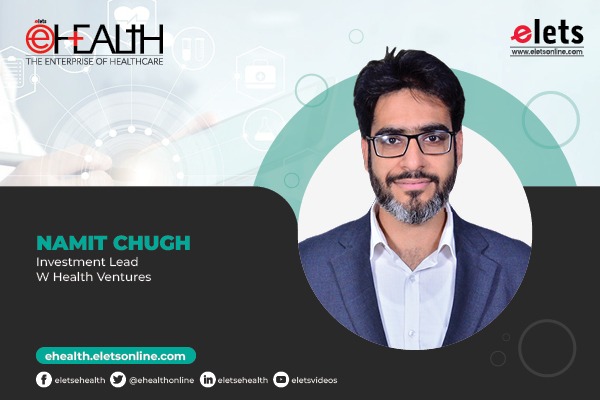 Digital health ventures are not only providing a high quality of care but also setting a new standard of care that is better than the status quo. We are seeing the emergence of a new healthcare workforce, health coaches and concierges, enabled by technology to work hand-in-hand with doctors, and drive patient experience. Namit Chugh, Investment Lead, W Health Ventures, shares with Kaanchi Chawla of Elets News Network (ENN). Edited excerpts:
What position do you think Indian healthcare start-ups are in right now, and how are they doing?

There are 8,000 healthtech startups across the country that have raised over $9 billion in funding. They are building a range of solutions, from new care delivery channels and packages to SaaS offerings, in various therapy areas, including ones often overlooked by traditional healthcare providers like mental health, women's health conditions beyond gynecology, etc. These companies are leveraging various business models, including B2C (directly reaching patients and users), B2B2C (through employers or healthcare providers), and B2B (to healthcare institutions, physicians, etc.)
While there has been commendable growth in the last decade, particularly post pandemic, the health tech startup ecosystem in the country remains nascent, as apparent from the amount of funding in the space. Till date, only 1,000 ventures have received funding, of which 50 per cent are at the seed stage. Less than 50 have achieved scale beyond Series B.
Over the past few years, healthcare has seen a dramatic evolution. New developments and trends in the healthcare sector are being developed by start-ups in that sector. Do you believe the healthcare services offered by start-ups to patients are of high quality?
The first wave of health technology solutions in India was centered around teleconsultation, e-pharmacy, fitness, wellness, etc.
Today, digital health ventures are not only providing a high quality of care but also setting a new standard of care that is better than the status quo. We are seeing an emergence of a new healthcare workforce, health coaches and concierges, enabled by technology to work hand-in-hand with doctors, and drive patient experience. Programs have seen better adherence, retention, and thus clinical outcomes through coach-led models.
Those building vertically integrated platforms are providing patients with one-stop, end-to-end solutions, helping them overcome the confusion and hassle of interacting with multiple providers.
For instance, patients are thrilled by the ease of accessing all their diabetes-related needs on a single platform like BeatO. Its coach-led program increased user retention and active engagement eventually leading to enhanced patient outcomes (1.9 points drop in average HbA1c over 3 months). Booking at-home services such as diabetic retinopathy tests online on the same platform have made it easier for patients to access critical services that were previously unavailable in offline testing centers.
To ensure high quality, founders must build offerings backed by strong clinical protocols, eventually leading to better care outcomes for patients.
Do you believe Artificial Intelligence is making a sufficient contribution to the expansion of start-up healthcare companies in India?
The World Economic Forum recently hailed Artificial Intelligence in healthcare as India's trillion-dollar opportunity. Some early inroads we have seen are:
Diagnostics: AI is bringing efficiency to existing diagnostic processes by increasing the throughput of clinicians and improving quality by reducing human error. For instance, Niramai is working towards creating predictive models for diagnosing life-threatening conditions like cancer using novel biomarkers.
AI chatbots: AI-powered chatbots help providers strengthen engagement with patients. More importantly, these chatbots offer digital front doors to patients, removing the traditional barriers of long waiting times, distance, and hesitance. Improving mental health care, Wysa has built an emotionally intelligent, clinically strong, AI powered chatbot.
However, we have only scratched the surface. As data quality and technological infrastructure strengthen AI solutions, we will see:
(i) Improvement of clinical outcomes in therapies such as IVF, oncology, etc.
(ii) Providers acting upon critical insights based on patients' unique health parameters making healthcare further personalised
(iii) Solutions from India bridging geographical bounds to improve healthcare globally
We are excited about the future, where AI solutions from India will become a part of routine care journeys across the world.
Hospitals and doctors may streamline operations, engage patients, streamline procurement procedures, and more with the help of digital care ecosystems provided by health tech start-ups. What are your thoughts on it?
Digital health companies today are not only addressing patient pain points but also offering solutions for providers. Some models we have seen includes:
Smart ICUs: These enable direct data transfer from medical devices in ICUs to hospital EHRs, reducing nurse burnout and helping them spend more time on patient care rather than administrative work.
Group Purchasing Organisations: Small and medium-sized healthcare providers often find it challenging to compete with large systems on pricing. Through partnerships with ventures that build GPOs, they can gain the bargaining power the latter has. These GPOs are supplemented with admin-friendly purchasing platforms, lucrative tie-ups with distributors, smart inventory management solutions, etc.
While companies have done a commendable job in building offerings, most are yet to find significant market penetration. Those targeting small healthcare systems struggle with clients having insufficient payment capacity, while others struggle with conversion. As the space matures, we hope to see providers taking more active steps toward such partnerships.
What opportunities and threats do you think Indian start-ups in the healthcare industry face?
The biggest opportunity is the increased digital adoption by the masses for their healthcare needs, largely driven by:
i) The rapid growth of internet subscribers to 840+ million users
ii) Increased spending on healthcare (as per 51 per cent Indians)
iii) The growing health insurance coverage (2x in 2021 vis-a-vis 2016).
The increasing awareness among providers that, technology is the best way for them to increase their customer base and services is further boosting.
Despite the entrepreneurial activity, large unaddressed white spaces remain in India's healthcare paradigm. Startups, at the helm of innovation, are in the best position to solve these overlooked patient pain points and benefit from the large market already looking for solutions.
Healthtech in India remains nascent. While consumer adoption of digital health solutions is on the rise, startups struggle to acquire customers sustainably. For them to continue to innovate and impact the masses, external funding is critical.
Given the ebbing macroeconomic climate, there is a slight wariness among investors, particularly in late-stage financing. Consequently, 2022 brings founders the additional responsibility to conserve cash and make sure a runway for the funding winter, if such a situation arises.
How did this year go for Indian healthcare start-ups? What are their expectations for the future and where do they envision themselves as 2023 draws closer?
Looking back, in 2021 and 2022, prevalent healthcare startups were operating in spaces addressed by traditional healthcare providers, albeit improving their solutions, such as e-pharmacies, online diagnostic platforms, etc. They built investor conviction on the shoulders of the traction seen by legacy providers.
With a little over a month left in the year, 2022 has brought 150+ companies over $1.2 billion in funding across 189 rounds of funding. Of this, $68 million was raised in the seed stage and $222 in Series A. This is a dampener compared to the 300+ companies that received over $3 billion in funding in 2021.
We look forward to seeing ventures address white spaces and build patient-centric solutions in non-traditional care areas like chronic pain, mental health, obesity, etc. Leveraging on the increasing consumerism in healthcare, they will also strive to become large household brands. Straying from only seeing the rosy outlook, founders are conscious that the coming year looks to be more difficult in terms of the macroeconomic climate and ensuing funding decline. Accordingly, they are shoring against any such situation by ensuring sufficient cash runway.
What do you think about the current state and prospects for your organisation in the digitally driven healthcare ecosystem?
We believe that this is only the beginning of India's digital health decade. As dedicated health tech investors, we are very excited about it and our linked futures. We will continue to invest in ventures addressing large unmet needs in healthcare, with proven success in improving clinical outcomes, strong unit economics, and most importantly, mission-driven founders. While looking for the new, we value our solid partnerships with each of our portfolio companies to enable us to scale and prosper together.
We also intend to further expand our footprint to areas unaddressed by traditional healthcare providers and startups by incubating companies that are building solutions for the many remaining gaps. We look forward to understand if a few of the scaled global innovations in care delivery can be contextualised to and thrive in India. To do so, we're building internal capabilities around product and commercialisation, that several can benefit from. This venture factory or studio will build companies in care delivery for India and the rest of the world.

Follow and connect with us on Facebook, Twitter, LinkedIn, Elets video