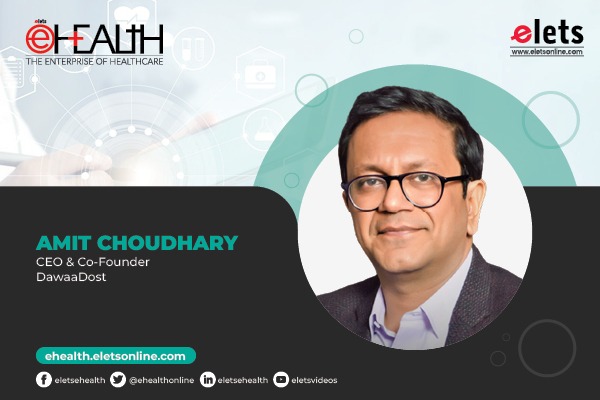 The usage of Artificial Intelligence and Machine Learning is increasing, and the healthcare industry is one of the fastest-growing in the nation. The value of AI-powered solutions in cutting-edge medical technology is being acknowledged by the healthcare ecosystem, shares Amit Choudhary, CEO & Co-Founder, Dawaa Dost with Kaanchi Chawla of Elets News Network (ENN). Edited excerpts:
What position do you think Indian healthcare start-ups are in right now, and how are they doing?

The healthcare sector is one of the fastest growing in the country and is seeing an increased uptake in the adoption of Artificial Intelligence and Machine Learning. IoT products are used by 37 per cent of health tech businesses, while 54 per cent of them rely on AI and machine learning to deliver their services. In addition to utilising new age technologies, startups are now focusing on developing a full stack of healthcare services. For example, we at DawaaDost, are trying to address India's healthcare debacle in its entirety. We are building a full-stack platform that addresses issues pertaining to affordability, adherence, awareness, and accessibility (of medicines).
Over the past few years, healthcare has seen a dramatic evolution. New developments and trends in the healthcare sector are being developed by start-ups in that sector. Do you believe the healthcare services offered by start-ups to patients are of high quality?
India is at the helm when it comes to digital transformation in healthcare. With the help of rapidly developing technology, India will successfully provide high-quality healthcare to a billion people at a cost that is accessible, reasonable, and individualised. The emergence of health tech firms in India has been accelerated by the dynamic startup culture and the quick uptake of cutting-edge technology like cloud computing and artificial intelligence. These firms streamline medical processes by fusing established methods with cutting-edge technology. These businesses are gaining popularity in India as telemedicine and online healthcare delivery help solve the accessibility challenge and enable last-mile delivery of healthcare services to the masses. The entire healthcare delivery in India is based on servicing acute situations. In the last decade, India unfortunately, has become the chronic capital for multiple diseases which require different consumer behaviour. This will need to focus on journey management rather than just treating a situation as a transaction.
Do you believe Artificial Intelligence is making a sufficient contribution to the expansion of start-up healthcare companies in India?
AI is critical to building faster access to healthcare. The healthcare ecosystem is recognising the importance of AI-powered technologies in cutting-edge medical technology. The operation and delivery of healthcare processes are said to drastically benefit from the use of AI. For instance, the ability of AI to reduce costs for the healthcare system is a key factor in the adoption of AI applications. The shift from a reactive to a proactive healthcare model that emphasises health management rather than disease treatment is largely responsible for these cost savings. This is expected to lead to a decrease in hospital stays, medical visits, and treatments. AI-based technologies will play a significant role in assisting people in maintaining their health. Through constant monitoring and coaching, AI-based technology will play a significant role in assisting people in maintaining their health by ensuring earlier diagnosis, customised treatments, and more effective follow-ups.
For example, DawaaDost's Medwiki leveraged AI to become the world's largest video library on medicines, with over one million videos in six different Indian languages. Users need only enter the name of their prescribed medicine and Medwiki's hosts will answer basic questions such as the working of the medicine, its uses, potential side effects, and other important FAQs; thus allowing viewers to understand the role their medicines play.
What opportunities and threats do you think Indian start-ups in the healthcare industry face?
We need to think long term. The pandemic also brought to light the problems with access to and provision of healthcare, including the financial strains that patients experience in order to receive high-quality care, the restricted availability of medical infrastructure, the dependability of doctor consultations and medication, and quality monitoring. As a result, a parallel digital health ecosystem has emerged, using technology to try to close gaps in both the treatment of sick individuals and the prevention of illness.
However, India's hinterlands are an untapped market. It is an ecosystem game where several categories, including diagnostics, clinical services, hospitals, pharmacies, and more are merging and working together to create a positive feedback loop. Even though it will take some time to create a fully functional digital health ecosystem that benefits the one billion population of India, this generation of health tech startups, supported by investors, is laying the groundwork for it.
How did this year go for Indian healthcare start-ups? What are their expectations for the future, and where do they envision themselves as 2023 draws closer?
The golden years of Indian healthcare are ahead of us. What all of us do between now and 2030 will define the success of the sector. By 2025, it is anticipated that India's healthtech ecosystem will generate $21 billion in revenue, thanks to the rise of digital health efforts during the pandemic. Healthtech entrepreneurs who are bringing the future into the present are assisting millions of people. The convergence of these many technologies has resulted in a substantial paradigm shift in healthcare, which exponentially amplifies the impact. Patients from all over the world travel to India as a favourite destination for Medical Value Travel (MVT), which is developing into a significant market potential for the healthcare industry.

Follow and connect with us on Facebook, Twitter, LinkedIn, Elets video