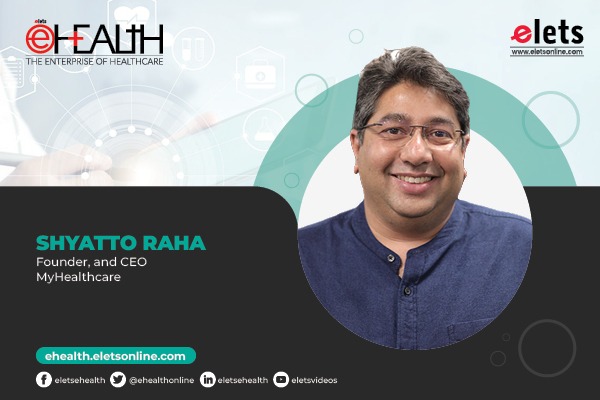 Over the last decade, India's healthcare system has seen a significant transformation. The quality of healthcare has increased drastically as a result of the innovations provided by health tech start-ups, from the availability of doctors and medications to the development of tech-enabled life-saving treatments. Delving deep into the conversation, Shyatto Raha, Founder, and CEO of MyHealthcare, had an in-depth conversation with Kaanchi Chawla of Elets News Network (ENN). Edited Excerpts:
What position do you think Indian healthcare start-ups are in right now, and how are they doing?

Healthcare has drastically evolved over the past decade in India. From easy access to doctors and medicines to the invention of tech enabled life-saving treatments, the quality of healthcare has grown by leaps and bounds- all thanks to the innovations offered by health tech- start-ups. These start-ups are offering innovative solutions across all verticals, such as telemedicine, e- pharmacies, diagnostics, digital transformation, mental health monitoring, fitness and wellness, and much more. With almost 7,500 health tech start-ups in India currently fueling growth, and thousands more that will take seed in the coming few years, the state of healthcare in India looks very promising.
The key fundamental way that health tech start-ups are changing the health and wellbeing landscape are:
a) Improving access to healthcare facilities and/or healthcare providers
b) Access to longitudinal patient history through digitisation & digitalisation thereby enabling better patient outcomes
c) Boosting the efficiency of healthcare providers by leveraging technologies such as AI & ML
d) Making diagnostics more affordable
e) Monitoring and promoting healthier lifestyles
Do you believe Artificial Intelligence is making a sufficient contribution to the expansion of start-up healthcare companies in India?
Today, Artificial Intelligence (AI) is bringing tremendous benefits to every industry, including healthcare. With many disruptive use cases, it is helping build automation, boost efficiency, streamline operations, cull data insights, and reduce operational costs in healthcare institutions. By automating manual processes, AI is cutting down on the time. It takes to complete functions and freeing up healthcare professionals to focus on mission-critical patient care. AI-powered digital care ecosystems or platforms are also taking care of everything from booking appointments, procuring medical equipment and supplies, monitoring and engaging patients, and more, ensuring hospitals, clinics, diagnostic centres, etc. run smoothly.
Moreover, the revolutionary technology is facilitating faster and more cost-efficient drug and vaccine discovery, and genomics can be beneficial in designing therapies tailored to meet each patient's specific needs. Most importantly, AI solutions are giving doctors insights into comprehensive patient data and helping them make better-informed decisions. This is empowering them to deliver better healthcare faster and at a lower cost, ultimately enhancing the patient experience.
Hospitals and doctors may streamline operations, engage patients, streamline procurement procedures, and more with the help of digital care ecosystems provided by health tech start-ups. What are your thoughts on it?
A lot has been discussed about the state of healthcare in India, especially post-pandemic. There is a need for a connected ecosystem to bridge the gap in the healthcare system. Healthtech ecosystems like MyHealthcare and other start-ups play an important role in bridging that gap and getting hospitals and doctors on one platform, making the lives of patients and doctors easier and more efficient.
At MyHealthcare, we are focused on leveraging the potential of a digital healthcare ecosystem to bridge the care delivery gaps using data-driven care processes that make healthcare accessible across the country. Our digital healthcare system is presented as a B2B and B2B2C platform, working with leading hospitals, clinics, diagnostics service providers, e-pharmacies, home care providers, and clinical device companies to build an integrated healthcare ecosystem. We are using the advantages of internet penetration, digital technology, AI, and cloud technology to increase the accessibility of quality healthcare and make it more efficient. Our contribution to democratise healthcare in India has been recognised by NASSCOM.
For doctors and healthcare providers, the ecosystem enhances the efficiency with our Electronic Medical Record (EMR), which has been designed and developed by clinicians. The use of augmented intelligence, AI-based voice-to text functionalities, and evidence based CDSS (Clinical Decision Support System) – all contributes towards delivering an accurate and effective diagnosis, faster and more efficiently. Additional tools such as poly pharmacy alerts, drug/ salt interaction alerts, clinical alerts, and early warning signs help improve the quality of diagnosis and care.
Our integrated remote patient monitoring (MyHealthcare@ Home) helps in creating a care continuum for the patient, post discharge, or chronic care – all managed remotely. Through device integrations, video connectivity, and appropriate clinical data alerts, care providers are equipped to manage a patient's care from a centralised command centre, monitored and managed by clinicians. We can track vitals such as temperature, blood pressure, heart rate, pulse rate, SPO2, and blood sugar in realtime.
The MyHealthcare Enterprise ecosystem is designed to help hospitals and healthcare institutions to drive efficiency and improve the effectiveness of healthcare delivery. The enterprise ecosystem integrates across multiple provider platforms and helps hospitals expand their geography of care. The platform improves patient engagement significantly. The platform is built on an open source, micro services, and cloud-based architecture, helping to reduce operational and technological costs for hospitals. The enterprise system is built with a workflow management process and a task-based interface. Our focus has been to deliver a single screen user experience for hospital operation users, single-screen EMR for doctors, clinicians, and nurses. All of this comes together in helping digitalise healthcare delivery, across all care delivery touch points such as OP, IP, ER, care at home and healthcare centres, etc.
What opportunities and threats do you think Indian start-ups in the healthcare industry face?
India's healthcare sector has become one of the most significant, due to the immense scale and potential of the market. There have been countless opportunities that came up in the healthcare sector in the past couple of years. Digitalisation played an important role with video consultation coming at the forefront of diagnostic apps which helped unburden an overcrowded healthcare ecosystem. With a large elderly population, healthcare at home plays a key role for ecosystems in the remote healthcare space. MyHealthcare provides programs like MyHealthcare@Home to assist healthcare providers with remote patient monitoring. There has been a huge increase in the adaptability of health advisory and personal health tracking apps, wearables, and monitoring sensors. The digital revolution during and post pandemic has resulted in creating employment opportunities, new revenue streams, and a much faster-paced healthcare delivery system.
Some of the challenges that the industry still face:
1. Lack of resources: There is still a shortage of manpower in terms of trained doctors, nurses, clinicians, and other human resources, and a lack of consumables, medical equipment, drugs, and hospital infrastructure to meet the increasing demand of our growing population. A lot of effort is going in this direction but the gap is huge and it will need disruptive action to make good.
2. Skill development: Digital upskilling of existing medical professionals is critical for its growth, especially in rural areas. A lot of initiatives have been undertaken both by the Government through NSDC and private players too.
3. Lack of standardisation: Health tech being at a nascent stage is evolving every day, and we are sure appropriate and necessary standards will be defined in due course of time. The process has already begun releasing the Telemedicine guidelines in March 2020 and the recent ICMR Standards of Care guidelines. While these are steps in the right direction, much more still needs to be done in defining the standards of care in healthcare delivery.
4. Cybersecurity: As digitisation and connectivity increase in healthcare, the use of cloud data storage will become the norm. This has already started a number of conversations on data privacy and security. This is an area that will need to be addressed in a balanced manner by promulgating appropriate regulatory guidelines.
How did this year go for Indian healthcare start-ups? What are their expectations for the future, and where do they envision themselves as 2023 draws closer?
No other industry has seen as much disruption and evolution as the healthcare sector in the last couple of years. The Covid-19 pandemic not only pushed healthcare institutions to accelerate their digital transformation, but it also spurred people to embrace digital healthcare in a big way.
MyHealthcare is growing to become one of the largest healthcare systems for specialty care in India.
We are today on a path to expand our geography of care across tier one, tier two and tier three cities across the country. As we are integrated across all healthcare insurance systems, our endeavour is to ensure we improve the quality of care delivered to our patients, wherever they may be located.
Towards the later part of the year, we are looking to expand our geography of the ecosystem across South-East Asia, the Middle East, and Africa. We see a significant opportunity in taking Indian healthcare technology to the world instead of the other way around. While we grow, technology innovation will be core to building a scalable and robust healthcare ecosystem.
What do you think about the current state and prospects for your organisation in the digitally driven healthcare ecosystem?
In today's scenario, healthtech companies are leading the democratisation of the healthcare industry and reshaping patient experience. Over the past two years, technology has made its presence felt across the healthcare industry. The democratisation of healthcare involves increased knowledge, convenience, and most importantly, the empowerment of patients to manage their healthcare needs seamlessly, including effective and timely preventive health interventions. Patient-centric platforms such as our ecosystem help in building a structured, centralised repository of a patient's clinical data and patient longitudinal history, across all interventions and services offered it.
MyHealthcare ecosystem connects across the provider network of hospitals and other healthcare institutions and helps in delivering better care to patients, wherever they may be. The ecosystem tracks, analyses and delivers a patient's clinical information to them in a meaningful and effective way, allowing them to use the platform to manage their health needs. Tech has helped evolve the way patients and doctors interact with each other.
MyHealthcare helps in building a complete personal health record, whereby all medical records, and clinical history of a patient is created and archived in a central repository, to manage a patient from diagnosis to cure. MyHealthcare ecosystem maps the patient's journey from booking an appointment, the consultation with the doctor physically or virtually, delivery of the e-prescription, delivery of services such as diagnostics or pharmacy or homecare, follow-up consults or referrals, all delivered within the ecosystem. Patients are empowered to manage their healthcare needs through the Personal Health Record (PHR) platform, which is integrated with FDA-approved health trackers and IoT devices. When a patient comes into our ecosystem, they're able to get care across all our partner hospitals and diagnostics providers, thereby becoming a single window for patient care management.

Follow and connect with us on Facebook, Twitter, LinkedIn, Elets video