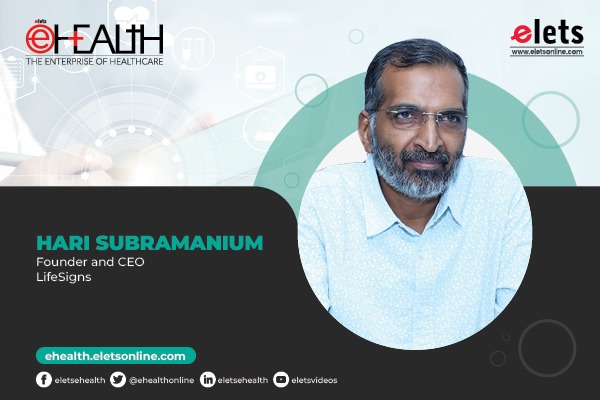 India's vibrant startup culture and urban adoption of cutting-edge technologies like cloud computing and artificial intelligence have led to an explosion in the number of health technology startups in the country. Delving deep into the discussions, Hari Subramanium, Founder and CEO of LifeSigns, had an interaction with Kaanchi Chawla of Elets News Network (ENN). Edited excerpts:
In what position do you think Indian healthcare start-ups are right now, and how are they doing?

During the epidemic, when patients and doctors were unable to go to hospitals in the traditional sense, virtual treatment and data collection became essential.
Health technology companies in India have exploded in popularity due to the country's dynamic startup culture and the urban uptake of cutting-edge technologies like cloud computing and artificial intelligence. These new businesses help medical procedures go more smoothly by combining tried-and-true methods with cutting-edge technology. Telemedicine and the internet delivery of healthcare services are helping to boost the popularity of such businesses in India.
It was estimated that by 2020, India's health tech industry would be worth US$1.9 billion. Advisors predict that this will reach $5 billion by 2023 and an astounding $50 billion by 2033. India's healthcare system has a bright future owing to the almost 7,500 health IT startups that are already fueling development and the thousands more that will take root in the coming years.
Over the past few years, healthcare has seen a dramatic evolution. New developments and trends in the healthcare sector are being developed by start-ups in that sector. Do you believe the healthcare services offered by start-ups to patients are of high quality?
The Indian healthcare system is being altered because of three forces: expanding patient awareness, widespread availability of technical advancements, and rising demand for medical services. One cannot rely on just having health insurance to assist them. However, there is assistance available from a few start-ups that are working to reduce the price of healthcare by using technology and thinking "outside the box.
These start-ups are doing it all, whether it be integrating health data with electronic discount cards, offering home and preventative care services, or bringing together multiple healthcare providers on a single platform, such as physicians, hospitals, clinics, diagnostic centers, and pharmacists. Because of this, getting access to affordable medical care has become much simpler. The level of service that is provided by new businesses is unparalleled.
Do you believe Artificial Intelligence is making a sufficient contribution to the expansion of start-up healthcare companies in India?
The delivery of medical treatment in India has seen significant change during the last decade. As a consequence of the innovation and creativity brought by the advent of health tech start-ups in areas ranging from the provision of low cost insurance to the creation of tech-enabled treatments that save lives, the quality of healthcare is fast increasing.
The screening procedure may be sped up and an earlier diagnosis can be made by merging AI-based technologies with portable screening equipment. This is especially helpful in more remote areas.
The process of developing new medications also involves the use of predictive analysis, which is accomplished with the aid of artificial intelligence. The hit-to-lead stage of early drug development may be sped up with the application of AI, which may also offer more precise data on the therapeutic target. This might be beneficial to the pharmaceutical industry. Because it offer more methods to connect and exchange data, as well as the operational advantages that accompany them. Artificial Intelligence (AI) and the Internet of Things (IoT) have become a pervasive force in business. This is especially true in recent years. It's an excellent idea for the medical field, where the Internet of Things (IoT) in healthcare and Remote Patient Monitoring (RPM) are developing in tandem to revolutionise the core notion of patient care. The use of biosensor technology has the potential to revolutionise both medical treatment and people's everyday lives. In the future, biosensors will be able to assist you in making more informed choices and monitoring your health.
Hospitals and doctors may streamline operations, engage patients, streamline procurement procedures, and more with the help of digital care ecosystems provided by health tech start-ups. What are your thoughts on it?
The situation that exists right now, and one that still exists today, is that each hospital employs its own software for all of its procedures and operations, which is both challenging and inconvenient. Several other technologies based on the Internet of Things are now being created. For each of these technologies, data must flow to the primary system. The Indian healthcare business is developing toward a software platform that is relatively excellent and efficient, digital technologies, and more technologies based on the Internet of Things (IoT). These efforts are being made to guarantee a more efficient flow of data and to provide clinicians with access to data that may be correlated with one another.
When a doctor checks in on a patient on a daily basis, all of the patient's vital signs are taken note of and manually analysed. It is not until a patient's vital signs reach an "alarming" level that the problem is escalated and brought to the attention of the physician who is on duty. This surgery allows for a brief window of opportunity to begin therapy that has the potential to save lives. LifeSigns was formed to deliver a service to medical staff that could monitor patients' vitals 24×7 and ultimately save lives.
What opportunities and threats do you think Indian start-ups in the healthcare industry face?
The existing healthcare system in India lacks the necessary infrastructure to address the needs of the whole nation in terms of medical treatment. The inadequacy of the healthcare infrastructure has resulted in an imbalance between supply and demand, which has made it more difficult for all people to afford and get healthcare.
Before COVID came out, the only brands that could be considered credible as medical-grade were those made by large manufacturers. The tide has changed, and today even less-known companies that have game-changing discoveries are being pushed to test and deliver medical items that represent major advancements.
There are significant competitors that take issue with the high prices charged by these businesses for their goods and services. Startup companies are able to battle the same problem because they are able to provide answers to the same problems at a lower and more affordable cost. The most significant danger comes mostly from China, but since the government is keeping a tight eye on the situation, this danger is now under control. It was discovered that the Chinese medical equipment that had been poured into the Indian healthcare system was not approved. Another challenge that new businesses have to deal with in today's environment is acquiring credit, funds, or capital.
In case of LifeSigns, we adopted and associated with LifeSignals, Inc., an extremely credible US based organisation that has spent more than a decade developing world-class biosensors, and a comprehensive active patient monitoring software platform that has been approved by the FDA, CE, HSA, and many other regulatory bodies.
We are the first to bring this solution to India, the first to integrate other medical devices into our solution, and the first to integrate the whole solution with the electronic medical record systems of India's premier hospital systems. Another challenge that causes the healthcare industry's initiatives to go more slowly is the length of time it takes to be paid. Regarding payments and investment, the government has to give some kind of assistance for the entrepreneurs.
How did this year go for Indian healthcare start-ups? What are their expectations for the future, and where do they envision themselves as 2023 draws closer?
The year 2022 has gotten off to an incredible start regarding the new services and products that have been introduced. Indian businesses have reached a mature stage, and the system is beginning to get assistance. It is anticipated that the growth of healthcare tourism, which would result in westerners traveling to India for their medical treatments and surgical procedures, will occur rapidly.
These days, hospitals in India are on par with their western counterparts in every conceivable way. After another five years, the quality of care provided by the Indian healthcare system would have improved significantly.
What do you think about the current state and prospects for your organisation in the digitally driven healthcare ecosystem?
The wireless patient monitoring space is going to have a successful run over the next several years. Digitalisation and automation will eventually eliminate the need for the involvement of nursing personnel and the manual recording of vital signs by patients. Efficiency suffers if there is a dependence on healthcare personnel for the completion of routine tasks. All of this may be automated, which will free up the time of hospital personnel so that they can provide superior care to patients.
LifeSignsiMS is an intelligent monitoring system that is designed to compile and report real-time patient vitals, in both community and clinical settings, to healthcare practitioners to facilitate informed next-step decisions. Feedback from clinicians using our system indicates more efficient use of personnel and lower overall operating expenses.
The implementation of the iMS system may reduce the likelihood of patient anxiety and deterioration, as well as the amount of stress experienced by nurses, as a result, the whole healthcare delivery system is improved, benefiting both patients and nurses. The fact that clinicians will have easier access to genuine data may also result in choices being made more quickly and with more awareness, demonstrating that the iMS Dashboard is beneficial for society as a whole.

Follow and connect with us on Facebook, Twitter, LinkedIn, Elets video