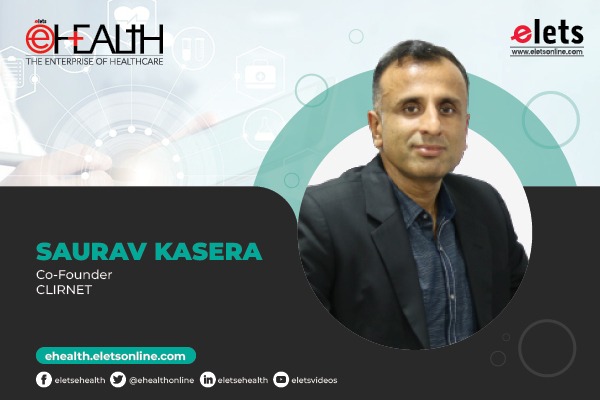 As the global pharmaceuticals market is anticipated to jump from $1,454.66 billion in 2021 to $1,587.05 billion by the end of 2022 with a compound annual growth rate (CAGR) of 9.1 per cent, the way forward for healthcare start-ups lies in the adept adoption of digital technology for patient management, supply chain, systems, and care delivery. Let's look at the specifics of this in the following sections:
Trends and innovations in the Indian Pharmaceutical industry

With the growing technology penetration in the industry, these are some trends and innovations marking the landscape of the Indian pharmaceutical industry:
1. Artificial Intelligence – Although in its nascent stage, the use of Artificial Intelligence (AI) in Indian pharma industries is accelerating mainly two things: (i) Drug discovery and development, (ii) Continued Medical Education (CME) processes. Indian pharma startups – Clirnet, Qure.ai, Arteluce, and Niramai– those that are welcoming digitisation are seen to be exploring the varied usages of AI technologies in addressing the various challenges in the pharma industry. Some of these challenges range from CME, data management automation, data privacy, and optimisation of clinical manufacturing processes.
2. Precision Medicine – A relatively evolving term in the Indian pharma scene, 'precision medicine' originated from the idea of personalisation and customisation of medical care. The main aspect of this is to diagnose as well as treat each patient as a unique individual. Combining data management, data privacy, and data analysis through Machine Learning, precision medicine is all about providing real-time insights into how the particular patient's body is responding to drugs. This knowledge is posited in a manner that it would enhance advanced clinical manufacturing methods, for example, developing drug exposure models to predetermine the pharmacokinetic and pharmacodynamic properties in order to prepare the required dosage based on age, comorbidities, and various other clinical parameters.
3. Big Data & Analytics – The Indian pharma industry is focused on developing high-performance systems for analysing the massive volumes of medical data that is collected.. during patient care, as well as those generated during the clinical drug development process. Pharmaceutical companies in the country are currently reinforcing the involvement of third parties in data sharing, poised to fulfill the goal of making data management efficient. The long-term goal of utilising big data and analytics in the Indian pharma landscape is to further the advancement in analytical techniques, including real-time data availability, predictive diagnosis, individualised care, and descriptive analytics.
Factors driving the growth of the Indian pharma industry

The Indian pharmaceutical industry is paving its way through obstacles, especially taking strides during the COVID pandemic, beating all odds to secure a spectacular growth in various fields. It has surpassed 9 per cent CAGR precision by consistently growing at a whopping 12-12.5 per cent CAGR in the last five years.
Presently the third largest by volume and the thirteenth largest by value globally, let us look at the key driving factors behind the growth of the Indian pharma industry:
·Increased Investments – According to data received by the Department of Industrial Policy and Promotion (DIPP), the Government of India has brought 100 per cent FDI in the Indian pharmaceutical sector under an automatic route directed especially at the manufacture of medical devices to fulfill existing infrastructural requirements.
·Government initiatives – Government initiatives like Drug Price Control Order, Ethics in Medical Practice, National Pharmaceutical Pricing Authority, Scheme for Strengthening of Pharmaceuticals Industry (SPI), Patents (Amendment) Act 2005 some of the best examples of the government's commendable interventions projected at the growth of pharmaceutical industries.
·Production Boost – The acceleration of clinical vaccine trials and drug production during the COVID pandemic has proven to be a key driving factor that has been further catalysed, thanks to investment support from the private, government, and public sectors. The supply of low-cost and high-quality medicines has created a niche for India to become a self-reliant nation in terms of pharmaceutical infrastructure, besides propelling India to the second position among global pharma manufacturing leaders only after the United States. Due to India's second-highest number of FDA-approved drug manufacturing plants, the country has a bright future with continuing production boosts.
Role of Artificial Intelligence (AI) in the Indian Pharma Sector

According to a study conducted by Research and Markets, the application costs of AI in healthcare in India was valued at Rs 431.97 billion in 2021, marked by a growth rate of about 40 per cent. When speaking of AI in the country's pharma sector, the national stats regarding the doctor-patient ratio of 1:1456 against the World Health Organisation (WHO) recommended 1:1000 ratio is vital to mention. As visible, the current stats score is way lower than the WHO recommendation.
At this point, it is crucial to understand that AI is playing an imperative role in working to achieve the WHO ideal ratio, as is visible in the prediction by the same report that with a countrywide adoption of AI in the pharma sector, India is estimated to reach 6.9:1000 in 2023. With this as the backdrop, let us see how the Indian pharma setup's implementation of AI in various dimensions of healthcare:
·Disease Identification – Ranging from COVID symptoms identification, oncology and degeneration in the eyes, disease identification or diagnosis has found a broader spectrum of application owing to AI.
·Digital Therapeutics – Digitisation of the Indian pharma industry powered by AI is providing early insights for medical professionals into conditions like ailing gums, glaucoma, cutaneous skin disorders, etc., thus enabling them to suggest prevention methods and primary treatment options. AI is serving as an ancillary tool that is consistently enhancing the diagnostic accuracy of doctors as well as improving clinical decision-making.
·Drug Discovery and Manufacturing – AI is transforming the drug development and manufacturing process by providing cloud storage for data through the discovery process, initial screening of various drug compounds, precise measurements of RNA, DNA, etc.
·Predictive Forecasting – Predicting an incoming epidemic through the application of Machine Learning and AI technologies has enabled clinical professionals to conduct advanced research. AI is fueling the monitoring of samples to predict seasonal illnesses, planning supply chain and inventory, and much more.
·Digitisation of industries – Apart from core healthcare management, AI has encouraged exponential growth in various aspects ranging from supply chain management, data storage, sales, customer service, patient handling, care automation, etc. Going by this pace, AI is projected to handle about 50 per cent of Indian pharmaceutical procedures by 2025.
According to healthcare researchers in the country, AI closely combined with Big Data Analytics and Cloud Technologies, is set to fuel these changes in the Indian pharmaceutical industries:
·Enhanced control over healthcare delivery processes
·Greater optimisation along major production chains
·Significant increase in drug manufacture
·Increased infrastructural safety in healthcare establishments
In the present-day context, the Indian pharmaceutical industries space has brought path-breaking infrastructural innovations, rapid production enhancement, efficient CME delivery, and availability of low-cost drugs. However, they still have a long way to go in terms of ensuring accessibility to the remotest areas for widespread patient engagement.
To conclude, the way forward for the Indian pharmaceutical industry lies in exploring as well as managing digitisation of healthcare delivery procedures from data storage, patient handling, supply chain management, clinical manufacture and development security, urgent distribution of emergency drugs through digitisation, logistics, distribution, and care personalisation to ensure a capillary distribution network quick enough to respond to real-time prescription needs.
Views expressed by Saurav Kasera, Co-Founder of CLIRNET


Follow and connect with us on Facebook, Twitter, LinkedIn, Elets video