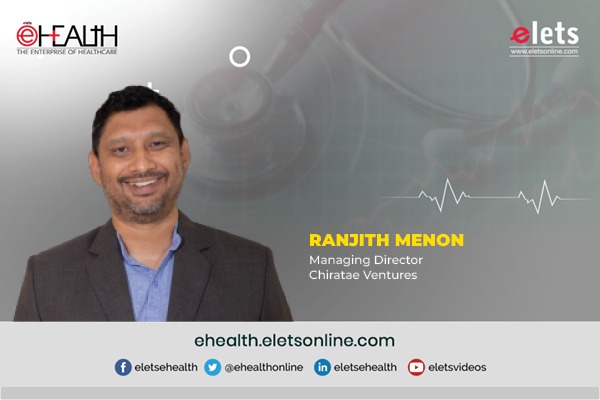 Digital technology has been rapidly increasing in the healthcare domain. Most of the technologies, such as Artificial Intelligence have an immediate relevance to the healthcare field, but the specific processes and tasks they support vary widely. Delving into an in-depth discussion Ranjith Menon, Managing Director, Chiratae Ventures interacted with Garima Pant of Elets News Network (ENN). Edited excerpts:
The growing digital footprint and technology trends have enhanced healthcare systems, but there still lies the need for a human workforce. Where are the gaps in curating healthcare data?
While the adoption of digital technology has been increasing in healthcare systems, it is highly skewed in some pockets of large branded hospitals, emerging digital startups and some KOLs (key opinion leaders) in the space. In order to maximise the utility of digital technology and data flows in the system, there is a need for a consistent digital fabric across the entire healthcare value chain.
Multiple startups are trying to build this digital fabric by developing and scaling HIMS and EMR platforms, wearable devices, and lifestyle and disease management applications, among others. The Bharat Health stack, which has been in the works, could be instrumental in creating awareness about the need for not just digitisation but digitalisation of healthcare data such that it can flow across multiple hospital information and Electronic medical record systems, insurance companies, health commerce companies and pharmaceuticals, which can leverage the data for driving faster and better patient outcomes.
As technological advancements continue rapidly, healthcare providers move towards more digital care options to enhance their treatment and patient experience. Your thoughts.
Given our healthcare systems are fairly inconsistent, focusing on preventive health can lower the overall cost of care delivery by identifying medical conditions earlier. Suppose we were to look at delivering quality healthcare to 1.3B of our population. In that case, it has to be re-imagined with more digital interventions providing better access and higher utilisation of our infrastructure.
Startups are leveraging data and digital technology to bring preventive healthcare to the individual's doorstep and give a massive push for evidence-based and precision medicine. Building robust technology infrastructure to deliver tele-medicine, using AI/ML to improve the productivity of clinicians, and using data to predict issues early is where new age digital start-ups can play a significant role. The ushering in of an era of digital innovations and advancements in health-tech should help communities drive physical and mental well-being at a much faster pace.
Over the past few years, VC funding has grown phenomenally for India in the healthcare sector. What are the major factors leading to it?
The biggest healthcare emergency of our time has only further highlighted the importance of investing in well-being at both the personal and system level. The pandemic boosted digital transformation in the Indian healthcare sector, resulting in almost a 10x increase in funding in 2021 (~$2.4Bn) compared to 2020, especially in companies focused on the digital paradigm. Most of this funding, however, went into growth-stage companies mainly in the curative part of the value chain as they saw an increased traction in the pandemic.
In the post-pandemic world, we are seeing an increasing focus on preventive care startups that are leveraging technology and the growing consumer awareness to create solutions further upstream in a consumer's health journey. Further, we see an increased investor interest towards startups catering to driving patient outcomes through a more fullstack approach than just point solutions like telemedicine etc.


Follow and connect with us on Facebook, Twitter, LinkedIn, Elets video