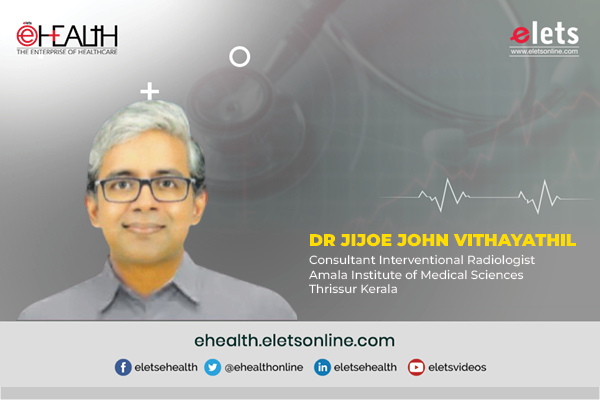 Dr Jijoe John Vithayathil, Consultant Interventional Radiologist, Amala Institute of Medical Sciences, Thrissur Kerala shares his thoughts with Elets News Network (ENN) on the factors fuelling the growth of the segment in the country.
What are the factors fuelling the growth of the Radiology & Imaging sector in the country?
The global medical imaging market is expected to grow from $37.97 billion in 2021 to $56.53 billion in 2028 at a CAGR of 5.8 per cent during the forecast period, 2021- 2028. The rising incidence of chronic diseases like neurology disorders, cardiovascular and so on has led to an increase in emphasis on early diagnosis. As per WHO's latest report, about 3.6 billion diagnostic procedures are performed worldwide every year. Growing demand for early and cost-effective diagnosis of chronic diseases along with growing ageing populations are anticipated to influence the demand for medical imaging equipment globally. In fact, COVID has greatly accelerated the need for such imaging.
Countries such as Thailand, India, and South Korea have recently shown a surge in installing 3T MRI systems. Favorable FDI policies, increasing ease of doing business, and raising awareness of advanced imaging technologies are some of the factors expected to fuel overall market growth.
How do you see the future outlook of the Radiology & Imaging sector in the country?
There are three key trends I see in terms of radiology trends – quantitative imaging, smart use of AI to help radiologists in previously impossible tasks, improved communication technology, and interventional radiology.
Quantitative Imaging objective and quantitative metrics will allow the phenotyping and "personalisation" of disease by imaging, in an individual or population. Multimodal/Hybrid imaging systems are perceived as the future of diagnostic imaging devices. These technologies help in saving a significant amount of space and investments. Along with this, the combination of multiple modalities helps in achieving precision diagnostics.
Improved Communication Technology, Improved networking and communication will offer active sharing of databases, such as Picture Archiving and Communication Systems (PACS), Radiological Information Systems (RIS), and Integrating the Healthcare Enterprise (IHE). Decision support technology will improve utilisation management by enabling better justification, appropriateness, and economically responsible 'valuebased radiology' in the spirit of 'accountable care.
Interventional radiology is a great opportunity as it retains two major disruptive elements, i.e. minimising invasiveness and lowering costs. Newer techniques that will reduce radiation to both patient and physician, and smarter semi automated guidance software will shorten procedure time and improve safety.
What are the technological advancements that have enabled the radiology & imaging segment to widen its expanse in the country?
I think telemedicine is incredibly useful in advancing the expanse of the radiology & imaging segment. It offers better use of human resources by recruiting and employing radiologists independent of geographical location and time zone.
The rapid rise of the global medical imaging equipment market is also due to continuous R&D activity carried out in manufacturing techniques of medical imaging equipment. Your thoughts.
There has been an acceleration in the development of new medical devices, in part because of rapidly expanding scientific and engineering knowledge. Medical devices are a much more heterogeneous group of products than drugs in terms of design, use, and purpose; many devices never come into contact with patients; some do briefly, and others do permanently.
A typical innovation cycle is composed of three phases: introduction, growth, and maturation. While the growth period is characterised by an exponential curve course, the maturation phase shows a significant slowdown as the technology approaches its physical or fiscal ceiling, or both. In the case of radiology, the 40-year disruptive period that started in the seventies represented the 'golden age' of radiology. Every modality which emerged in those years became a breakthrough in modern medicine. You are seeing similar things for newer technologies. Things like FMRI for brain imaging are slowly emerging for neuro-psychiatric disorders, and there are companies like BrainSight working on translating the science into tech.


Follow and connect with us on Facebook, Twitter, LinkedIn, Elets video