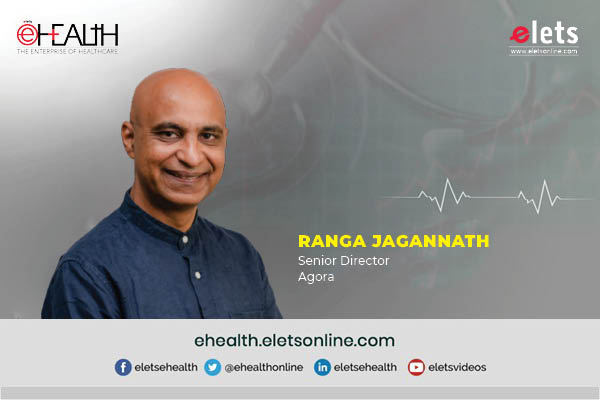 The delivery of healthcare and healthcare services are undergoing a massive transformation. Artificial intelligence is one of the most influential tools in the medical industry's toolbox. It has the potential to produce high-quality healthcare more conveniently by assisting healthcare providers says Ranga Jagannath, Senior Director, Agora in conversation with Kaanchi Chawla of Elets News Network (ENN). Edited excerpts:
How can RTE contribute to healthcare innovation?

Our interactions with one another, whether they be business-to business, business-to-consumer, or consumer-to-consumer, are changing as the world gets more digital. Real-Time Engagement or RTE helps bridge the communication gap in this digital world. Doctors and patients can communicate digitally in real-time through phone, video chat, as well as streaming. It is now possible for patients to exchange their health information and data and for physicians to study medical imaging scans. RTE also helps mental health experts conduct remote sessions with patients – thanks to clear audio, fluid real-time video, and integrated functionality.
Agora's real-time engagement platform provides a global reach, dependable streaming, and real-time interactions for remote medical consultation, video, first aid, interactive medical education, and large-scale event streaming. Real-time interaction can address physical and mental health concerns using speech and video-based tele consultations.
For example, using RTE technology, Talkspace, a mobile therapy service, removes even more physical barriers to care by providing licensed therapists around the clock. Patients and therapists can sit down for engaging sessions on par with in-person therapy using live streaming. With the help of the technology developed, patients can communicate with their therapist through live video, audio, or text at any time from the comfort of their homes.
Technologies have been driving the healthcare industry through various innovations. What measures can be taken to get maximum healthcare benefits in rural areas?
Live talks can go out to rural regions of the country without access to high-quality healthcare, thanks to the growing internet and smartphone adoption in India. Even under the most challenging network conditions, elements like low latency, adaptive resolution, and seamless channel switching deliver a dependable stream without delay. While the health care sector still needs to progress, video conversations and streaming services herald a change that will enable an increasing number of Indians to access the medical treatment they require, wherever they are.
The most significant benefit of a virtual doctor's appointment is that it does not require a brick-and mortar doctor's office like earlier.
With voice, video chat, and live streaming, doctors and patients are virtually brought together in real time. RTE allows patients and their caretakers to save time, energy, and money by addressing the issues with the right doctor from the comfort of the patient's home. Imagine getting treated by a specialist in NYC from the comfort of your home in India. Capabilities like crystal-clear audio, smooth, real-time video, and integrated functionalities allow patients to share their medical records, doctors to review medical imaging scans, or mental health professionals to conduct remote sessions with patients.
What further innovations can be seen in the transformation of the healthcare industry?
Every aspect of the healthcare system is incorporating more digital technology, as we talk about, such as Artificial Intelligence (AI), Machine Learning (ML), data analytics, Internet of Things (IoT), cloud computing, and robots.
AI-powered healthcare is rapidly gaining popularity thanks to chatbots, speech recognition, and automatic health warnings. Physicians can quickly examine the patient's history, view reports, create digital prescriptions, and always offer immediate assistance with using AI-supported features. Algorithms can guide doctors to provide speedy advice based on a patient's symptoms using a variety of algorithms. AI is also finding significant applications in fields like precision medicine, medical imaging, drug discovery, and genomics. For instance, individuals with terminal diseases may be able to get personalised treatments catered to their genetic make-up and lifestyle thanks to AI's excellent pattern recognition.
AI and ML find use in physical wellbeing, fitness, and therapy. For example, Mixpose, an AI-based wellness telehealth app, uses an AI pose estimation tool to track yoga poses and assist instructors with providing feedback to users.
What are your suggestions on integrating newer technologies in hospitals?
More medical institutions need to be prepared to upgrade their digital infrastructure with newer technologies like AI, ML, IoT, robots, AR, VR, and others to improve patient care, data analysis, and healthcare practices. These technologies have led to personalised care during the pandemic and enhanced surgical or medical training.
Technology like AR and VR have also seen massive adoption in industries like healthcare. Medical professionals are now using virtual-reality simulations to hone their skills or to plan complicated surgeries. VR headsets could also motivate wearers to exercise and help autistic children learn how to navigate the world.
What measures can be taken for faster adoption of healthcare innovations among hospitals?
The most significant paradigm shift we can witness with the adoption of healthcare innovation is shifting from care traditionally provided in hospitals to care provided at home. Cutting-edge technologies like ultra-wide band radar and noninvasive sensors are built into living spaces to track daily activities. Handheld devices allow clinicians to remotely monitor, among other things, ECG, pulse oximetry, and IR skin temperature. In this case, hospitals can act as the main base of operations and a command center for monitoring patient health.
Hospitals can help patients remember upcoming appointments or check-ups by maintaining engagement through multi directional digital feedback systems that enable patients to voice their ideas or preferences at their convenience.

Follow and connect with us on Facebook, Twitter, LinkedIn, Elets video