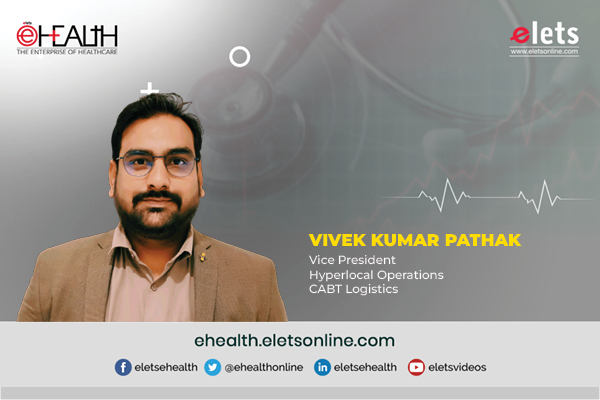 The pandemic brought the world to a standstill. It was mayhem and with cases piling up, the healthcare sector was truly in shambles. Fueled by the necessity to maintain isolation and distance, hyperlocal eased business for a lot of sectors including healthcare. With multiple lock-downs, restricted movement, border restrictions etc consumers have found solace in hyperlocal deliveries, especially for their healthcare needs. From routine medicines to oxygen cylinders, healthcare has moved towards digitisation bringing together different silos of the logistics process.
Tiding through the pandemic wave, the Indian pharmaceutical sector is expected to reach US$ 100 billion, and the medical device market to US$ 25 billion by 2025. In FY20 the pharmaceuti-cals exports from India stood at US$ 20.70 billion. Besides this, India's biotechnology industry is expected to grow at an average rate of 30 per cent, to reach US$ 100 billion by 2025 and India's domestic pharmaceutical market turnover had already reached Rs 1.4 lakh crore (US$ 20.03 billion) in 2019 and this graph is only going upwards owing a lot to the post crisis world as well.
As the medical sector continues to digitise and automate operations, here's how logistics has now changed in the past few years-
1. Increased E-commerce volume – One of the biggest leaps in business for healthcare is the increasing online-retail volume. Putting additional stress on traditional carriers and hospital owned vehicles, e-commerce and Q-commerce pushed the healthcare sector to outsource their hyperlocal business types to cater to D2C efficiently transforming the way the sector operates.
2. Vital, urgent deliveries at the doorstep – One of the major trends that have taken root in Q-commerce is the rapid delivery timeline, which is offered by D2C brands, especially in the pharma critical sector. Statics show that 80 per cent of the orders are being fulfilled in this rapid deli-very time slot. The industry is pivoting towards increased flexibility in terms of micro-warehousing, tie-ups with neighbourhood chemist shops, inventory management, and automation to help orders reach their customers faster. Speed and accuracy of delivery are one of the biggest challenges in the industry, and the healthcare sector is focusing on making rapid deliveries poss-ible.
3. Change in traditional supply chain and vehicle allotments models – Cart sizes, especially on Q-commerce tend to be smaller for health care products. Traditional supply chains often use bigger vehicles to make deliveries from B2B. In an environment where D2C has become instrumental in the growth of the sectors, the industry is pruning and perfecting processes to make optimise last mile delivery to avoid delays.
4. Automation in Logistics Management – Health care organisations often face problems with efficiency in supply chain optimisation. The arduous process requiring multiple permissions, correct labelling, delicate handling, etc often suffers due to inefficient cold chain deliveries, inbound freight, expedited deliveries, personnel allocation and volume. Thus, the focus has now shifted to automation to prevent these issues from exacerbating delivery problems.
5. Outsourcing LMD for seamless operations – Tie-up with logistics solution companies has helped healthcare companies assure 100 per cent of shipments are delivered within the same day including adhering to the committed deadlines with no pilferage. Trained and specialised delivery executives from specialised logistics companies help in deploying rapid delivery services. Opting for logistics solutions that manage last-mile deliveries has helped healthcare companies in reducing their in-house costs. 100 per cent technology enabled platform helps with accessing and collecting data and insights, thus making future deliveries smoother.
Healthcare industry has changed & evolved by leaps and bounds in the last few years. The adoption of automated processes and the transformation to digitisation have paved the way to accelerate the growth of the healthcare sector.
Views expressed by Vivek Kumar Pathak – Vice President, Hyperlocal Operations, CABT Logistics


Follow and connect with us on Facebook, Twitter, LinkedIn, Elets video