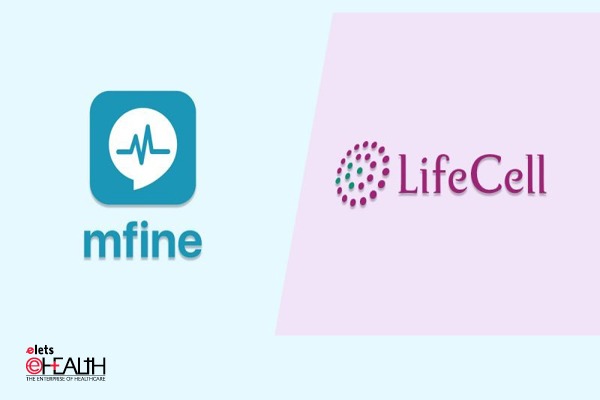 Healthtech company MFine has announced its merger with LifeCell International's diagnostic business. Besides, the company has reportedly raised $80 Mn led by OrbiMed in a new round of funding for the joint venture.
Healthcare and diagnostics solutions company LifeCell International Private Limited will merge with the diagnostics unit of the digital health platform MFine. Following this agreement, LifeCell's diagnostics business and MFine will create a brand-new company called LifeWell.
OrbiMed, a healthcare investment group, has already invested $80 Mn in LifeWell.
LifeWell aspires to develop into a full-stack digital health platform in the diagnostic market, in contrast to MFine, which is a pure-play marketplace.
Even though financial details of the merger were not made public. MFine's latest reported valuation was between $450 Mn and $500 Mn.
Prasad Kompalli and Ashutosh Lawania, co-founders of MFine, said, "With this joint venture, we see immense possibilities of delivering on-demand healthcare with outstanding consumer experience". MFine said it will keep its position as both the app platform and the consumer brand offering digital healthcare services and products. Further, it anticipates being able to "scale rapidly across the country,"
The MFine app will continue to offer teleconsultations, care plans, diagnostic testing, e-pharmacy, corporate subscriptions, and other associated services. According to the announcement, the funds raised will also be utilised to make strategic investments in partners and insurance tech to expand MFine's corporate and insurance channels.
According to a joint press statement from LifeCell and MFine, their user bases totalled more than $6 Mn and are expanding at a rate of more than 100% annually. Over the next four years, LifeCell hopes to serve more than 50 Mn people through significant strategic investments and acquisitions.
Founded in 2017, MFine, which provides telemedicine services for primary, secondary, and chronic care, has been facing financial issues for months. Thus, the company has been scouting for merger and acquisition possibilities for the past few months. And the quest is finally over as the company, financed by Moore Strategic Ventures, has announced its merger with LifeCell International's diagnostic business. It has also laid off close to 600 employees, almost 75% of its entire workforce, in an effort to reduce costs and increase runway in just May this year.
Also Read | Downturn impact: Healthtech startup MFine hands pink slip to over 500 employees
Interestingly, prior to experiencing financial difficulties, the healthtech company had raised over $97 Mn from a number of investors, including Moore Strategic Ventures, BEENEXT, and Prime Venture Partners. The market for telemedicine in India is expected to reach $5.5 Bn by 2025, rising at a compound annual growth rate (CAGR) of 31% between 2020 and 2025, according to a NITI Aayog report from 2021.
Although LifeCell has raised roughly half of MFine's total funding, LifeCell is over 20X larger than MFine in terms of income. According to the company's annual financial statement filed with RoC, its revenue was INR 234.5 Cr in FY21, while its losses dropped by 83% to INR 3.8 Cr. LifeCell's main line of business is stem cell banking, which in FY21 produced almost 60% of the operating revenue of INR 139 Cr. In the fiscal year that ended in March 2021, the company's revenue from diagnostic services grew by 77% to INR 94.4 Cr.
Follow and connect with us on