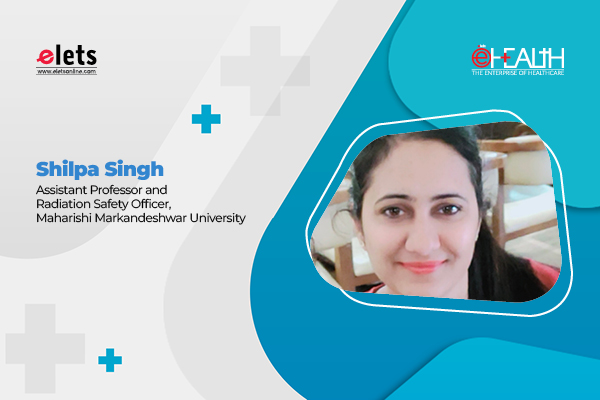 Shilpa Singh, Assistant Professor and Radiation Safety Officer, Maharishi Markandeshwar University spoke to eHealth about the growth of the Radiology & Imaging Sector.
What are the factors fuelling the growth of the Radiology & Imaging sector in the country?
Increasing demand for early stage diagnosis of chronic disease and rising aging demographics, technological advancements coupled with supportive investments and funds by the government, and increasing demand for state-of-the-art imaging modalities by teaching hospitals and universities to provide training for advanced technology are expected to have a significant impact on the market growth during the upcoming years.
Rising demand for advanced imaging modalities and integration of surgical suits with imaging technologies are also some of the factors driving the segment. Growing trends in ambulatory imaging are expected to drive the ambulatory imaging center segment at the fastest rate in the upcoming years. Government initiatives to expand the reach of advanced care in rural areas are one of the prime factors.
Favourable FDI policies, increasing ease of doing business, and rising awareness of advanced imaging technologies are some of the factors expected to fuel overall growth.
This trend, previously limited to developed countries, is now showing a shift towards developing countries as well. For instance, Siemens Healthineers MAGNETOM Teraa, the only approved 7 Tesla MRI system installed only in U.S. Countries like Thailand, India, and South Korea have recently shown a surge in installing 3.5 Tesla MRI system.
The introduction of teleradiology services has enabled global networking of expertise. This is expected to overcome problems related to the lack of expert radiologists in these countries.
The CT segment is expected to witness the fastest growth during the forecast period. CT systems are one of the primary diagnostic tools for COVID 19 patients. High demand for point-of-care CT devices and the development of a high precession CT scanner by the integration of artificial intelligence and advanced visualisation systems are principal factors driving the segment.
The United States accounts for the highest spending on healthcare in terms of GDP. The aforementioned factors, coupled with an increasingly aging population, the rise of chronic disease, and the growing trend of preventive diagnostic practices are expected to drive the medical imaging industry in the region.
What are the technological advancements that have enabled the Radiology and Imaging segment to widen its expanse in the country?
Technological advancements like AI (Artificial Intelligence) based imaging, VR (Virtual reality), and augmented reality.
DeepMind – Google's AI system helps reduce false results in breast cancer screening.
Profound AI – I Cad's innovation applies machine learning and other AI techniques to enhance the accuracy of tomosynthesis imaging used to detect breast cancer.
Cardiac MRI segmentation and analysis model – Developed by Intel and Siemens, this model promises to deliver a real-time diagnosis of cardiovascular disease.
Augmented Intelligence – Automating some of the more mundane diagnostic processes provides a way to improve communication between radiologist and oncologists.
Innovative medical imaging technologies promise to improve patient outcomes in a range of areas. For e.g., mobile imaging equipment can monitor and diagnose elderly patients without an in-person medical appointment. Wearable medical devices with imaging components make it simpler and more convenient for patients to report their vital statistics.
An MRI glove can produce detailed 3D anatomical images of a hand in motion as it performs various activities such as grasping or flexing, to better model the soft tissue mechanics of a patient's hand.
Radiologists and diagnosticians will increasingly use 3D printing to educate patients and assist in training surgeons.
Follow and connect with us on