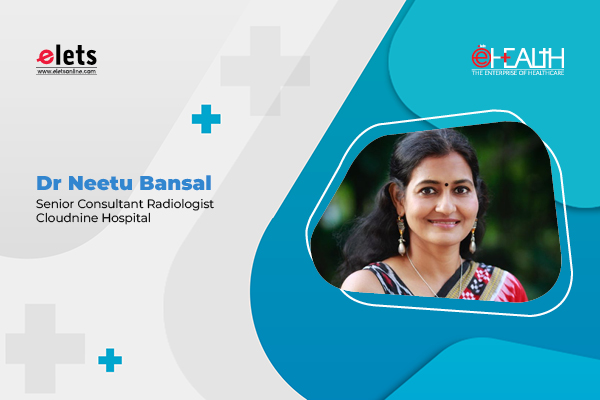 Dr Neetu Bansal, Senior Consultant Radiologist, Cloudnine Hospital, shares her insights with eHealth on the technology transformations fueling the growth of the sector. Edited excerpts.
How do you see the future outlook for the radiology and imaging sector in the country?
"Radiologists save lives. Image interpretation is the most visible contribution of radiologists. The population should be informed about the importance of diagnostic imaging." – Dr. Tayo Denton
Radiology is the bedrock of the modern healthcare system and is a keystone in modern medicine. Radiology plays a central role in disease management by providing possible diagnostic information, staging, and monitoring after treatment. The radiology and imaging sector in India is expected to have astounding growth in the coming years. Advanced technology and imaging facilities have been available in metros for quite some time. But today, we have better imaging facilities in smaller cities and towns as well. With advancements in technology and better machines, imaging quality has improved, resulting in better diagnosis and subsequent treatments. With the advent of PACS (Picture Archiving and Communication System) and teleradiology, the future for radiology in India is quite evolving. The addition of AI technology (Artificial Intelligence) and automation in imaging types of equipment is helping in creating precision medicine with early diagnosis, better outcomes, faster turnaround time, and improved patient care.
What are the factors fueling the growth of the radiology and imaging sector in the country?
The demand for diagnostic services in radiology is rapidly growing in India. The growth of the radiology and imaging sector in the country can be driven by the increased expenditure by the government and corporates on the development of healthcare facilities and infrastructure. Advances in technology are also fueling growth in this sector. Currently, there is a huge demand for qualified radiologists in India. There is a persisting shortage of radiologists in a country with a 1.4 billion population. In recent years, advancements in diagnostic imaging facilities, awareness about radiology, diagnostic methods, and the value of screening for early detection of diseases among patients have significantly driven its market growth. The market is expected to grow at a CAGRf 8 to 9 per cent from 2022 to 2027. So Radiodiagnosis is the most in-demand medical specialty currently. From an overall view, the Radiology sector may continue to grow steadily at 8 to 12 per cent per annum over the next 5 to 10 years.
What are the technological advancements that have enabled the radiology and imaging segment to widen its expanse in the country?
The lack of timely diagnostic services during emergencies, odd hours, and holidays can be challenging. There is a lack of better imaging facilities in small towns, tier III cities, and rural India. With the advent of teleradiology, these problems can be overcome to a large extent. The PACS (picture archiving and communication system) and RIS (radiology information system) integrated into the teleradiology system result in an efficient and instant transfer of images, timely interpretation and communication of findings to the consulting doctors. In addition, teleradiology can provide specialty and subspecialty expertise from distantly located radiologists. Another technical advancement and breakthrough in radiology is AI (artificial intelligence). AI-based radiology can increase efficiency, improve reports quality, and provide faster reporting and better risk assessment. Advancements in 3D imaging have tremendously helped surgeons plan their surgeries more efficiently with better outcomes.
The rapid rise of the global medical imaging equipment market is also due to continuous R&D activity carried out in manufacturing techniques of medical imaging equipment. Your take.
In the past few years, there has been a steady rise in chronic illnesses and cancers and various respiratory, gastrointestinal, orthopedic, cardiovascular, neurological disorders, and autoimmune diseases, leading to a rise in various surgical procedures. There is a need for technological advancement and rigorous R & D for innovation in imaging tools to make digitally advanced medical imaging equipment for better image quality and rapid, accurate diagnosis. These factors majorly contribute to global medical imaging equipment market growth. Efforts are being taken by manufacturers to develop better imaging equipment such as X-ray machines, CT scanners, MRI instruments, and ultrasound and nuclear imaging equipment.
Medical imaging has made tremendous strides on the back two pillars: continuous technological advancements and the sheer pace of digital transformation in radiology. Your thoughts.
Yes, continuous technological advancements and digital transformation in radiology significantly boost market growth. Technological advancements in diagnostic imaging systems improve reports' quality and allow faster, accurate reporting, directly affecting the patient's outcome. Digital transformation has changed the face of diagnostic imaging globally. Digital transformation helps in precise diagnosis, better efficiency, and targeted treatment leading to better patient care and outcome.

Follow and connect with us on Facebook, Twitter, LinkedIn, Elets video