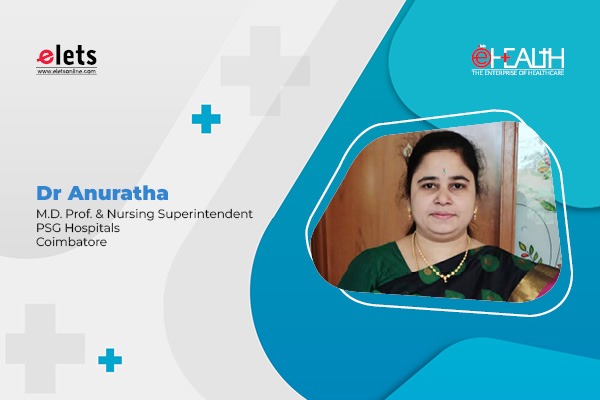 A few months ago, the 3rd wave of COVID-19 had hit India and the whole world badly, and the cases were increasing each day. Consequently, healthcare facilities and staff need to be extra cautious and follow strict infection control practices for better patient safety and for providing quality care with the rising numbers.
Hospital-acquired infections (HAIs) are the primary cause of severe complications and deaths in critical patients. Central line-associated bloodstream infections (CLABSIs) are one of the dangerous forms of HAIs, leading to a prolonged hospital stay and increased costs.1 Studies indicate that out of approximately 99,000 HAI-associated annual deaths, around 31,000 deaths account for bloodstream infections.2

It was observed that during the COVID-19 pandemic, there was an increase in the number of CLABSIs, particularly in covid patients.3 In the wake of the recurrence of this pandemic, it is critical to ensure better central line care to prevent these infections.
Impact of vascular access devices (VADs) on patients
Nowadays, many vascular access devices ranging from peripheral catheters to totally implantable catheters are available. The type and manner in which a VAD is used directly impacts patients' quality of life and safety. Inappropriate use of these VADs can have detrimental effects and cause serious complications such as CLABSIs.
Peripheral venous devices can severely affect the patients undergoing IV infusion therapy, as a repetitive puncture in the vein may lead to anxiety and pain in patients during their course of treatment. In such situations, the use of totally implantable venous access devices (TIVADs) may serve as a boon to patients, as these devices are safe, reliable, and lead to improved quality of life in patients with minimal risk of infections.4 
What is Central line bundle? 
The central line bundle is a set of interventions or vascular devices that, when used together, lead to better clinical outcomes instead of when used individually.
Preventing CLABSIs is the need of the hour
It is essential to reduce the incidence of CLABSIs, and the use of Central line bundles (CLBs) can help achieve this.
A recent study by Becton, Dickinson, and Company (BD) assessed the clinical impact on central line-associated bloodstream infection (CLABSI) after using a CLB in pediatric cancer patients with TIVADs. This study retrospectively compared the incidence of CLABSI between the following three time periods:
Pre-CLB period (10 months): Using the standard antiseptic technique and manually filled flush syringes
First CLB period (11 months): Using staff educational programs and split-septum (SS) devices (BD Q-SyteTM)
Second CLB period (8 months): Using staff educational programs, SS devices, and pre-filled flush syringes (BD PosiFlushTM)
The study indicated that flushing of TIVADs with pre-filled syringes led to a significant reduction in the rate of CLABSI in pediatric cancer patients (approximately 60-80% in the first and second CLB period). Also, a substantial decrease in TIVAD removal rates (90%)4 was observed, improving patient satisfaction and hospital experience.
CLBs can help achieve a better hospital experience during times like these
Given the current situation, there might be increased hospital admissions in the future, which calls for even better patient management in terms of safety and hygiene. Thus, hospitals, clinicians, and other staff need to be well prepared to encourage infection control and prevention.
Central line bundles (CLBs) seem to be quite effective in increasing the port's life and in preventing early removal due to infections. The use of CLBs may therefore reduce the time of therapy, hospital costs, and the associated morbidity and mortality in patients.
Central line bundle use should be implemented as a routine procedure for all ICUs. Hospitals should ensure using CLBs, including split-septum devices and single-use pre-filled syringes, as these may improve the quality of life in patients.
 References:
Tacconelli E, Smith G, Hieke K, et al. Epidemiology, medical outcomes and costs of catheter-related bloodstream infections in intensive care units of four European countries: literature- and registry-based estimates. J Hosp Infect 2009;72:97–103.doi:10.1016/j.jhin.2008.12.012
Furuya EY, Dick A, Perencevich EN, Pogorzelska M, Goldmann D, Stone PW. Central line bundle implementation in US intensive care units and impact on bloodstream infections. PLoS One. 2011;6(1):e15452. Published 2011 Jan 18. doi:10.1371/journal.pone.0015452
Pishoy Haroun, MD, Michael Ben-Aderet, MD, Meghan Madhusudhan, MPH, Matthew J Almario, MPH JD, Ryan C Raypon, MPH, MS, Sharon E Fawcett, MSN, RN, CIC, Jonathan Grein, MD, 771. COVID-19 on the Line: A Significant Increase in CLABSI in Hospitalized Patients with COVID-19 at a Major Teaching Hospital, Open Forum Infectious Diseases, Volume 8, Issue Supplement_1, November 2021, Pages S482–S483, https://doi.org/10.1093/ofid/ofab466.968
Devrim İ, Oruç Y, Demirağ B, et al. Central line bundle for prevention of central line-associated bloodstream infection for totally implantable venous access devices (ports) in pediatric cancer patients. J Vasc Access. 2018;19(4):358-365.

Follow and connect with us on Facebook, Twitter, LinkedIn, Elets video