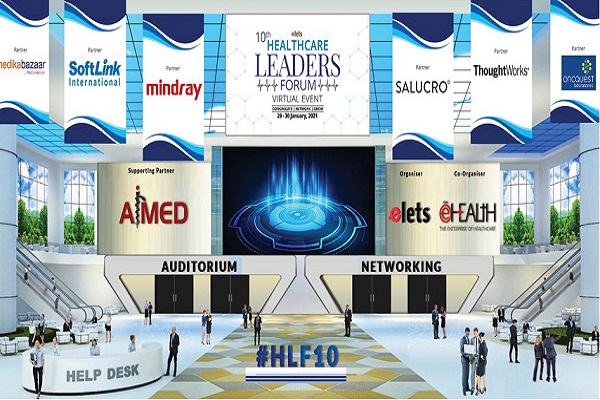 Co-creating a Robust Healthcare Ecosystem Eighty speakers and over 700 delegates logged into 10 powerful panel discussions at the 10th edition of Elets Healthcare Leaders Forum that deliberated on the sector's response to the new normal triggered by Covid-19 pandemic, reports Mrinmoy Bhattacharjee, Assistant Editor, Elets Technomedia Pvt Ltd.
The onset of the Covid-19 pandemic has unprecedentedly impacted the healthcare sector as specialists, policy-makers, and enforcement officers scrambled to fight the unfathomable virus. The sector brought a laser-sharp focus on preventing, identifying, and treating Covid-19 patients by mobilising resources to manufacture face masks and shields, sanitisers, PPE kits, RT-PCR and Rapid Antigen test kits; creating isolation rooms, Covid beds with oxygen and ICU support, ventilators, and of late rolling out the vaccines. While delivering such facilities to the nation at a short notice, the sector demonstrated a remarkable spirit, scale, and speed to adopt new technologies and embrace innovations.

Set in this profound background, Elets Technomedia Pvt Ltd organised the 10th edition of its annual flagship 'Healthcare Leaders Forum' (HLF), with a theme of 'Co-creating a Robust Healthcare Ecosystem' on January 29-30 virtually. eHEALTH was the co-organiser of HLF virtual.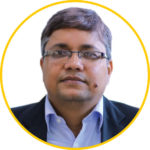 Introducing the speakers to Live audiences, Dr Ravi Gupta, Editor-in-Chief and CEO, Elets Techomedia Pvt Ltd, remarked that the Covid-19 pandemic unfolded new challenges and opportunities for the Indian healthcare sector. The pandemic also created awareness about healthcare among the masses. "We are witnessing renewed focus on infrastructure, technology, and startups, in diagnostic, pharmaceutical, and hospital segments. Our Prime Minister Narendra Modi is leading from the front on vaccine delivery." Dr Gupta also launched the January 2021 Issue of eHEALTH magazine.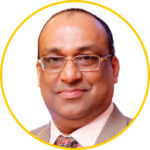 Pavan Choudary,Chairman and DG, Medical Technology Association of India (MTaI), said that the sector saw a major transformation in the past one year and expects that policymakers will take the sector to the next level. He also observed the heightened role of telemedicine in the Covid era that compelled social distancing and restricted movements. "Telemedicine has created new epicentres of health in-home healthcare. Its growth was slow despite offering advantages of convenience, cost, and infection control to patients; providing better cognitive and management of space and time to doctors; and covering the shortfall of doctors and healthcare workers for the government. Covid-19 pandemic has opened up the telemedicine space. Our research found that patients are accepting telemedicine not only due to convenience but also that they were treated with dignity; patients were not ill-treated by indifferent healthcare workers.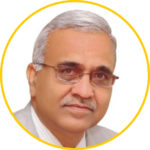 Dr Girdhar J Gyani, Director General, Association of Healthcare Providers India, noted that the country's "neglected" healthcare was given attention with the pro activeness of the government that introduced the new health policy in 2017 and launched 'Ayushman Bharat' programme in the next year. "If these two major initiatives are realised, the country's healthcare will be elevated in the coming years. The nation needs to focus on building physical hospitals and healthcare centres, as well as diagnostics centres in areas suffering from a shortage of facilities. We are yet to see a single-window clearance, providing land and soft loans from the government for attracting private sector investments in the sector. We also have to understand that reforms in the healthcare sector can happen if reforms take place in medical education."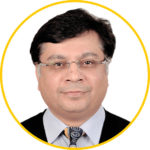 Rajiv Nath, Forum Coordinator, Association of Indian Medical Device Industry (AIMED), elaborated on India's journey from import dependency to Atmanirbharta or self-reliance in medical devices and consumables. "Our sector went from the position of the extreme shortage of medical devices and consumables to realisation of self sufficiency in response to Prime Minister's clarion call of 'Atmanirbhar Bharat' amid the pandemic. We witnessed phenomenal cooperation between government departments. AIMED was contacted by travel, garment, and automotive sectors for manufacturing many crucial medical devices."
He added, "The country had only eight ventilator manufacturers bringing out 3,300 ventilators per annum. Post June to September last year, we had 17 ventilator manufacturers rolling out 5 lakh pieces a year. The RT-PCR kit count moved from zero to 1.5 billion pieces a year delivered by 10 manufacturers. India had 20 PPE manufacturers producing 6 million pieces per annum. We now have 140 manufacturers who have capacities to bring out over 250 million pieces a year." He also stressed exporting medical devices as the country has realised a surplus of these products.
AIMED was a supporting partner, and SoftLink International, Thought Works, Salucro, Mindray, Medikabazar, and Oncquest Laboratories were partners of the 10th HLF event.

Follow and connect with us on Facebook, Twitter, LinkedIn, Elets video