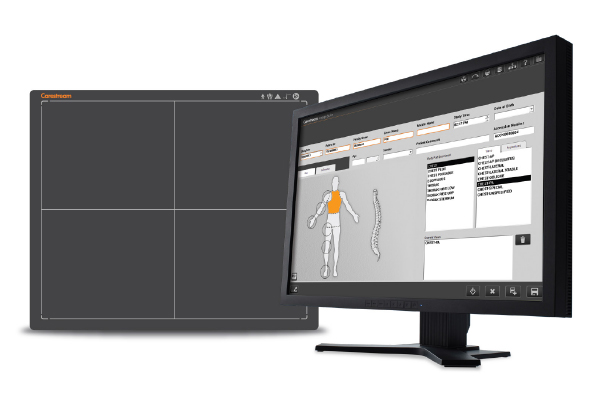 An affordable way to upgrade to full digital imaging
Stepping up to full digital X-ray is a tremendous way to speed your workflow, increase productivity and support a higher standard of care. But the cost of upgrading can be a real barrier.
The CARESTREAM Focus 35C Detector, is an affordable upgrade solution that delivers the productivity power of wireless operation and the image quality, only DR technology can provide.
Powered by advanced Image Suite Software this detector slides right into your existing analog equipment – protecting your current investment.
Advantages at a glance
An affordable way to upgrade to full digital imaging.
The superb image quality of DR supporting greater diagnostic confidence.
Wireless design boosts workflow.
Image Suite V4 Software developed specially to improve work‑flow in smaller facilities.
Film and Computed Radiography are both dependable imaging modalities. But the many steps of film processing can really slow you down. Plus, film means working with noxious-smelling chemicals, maintaining a darkroom and the ongoing purchase of consumables. CR imaging is chemical-free, but still requires the extra step of scanning and digitizing each captured image, which slows down your workflow. The Focus 35C Detector with Image Suite V4 Software can make all of these problems of the past. It's the ideal way to tap the power of digital and also beneficial for private practices and specialty practices such as orthopaedics, chiropractic and veterinary.
Also read: Mobile Digital X-ray System from Philips
The Power Behind the Detector: Image Suite Software
The Image Suite software platform combines advanced image processing and robust functionality and offers the following features;
A simple and intuitive user interface
Automated workflow with uniform protocols
Windows 10 Platform providing added cyber security
Optional Custom measurement tools for chiropractic, orthopaedic and veterinary practices
An optional tablet viewing for image review with patients to help you better explain your diagnosis
The Fastest Route to a Successful Imaging Future
As you travel to the future of imaging, what's your next step? Perhaps you need to accelerate your X-ray work‑flow. Or add new imaging modalities to your facility to provide better patient care. Wherever you're headed, Carestream provides the smart solutions you need: Full-digital imaging rooms,leading-edge mobile units,wireless, shareable detectors, CR-to-DR retrofit solutions,affordable CR systems and Advanced digital imagers and as always, the gold standard in X-ray film technology.

Follow and connect with us on Facebook, Twitter, LinkedIn, Elets video