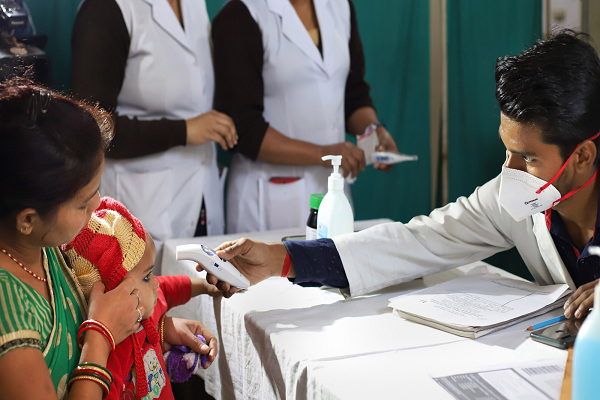 As the Government of India has started allowing the private labs to step in for testing COVID-19, Roche Diagnostics India has been given a nod from the government for SARS CoV-2 diagnostic test on Tuesday, March 17.
However, Trivitron Healthcare and Mylab Discovery Solutions are two Indian diagnostic firms who are still awaiting approvals from the Indian Council of Medical Research (ICMR) and the Central Drugs Standard Control Organisation (CDSCO) for testing COVID-19 by testing kits developed by them.
A spokesperson of Roche Diagnostics India told a news agency that the test had received the United States Food and Drug Administration (USFDA) Emergency Use Authorisation a few days earlier.
The spokesperson further said, "The test license accorded to Roche Diagnostics India allows us to import select quantities of the cobas SARS Cov-2 diagnostic test for product performance evaluation. Following successful completion of the evaluation, a decision from the authorities will enable us to commercialise the kits in India."
The spokesperson thanked CDSCO for the test license and said that the approval will help the company to bring in a world-class facility to India to initiate and successfully run the testing process. "Though this is the first step towards enabling access to the cobas SARS CoV-2 diagnostic test in India, it reinforces the Government's intent to enable public-private partnership and improve patient access in a potentially serious healthcare situation," he added.
Stepping in of the private players for testing the virus infection can be a leap in cutting the diagnostic time and making the entitre process much faster. Going forward, the lab reports could be handed over to patients within 2-5 hours instead of the 2-3 days, as per the current pace.
Trivitron Healthcare is trying to cut short time diagnosing time to 3-5 hours with the test kits it prepared, whereas, the Pune-based Mylab Discovery is on reducing the time to 2-2.5 hours. However, the test kits from both the firms are awaiting approval from ICMR.
As per the World Health Organization (WHO), COVID-19 diagnosis reports must be confirmed by Reverse Transcription-Polymerase Chain Reaction (RT-PCR) or gene sequencing for respiratory or blood specimens. India is presently importing RT-PCR testing apparatus from Germany and Switzerland to test samples at 52 labs handled by the ICMR.

Follow and connect with us on Facebook, Twitter, LinkedIn, Elets video