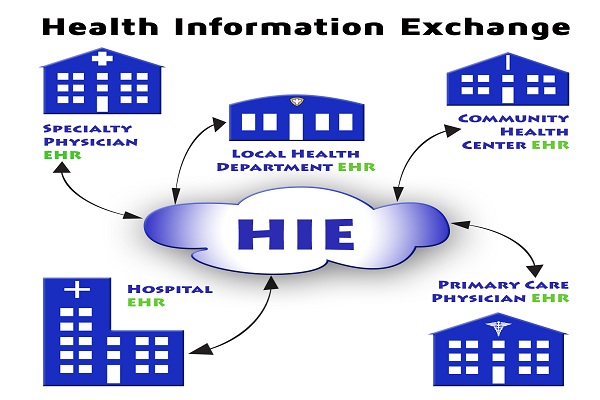 Health information exchange (HIE) is the process of transferring healthcare information via electronic methods across various organizations within a region, a community, or a hospital system. The information provided by these systems can help improve the quality of patient-centered care in an effective and timely manner. The electronic health record helps patients view, download, and transfer health data, see an electronic summary of care records, communicate between physicians and patients, and send imaging results to the system.
According to a study conducted by Grand View Research, Inc., the global health information exchange market accounted for USD 988.6 million in 2015. Increasing demand for health information exchange systems for the management of huge volumes of data among healthcare providers is anticipated to drive the growth of the market.

The growing need for storage, collection, and secure exchange of large amounts of healthcare data is leading to an increasing demand for health information exchange systems, leading to the growth of the market. Furthermore, promoting the use of healthcare information technology along with an increased focus on improving the quality of healthcare is a major factor driving the health information exchange market.
The private health information exchange segment accounted for the largest market share and is anticipated to grow significantly over the next few years. This is due to the high level of physician engagement and an increasing number of private healthcare information providers at every level of the information system. Moreover, other advantages, such as fewer governance issues and high workflow efficiency are expected to propel the market growth.
1. How Health Information Exchange is Used in Healthcare
With standard practices, uniform data can be integrated into the user's electronic health record, a process that caters to patients' personalized health information. For example, a list of patients suffering from diabetes can be made, if lab findings are added to a provider's EHR. Due to high blood sugar, the provider determines, which patient needs help immediately. This also determines patients based on the urgency for scheduling patients for follow-ups. There are three main forms of health information exchange:
Directed Exchange: Sends and receives protected information between different healthcare providers for patient support.
Query-based Exchange: Allows healthcare providers to search and request information regarding a patient from different healthcare providers.
Consumer Mediated Exchange: Enables collecting and maintaining control of patients' personal health information.
2. Benefits of Health Information Exchange
By improving interoperability, the health information exchange is playing an important role in the healthcare sector. This is on account of constantly evolving technology and increasing the availability of alternatives for exchanging health information. With providers realizing its benefits, the use of health information exchange is increasing across countries. Few benefits of health information exchange are:
Enhances Efficiency: The data is saved in a digital format, which largely eliminates the need for paperwork and also reduces the risk of losing any information.
Eliminating Errors: Ensures the safety of the patients as the data is stored in a database and exchanged through a digital channel, reducing medical and medication errors significantly.
Acts as a Support Tool: Helps make clinical decisions and acts as a support tool for doctors and healthcare providers to provide better treatment and effective care.
Helps Monitor Health: Simplifying the data exchange process in healthcare improves health reporting and monitoring.
Eliminates Testing and Improves Outcomes: The health information exchange system can eliminate unnecessary and redundant testing for healthcare providers, thereby improving the quality and outcome of healthcare delivery.
Cost Reduction: An effective health information exchange system helps reduce costs as it provides information and patient data digitally. Moreover, it also provides personal health information to healthcare consumers.
3. Challenges to Health Information Exchange Market
Throughout the data exchange process, ensuring the security of the health data is of utmost importance. Organizations need to adhere to state and federal regulations in order to ensure the data is secured. A major challenge is the strict regulatory prohibition along with all of the providers not being directly connected to the patient among whom information should be coordinated.
Having all healthcare stakeholders will reduce administrative burden and improve interoperability, and strengthen health data exchange. Ensuring that patients are the priority will lead to creating a healthcare system that focuses on value-based care.
Some of the key players in the health information exchange market areRelayHealth Corporation; Allscripts Healthcare Solutions, Inc.; Medicity, Inc.; GE Healthcare; Siemens AG; IBM Corporation; Orion Health, Inc.; CareEvolution, Inc.; Cerner Corporation; and eClinicalWorks.
Summary
Modern healthcare is driven by information in EHRs that are stored and organized and can be exchanged among organizations. Documentation can now be examined continuously, which enables better decision making for service providers for patient care. Organizations specializing in networking technology provide health information exchange capabilities. The organizations support and design the infrastructure required to securely exchange the clinical information between the multiple disparate through EHR systems. The efforts to use health information exchange meaningfully along with the support and incentives of governments for adoption and implementation of EHRs and HIE creates a foundation for exchanging patient information between healthcare professionals promoting patient care.
(Disclaimer: This article has been written by the team of Grand View Research, Inc., a U.S. based market research and consulting company)

Follow and connect with us on Facebook, Twitter, LinkedIn, Elets video